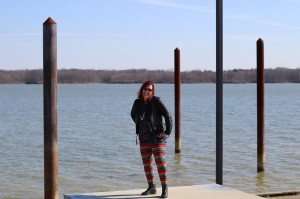 Oh friends, I'm so happy to report I'm in a MUCH better place today than I was when I blogged last week! My knee pain is dramatically reduced thanks to my first physical therapy (PT) appointment on Friday.
One week after surgery, I was feeling very discouraged and down – even regretting ever having the knee surgery at all – due to the intense pain I was feeling. My knee hurt constantly and still wouldn't "work" right, I had a severe limp/lurch and I was in almost nonstop discomfort and pain. It was BAD. I was one week out from surgery and I still felt horrible!
But then I went to see the miracle workers known as physical therapists. I've never been to PT before so I didn't know what to expect. I had a vague feeling of dread going in, because I have heard that PT is hard and can be "torture" – but then again I'm highly motivated, plus I'm used to the intensity of Rock N Shock Fitness. How hard could PT be compared to my classes with Master Breaker Danielle!?!?
I was right – it was a breeze for me (though I can see why others have said that it's hard) and I felt almost totally better RIGHT AWAY! It was literally a miracle. I've been walking great ever since! I walked all around this weekend – got 5,000 steps on Saturday and probably more on Sunday but my Fitbit died. And I feel great!
I am so thankful for great PT twice a week for the next several weeks. I know those ladies will get me up and running again – literally – by summer!
Have you ever had PT, and if so what was your experience like? I'd love to hear your stories! And thank you to any PT angels who stumble across my blog!