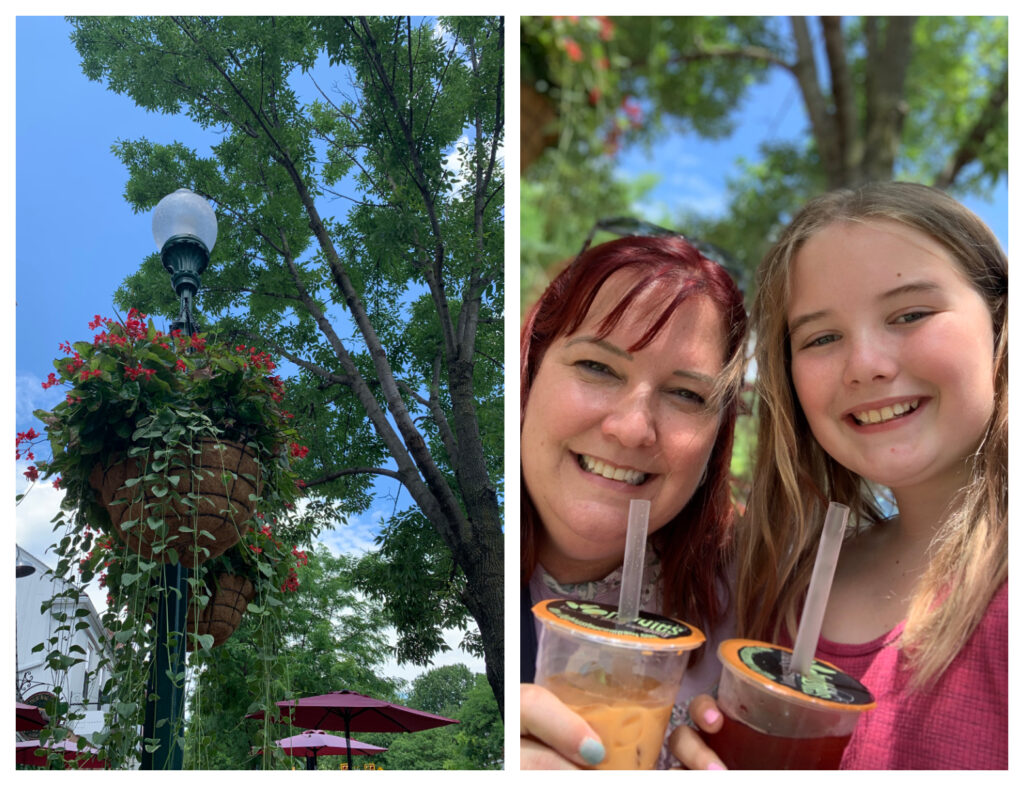 Z and I go to cute little downtown Old Worthington every other month or so to visit our awesome chiropractor, Dr. Mary Jo Marraffa.

We had to stop going for a while during the state-wide shutdown in March, but since things opened back up in May, we have continued our chiropractic visits to stay healthy and feeling great. Today was such a pretty day in Worthington that we made an afternoon of it!

If you're looking for a simple yet enjoyable outing on a sunny day, old Worthington is a charming place to spend a couple of hours. Z and I are partial to bubble tea, so we started at Bubbles Tea & Juice Company for a couple of bobas to go.
We then sat out front at socially distanced patio tables on the sidewalk, amidst gorgeous planters and charming views, to enjoy our drinks. If there's one thing I'm thankful for in these crazy Coronavirus times, it's that somehow the little things are special again.
I'm so thankful for small, happy moments like sitting in the sunshine in downtown Worthington, admiring the lush hanging baskets and taking selfies with my girl while we sip our teas.
Had we been in need of a snack, right near Bubbles there is an adorable bakery, a cute little donut shop and of course the wonderful Le Chatelaine French bakery and bistro just a few doors down.
And, had we arrived a little earlier or later, we certainly could have grabbed lunch or dinner at Dewey's Pizza or right next door to Bubbles at Old Bag of Nails pub, both of which offer outdoor seating – as do plenty of other Old Worthington establishments.
Sometimes it's just so delightful to get out of the house, you know? And as long as everyone wears masks, keeps their distance and washes hands, there's no reason we can't still go out and feel normal once in a while.
If it's been some time since the last time you sat on a patio for a meal, snack or even a bubble tea, I highly recommend the experience. Soak it in – take some photos if that's your thing (it's totally mine), or just focus on the feel of the sun and breeze, the chatter from other tables, the taste and smell of whatever you're eating and drinking.
Thinking and worrying about the pandemic too much is like a plague in and of itself. Just for one day, take a break from the governor's news conferences, the constant barrage of negative news and even social media.
Instead, take yourself out and sit on a patio. Enjoy a meal or drink. Actively cherish the company of whomever you're with – or your own company, if you happen to be solo. Marvel at the way the green tendrils in the hanging baskets trail almost to the ground!
I don't know when the last time was that I enjoyed just sitting on a patio with my girl like this, sipping bubble tea and chatting. Today was a treasure that I won't forget anytime soon.
Next up, Z are I are long overdue for a visit to Easton Town Center, a walk around the shops and maybe a meal out on a patio. Where have you enjoyed going recently, during the pandemic, and what simple pleasures are you enjoying more than ever before?
As always, I'd love to hear your stories below in the comments or over on Facebook.