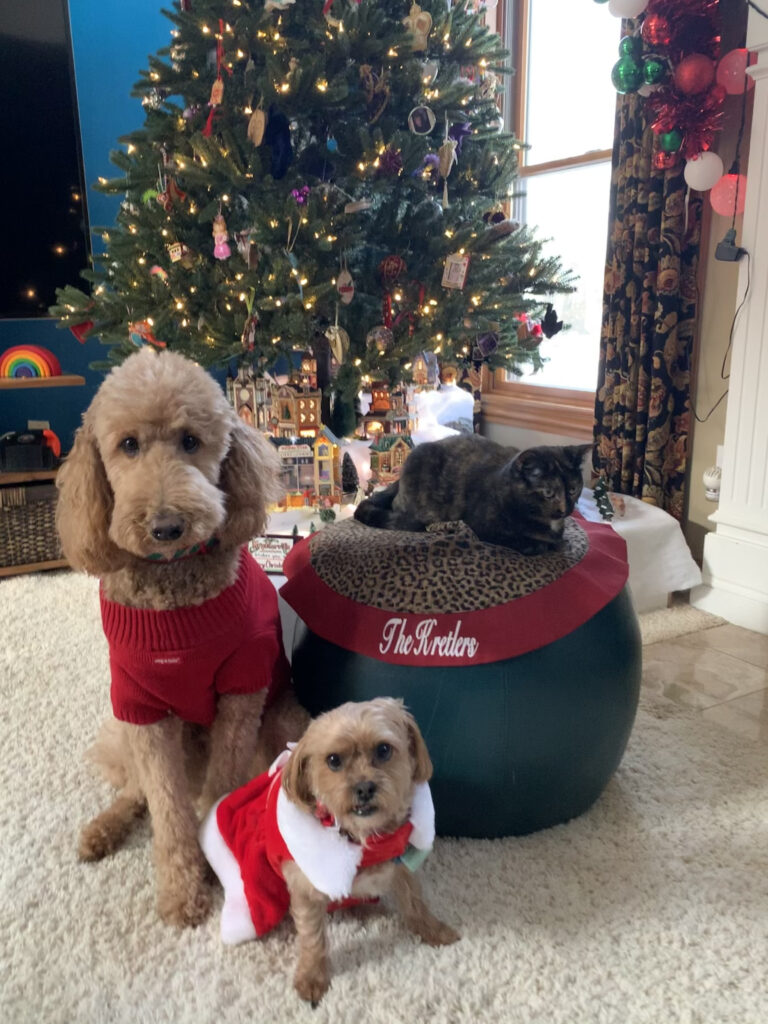 This is one of the first Christmases I can remember that we'll be spending at home with just the three of us (plus critters). Typically, we travel to see family for Christmas or have family come to us.
I spent a good week or so being utterly blue and miserable about this fact.
My folks were planning to come for Christmas – had plane tickets and everything – but then the airlines canceled all direct flights into Columbus from LAX. My folks were willing to risk one flight to see us, but two flights plus a layover in Dallas adds up to a bit too much risk during this scary time.
I was mad, sad and heartbroken when I heard – cried my eyes out, in fact – but I agree 100% that it was the right call to make. And once I dried my eyes, I realized this is our Corona Christmas and we have to make the best of it. I'm now determined to make this the best and most special Christmas we three have ever spent together at home!
The weekend before Christmas – to start our Christmas week off in style, I had a very festive holiday cookie assortment delivered from Angie's Rainbow Cookies. They are traditional Italian rainbow cookies and taste as good as they look. They instantly became everyone's favorite Christmas cookies – they blew us all away with their deliciousness!
We also had our annual Kretler critter photo shoot this weekend, in which we dress up the dogs in their holiday finery and pose them for pictures in front of the tree. Autumn and Dani are old pros at this and actually enjoy it, but this was Galaxy's first time. She did great but definitely prefers to be photographed solo vs. with the pack!
Christmas Adam – not everyone recognizes the day before Christmas Eve, aka Christmas Adam, but this year I am all in. I made us special December 23rd dinner reservations at one of these hot little outdoor igloos that are popping up outside restaurants all over the country. Yes, it's trendy and totally Instagrammable, but I also think it will be meaningful – a perfectly festive microcosm of this entire 2020 year spent in a little bubble together. And since it's just the three of us, it'll be pretty safe.
Christmas Eve – I pre-ordered a delicious carryout feast from City Barbecue, one of a handful of restaurants that everyone in our family loves. We carried in from City Barbecue one year for Thanksgiving and it was a huge hit, so I know this will make for a great Christmas Eve. I'm also hoping to have everyone don their PJs after dinner and then head out in the car for some Lewis Center lightseeing.
Christmas Day – After gift opening in the morning, I'll warm up cinnamon buns from Ikea for an extra special treat. Then, we'll prepare a homemade meal together midday – including a Brie, cranberry preserve and Crescent Roll wreath that I've been dying to try. Hopefully, it won't end up being a Pinterest fail – but even if it doesn't look great, I know with ingredients like those it's got to taste great!
Other Winter break activities
Since Z has two full weeks off from school, I also have a few fun activities planned that we can do as a family during any down time. In the week leading up to Christmas, I brought back our 24 books of Christmas tradition that we did a few years back when our Elf brought us a different Christmas book every day of Advent.
This year, I thought reading one book every day for almost a month might get tiresome, so I planned for each of us to read one book (a total of three) together each night in the week leading up to Christmas. We'll finish our last three books on Christmas night.
I've been sharing the books we read each day on my Instagram Story, and I have the whole story saved as one of my highlights, so check it out if you need any good Christmas book ideas! We've been loving reading together in the evenings, so I am hoping we can keep that going by reading a non-Christmas book together after we finish our holiday selection.
We've also busted out a diamond dot painting kit that Z got and started last Christmas, but which we have not pulled out all year. We are determined to finish it so we're leaving the supplies out on a corner of the kitchen table and all three of us take turns working on it when we get the urge. It's really fun but requires excellent lighting due to the tiny pieces!
I have a few other ideas up my sleeve, including water color painting, puzzles, a few new family games that Santa is putting under the tree, and planned trips to Franklin Park Conservatory and the zoo for Wildlights. We may even go farther afield and visit our old favorite Clifton Mill or check out a holiday display we haven't seen before.
I always do a ton of journaling, scrapbooking and blogging at this time of year, too – year in review type stuff, plus getting my 2020 albums in order before starting on my shiny new 2021 versions. I like to do some reflecting on the past year's accomplishments before setting goals for the new year. I can usually rope Z into doing some of this with me, as she too is a fan of journaling, goal-setting and record-keeping.
Assuming we get either snow or some sunny days, we will likely get in a nature walk or two as well. It's good to give both the dogs and us people a chance to stretch our legs and walk, since we'll undoubtedly be eating more goodies than we would in a normal week. Along those lines, I've challenged hubby to a 30-day workout program – hoping he says yes!
And, then there are our Friday night dance parties to look forward to. I've been working on some fun themes and playlists to be announced soon, so be sure to let me know if you'd like to join us one Friday evening.
How will you be keeping the holidays festive this year, and do you feel as I do that we need to ramp up the merry in order to keep the sadness at bay? Let me know if you have any good tips or ideas in the comments below or over on Facebook!