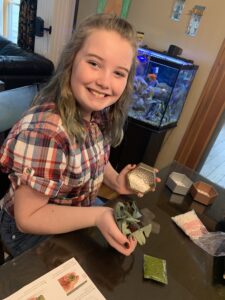 Z and I have always been nuts about arts and crafts, but right now during the Coronavirus lockdown, it's literally a necessity.
We're quaran-crafting. Is that a thing? Hmm, maybe Corona-crafting is better.
Anyway, whatever you call it, we're doing a lot of it. It's spring break week for us, and we have to fill our time somehow!
But Z has outgrown most kid-level craft kits. Just before her birthday, she said to me "Mommy, I hope you didn't get me any craft kits for my birthday. I don't like them anymore" and I had to smile. I had in fact gotten her two, but they were for adults and I thought that would make the difference.
I was right! She LOVED them – and we've had good luck with a few other crafting activities that are typically more oriented toward the 12 and up (or even older) set. I've gotten pretty creative at finding craft kits and activities to keep us going through this Coronapocalypse. Here are three of our latest favorites.
I found two adorable Craft Crush felt succulent/terrarium kits on Amazon. They are both so cute, very fun to make and a little challenging – but that's a good thing. They allow plenty of room for artistic creativity. Four thumbs up (from Z and me) for both the mini terrariums kit and the felt succulents kit (slight preference for the terrariums one, but loved both).
Have you heard of resin crafting? It's a super cool and creative hobby that Z and I started last week. I actually first found out about it when I was targeted by a Facebook ad for a resin jewelry-making kit, and it really caught my eye as something both Z and I might enjoy. The only catch? The kit advertised was clearly one of those direct from China endeavors, and I just didn't have any faith it would ever actually get to us.
So, I looked on Amazon for resin jewelry making kits and found tons – including some with Prime/immediate delivery. We got this kit of silicone molds, plastic tools and jewelry fixtures, and I bought this set of resin and hardener. So far, we've made all kinds of little "crystals" and we're experimenting with ways to decorate them. Mixing the chemicals and making sure there are no spills are really critical, but otherwise it's fun and fairly easy with tons of opportunity for creativity. This is definitely not for young children, but Z and I are loving it. Here are some good tips for resin beginners!
Diamond painting is the third next-level craft idea I have for you. We just discovered it and I'm fairly obsessed. I will tell you that it involves tiny pieces and parts, so you need REALLY good eyesight or good lighting. Ideally both!
Z and I are working on our first diamond painting kit and we tend to work in fits and starts, so we're nowhere close to finishing it yet. Just search on Amazon for diamond painting kits and you'll find dozens – both for kids and adults. We got one of the grown-up versions because we love a challenge! I also got us this diamond painting tools and accessories kit which has come in handy.
So, there you have it – three new crafting ideas that might help get you through the next month or more of being homebound. Let me know if you try any of these – and also if you have any other next-level crafting ideas that Z and I should try.
We'll share photos of our finished diamond painting once it's done. It could take a while because we keep getting pulled back to our resin creations!