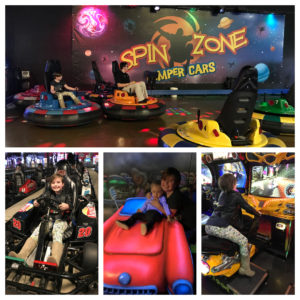 Have you ever wished for a bigger, better indoor playground than we have available to us in Columbus? You're in luck: Scene 75 claims to be the largest indoor entertainment center in the country, and it's only about an hour away in Dayton, Ohio.
If you're looking for a way to score major parenting points and give your kids a terrific day they won't soon forget, plan a day trip to Scene 75 in Dayton. With 12 super fun indoor entertainment options, you and your kids can spend a whole day playing in any season.
We stumbled upon Scene 75 through sheer luck. E had plans to attend a car show in their parking lot and asked if Z and I would like to ride along to Dayton and check out "a fun kids indoor playland" while he did his car thing. We agreed and then texted a dear friend to have her meet up with us – and she's the one who told us how cool it is. We had a sense before we got there that it would be a good day, but oh my – our expectations were more than exceeded. Zoe never wanted to leave Scene 75 and has asked to go back many times since!
Here are Z's top 7 favorite things at Scene 75, counting down to #1:
7. The Arcade. She loved the motorcycle riding and car driving video games the best, but she's also a huge fan of the coin fall machines (even though they are incredibly frustrating. Those quarters never want to fall!). She also LOVES claw machines even though they almost never pay out (and she remembers the one magical time one did!)
6. Blacklight mini golf. Everything is more fun in the dark with glowy stuff all around. I'm not sure how much mini golf actually got played, but we had fun roaming around and exploring the two black-lit mini golf areas. One is aquarium themed and the other has a 50s-ish motif.
5. The kids climbing/bounce house area. This is a pricey add-on but they have a LOT to do in here – she wore herself out running, climbing, swinging and bouncing!
4. Laser tag. We let Z go in by herself with a bunch of random teens and adults. You might think that wasn't fair to Z, but actually it wasn't fair to the grown-ups. She nailed all of them and came out the winner!
3. Mini bowling. This was actually really fun and we paid for a few extra games. I don't know why mini bowling is so much more fun than regular bowling, but it just is! So cute.
2. Bumper cars. This was Z's first time on bumper cars and she LOVED crashing into everyone and being super aggressive. It was adorable. She asked to go on these multiple times.
And Z's #1 all-time favorite attraction at Scene 75? The indoor go-karts. I was terrified to let her drive one solo, but she was SO excited to find out that at her height, she qualified. We had to explain the whole left foot go, right foot brake thing – and then she was off. I was a nervous wreck but she beamed and squealed and roared with laughter the entire time! She absolutely LOVED these go-karts and I could not believe how fast they go. Thankfully, she had the track to herself so I didn't have to worry (too much) about collisions.
So there you have it – all of that added up to a very fun day. One caveat – Scene 75 is not cheap. They sell a Super Pass for $39 (they say it's a $54 value) and that's what we did – but then we added a few extras so it ended up costing about $50, plus food, for Z's day of fun. She had such a blast though – I'd say it's worth it for a special occasion or once a year splurge! If you decide to pay a la carte instead of going for the combo pass, just know that things will really add up.
The only other downside to Scene 75 is that it can be pretty loud and overwhelming. If you have a kiddo with sensory issues or who gets overwhelmed (or even lost) easily, just know that it's HUGE inside, full of loud arcade sounds and quite dark with black lights and neon glowing everywhere. It's a blast on all the senses, that's for sure – but that adds to the energy and overall feel of excitement for those who are into that sort of thing!
What do you think – have you made the drive to Scene 75 in Dayton, and what did you think? I'd love to hear in the comments below or over on Facebook.