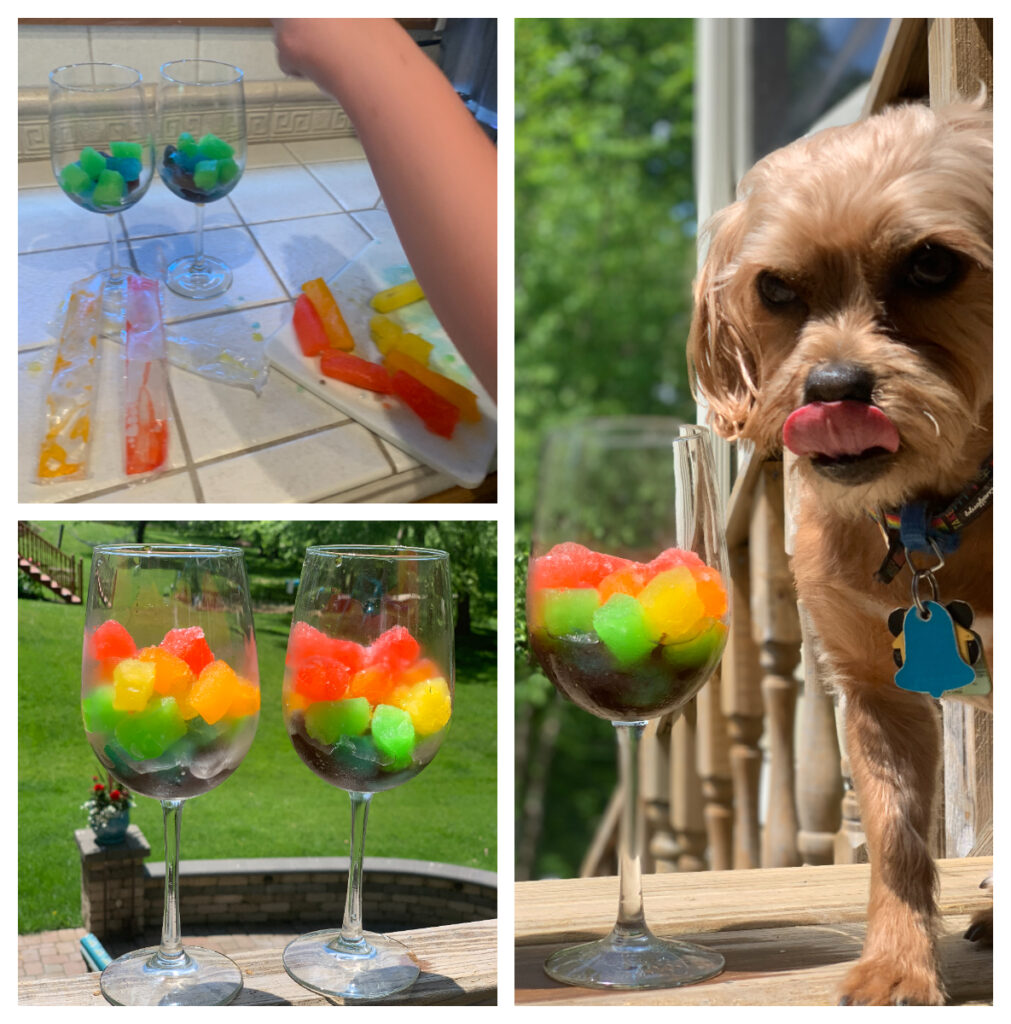 Some people see a kids drink and think "Ooooh, I could add vodka to that!" while I do the opposite. I see an alcoholic drink and think "Hey, without the alcohol that would be awesome!"
I saw this rainbow slushie idea on Facebook or Pinterest as a "just add vodka" concoction for adults, but leave it out and this is a super fun kids activity and refreshment.
First, you must have all colors of popsicles in your freezer – and hey, it's summertime so hopefully you do.
We love the giant freezer pops bundle they sell at Kroger. We always keep a bag in the freezer and one unfrozen in the pantry so we never run out! Side note: unfrozen popsicles are a great thing to stick in your car anytime you're taking a summer vacation – just pop them in the freezer when you get where you're going.
To make the rainbow slushies, get out red, orange, yellow, green, blue and purple popsicles and, moving quickly so they don't melt, unwrap each one and cut them into cubes. Then fill your glasses; we used wine glasses because we're fancy and it was perfect for photos.
We used half a popsicle for each layer of color in each glass, but you could make a jumbo rainbow slushie by using an entire popsicle for each layer. Also, we started with purple at the bottom and ended with red at the top, but you do you. It will look pretty no matter how you layer the colors!
As soon as you take these out into the sunshine, they will begin to melt together into one delicious rainbow slushie. We absolutely loved making and eating these! You could also do a healthier version with chopped up fruits: strawberries, cantaloupe, peaches, kiwis, blueberries and blackberries.
And, for you grownups out there, sure you could add vodka to your rainbow slushie. Why not. These are crazy times. But then you may not want to share it with your dog or your kid.
Drink responsibly, happy summer and happy Pride!