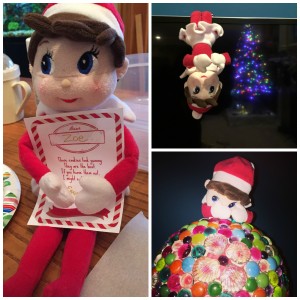 This blog post originally appeared on the Easton MomEscape site. Full disclosure: I serve on the MomE Mavens panel and I adore Easton Town Center! But you probably knew that already.
Women and moms everywhere are starting to feel the urgent pull of "getting it all done" before the holidays. It's a time-honored tradition to stress into a frazzled mess at this time of year! We'd like to help with some ideas to tame the chaos.
We polled the Easton MomE Mavens – a group of fantastic moms and women who work both within and out of their homes – for some sanity-saving tips for getting through the holidays. Here's what they came up with:
Ask for help. I think that too many times we try to do it all rather than just enlisting the help of others. (Barbara Burgie)
Take one thing off your to-do list by preparing meals way in advance via a freezer meal workshops with friends. (Lara from Lara-Mom.com)
I have lowered my expectations significantly. We only get our daughter two or three gifts since she gets gifts from others and her birthday is the month before. I also keep a list of everyone I have to buy for, what we have purchased or ordered, if it's wrapped yet. I keep another list of every activity/event we are attending and if I have to take food, ideas for what to bring. Seeing it written down makes it more manageable and able to tackle in small steps. (Sheila McCombs Fox)
I started using a small Christmas notebook this year. A page for everyone I buy for. I carry it on shopping trips. It keeps me focused and organized. (Roxanne Nally)
In my family, we all purchase gifts for the children, but the adults each pick a name out of a hat" so they only have to buy for one adult. This makes life so much easer. I collect wish lists from the kids and the adults, assemble them together, and then forward to everyone. I send email updates as things are purchased . This way everyone has ideas on what to buy and nothing is duplicated. One way we try to keep Christmas in perspective is to plan a visit to the nearby nursing home. We take simple little gifts to share with the residents but mainly give the gift of our time. I play some Christmas carols on the piano and we all sing together. The residents love seeing the kids and having someone to talk with. It makes us all realize how blessed we are. (Deb Peterson Sutherland)
One of my favorite Christmas traditions that is my "me time" is that I get together with my Cooking Club on a Sunday afternoon and we make homemade food-related gifts for teachers, babysitters, neighbors, etc. that we need to give gifts to. We each bring all the ingredients to make one thing, and then we spend the afternoon making and assembling the gifts. We split up the items so everyone goes home with 4 or 5 of each item to then give to whomever. It's our chance to catch up and share a simple meal in the middle of the chaos. (Usually a hearty soup and bread). The gifts we make usually are: Cocoa mix, spicy rosemary cashews, homemade granola, etc. (Sheila McCombs Fox)
Instead of treating wrapping gifts as a to-do item, I make it a movie & wine night. After a majority of the gifts are bought, I set aside one night to wrap. I gather all wrapping supplies, some snacks, my favorite bottle of wine and sit in front of a classic holiday movie like It's A Wonderful Life or A Christmas Carol. It's a nice treat for me and I get all my wrapping done in one night! (Kelley Walklin Zuder)
What other tips and ideas do you have for taming the holiday chaos? As always, we'd love to hear from you in the comments below, in the Easton Mom Escape forums and on Facebook. And in the meantime, we'll be working on our holiday Excel spreadsheet!