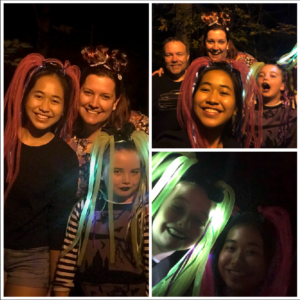 I've got a creepy lil kiddo on my hands. She likes to dress up in all black with "scary" makeup, she has been known to call herself a goth and she really enjoys reading frightening books. When Halloween rolls around, she loves nothing more than to watch Goosebumps and shiver with delight.
She would LOVE to visit a professional haunted house, but typically those experiences are far too terrifying, gory and otherwise inappropriate for the grade school set. If your kiddos also enjoy getting spooked around Halloween – like, not petrified but just a few fun jump scares to make them holler a bit – then you already know it can be truly difficult to find family fare of this kind.
Fortunately, we've found the perfect, family friendly haunted trail right here in Lewis Center – but the catch is that it's only open the first weekend in October each year. Mark your calendars now for next year's Alum Creek Haunted Trail and be sure to follow the Alum Creek State Park folks on Facebook (or just watch my Facebook page) so you'll be alerted when they start putting out reminders! 
We first discovered the Alum Creek Haunted Trail in 2017 when darling daughter was seven. That's about as young a child as I would take to this event, because even though it's billed as family-friendly, it can still be quite spooky even for teens. I don't want to give too much away but it's essentially a five minute walk through a winding, wooded trail in the dark with loads of scary Halloween decorations and costumed figures who jump out and growl, scream, hiss or otherwise "boo" at visitors. There's also a guy with a running chainsaw and you can hear people screaming in mock shock and fear all around you.
Her first year at the haunted trail, Zoe talked a good game before the event about how she wouldn't be scared, would laugh at any scary people, etc. However, once we entered the haunted trail and someone jumped out at us, she burst into tears even though the haunter quickly backed off and said "I'm sorry little girl, it's just pretend, not real!" Z, screaming that she wanted to go home, squeezed her eyes tight shut and then clambered up E's body so her poor daddy had to carry her through the rest of the attraction. I was feeling like the worst mom in the world for taking her, but once she was out in the open at the other side, she dried her face and brightly said "I want to go through again! That was fun!" (For the record, we headed straight home and did NOT take her through again that year.)
This year, at the advanced age of eight, Zoe swore she wanted to go to the haunted trail again and that she wouldn't be scared this time. We prepped her by explaining that scary-looking characters might pop out at her, but that she can yell back at them and tell them no, go away – and that they would listen. She was all pumped up again on the line for the haunted trail – part of me wondered if we'd have a repeat of last year's fail – and then sure enough, this time she went through laughing and didn't get too scared. She LOVED it and already can't wait for next year. In fact, she said the only thing she didn't like about this year's haunted trail was that the pack of Olentangy cheerleaders behind us "screamed too loud like scared little girls." I had to bite my tongue to remind her that she did the same thing her first year through!
Anyway, if you're looking for a fun and spooky – but not TOO scary – haunted attraction where the haunters are very nice people who will back off the second a kiddo gets too scared, this is the place. They also offer free hot cocoa after you walk through the trail, which is a nice touch on a chilly October evening. Oh, and did I mention the Alum Creek Haunted Trail is just $3 per person for admission? It's a really fun family night out that won't even scare your wallet. See what I did there?
Maybe it's me, but there's just something really fun and chills-inducing about being out in the woods on a crisp, dark fall night. The remote location of Alum Creek State Park just adds to the fun of this haunted trail. 
Do you know of any other family-friendly Halloween attractions in central Ohio that provide chills and spooky factor without being too scary or grown-up? I'd love to hear in the comments below or over on Facebook.
Happy haunting!