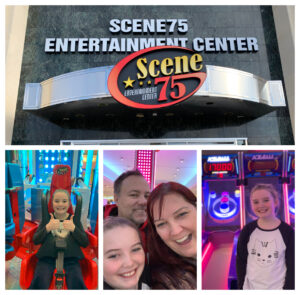 When you have a smart kid who isn't always super motivated to do their best work, sometimes you come up with creative rewards to inspire them to buckle down in class.
I think we've found the ultimate motivator after spending our day off on Monday at Scene 75 Columbus, the massive indoor entertainment complex located at Tuttle mall.
We took Z there to celebrate her great report card, and I think we may have created a monster because she's definitely going to want to do it again next time she brings a report card home. And, come to think of it, so will I!
We've been to Scene 75 in Dayton and loved it – but now that we have such a super fun indoor amusement park so close to home, it's a game-changer. What a great way to repurpose an old, unwanted department store.
Before you head to Scene 75, it's best to level-set your expectations in terms of the cost. This is not just some little arcade or laser tag place, and the price reflects that. Think of this as more like a trip to an amusement park so you won't get sticker shock – because with so much fun at your fingertips, the costs can definitely add up.
There are literally dozens of different activities across two different floors to choose from, each appealing to a wide variety of ages. The best way to play is with a Super Pass which costs $39 unless they're running a special – watch for these! The Super Pass gives access to your choice of five popular attractions. It can be hard to decide because there are over a dozen fun things to choose from.
Z opted to use her Super Pass on the indoor go-karts, roller coaster, drop tower, laser maze and "Toxic Meltdown," an American Ninja-style obstacle course. The Super Pass also gives you an hour of time at the video arcade, but it only works on the games that don't give you prizes or tickets – which isn't a lot.
That's why it probably makes sense to also get your kiddo a game card with some money on it for the arcade. Scene 75 has a vast selection of super fun games, including the 4D motion theatre, XD dark ride, laser tag and more. Money that you add to the game card can also be used for additional attractions once they use up their Super Pass, too.
Pro tip based on our experience: when choosing your five Super Pass activities, opt for the pricier ones so you can make the best use of your purchase. I didn't figure this out until we'd already "wasted" a few of our five attractions on lower-cost items. For the lower-cost items, it makes far more sense to use your game card. That's why it's great to have both cards!
That said, try to have fun and not sweat all the arcade money your kiddo will blow through trying those infernal claw machines "just one more time." Remember, you're here to have fun! Be sure to read up on all the cool activities before you go so you and your kiddo have an idea of what you might like to try.
The laser maze, for example, was more fun than I could have imagined. It's like being in a scene from a Mission Impossible movie; players have to crawl, jump, hide and use other various strategies to avoid touching or breaking a laser beam as they race through a dark space.
The activity that ended up being Z's absolute favorite was the "Toxic Meltdown" obstacle course. This involved a trampoline with spinning padded arms meant to knock you down. When little kids went in, the operator would keep it moving pretty slowly – but for teens, they would speed it up faster and faster, making it hilarious to watch.
Z had so much fun alternating between ducking the spinning high arm and attempting to jump over the low one. She ended up doing this as one of her five Super Pass activities and also spending some of her game card to do it again. The videos of her ducking the spinning arm are priceless and she came off it breathless and pink-cheeked from laughing so hard. Such fun!
Scene 75 also has multiple bars and restaurants, from snack bars to table service. They have more flavors of icees and slushies, both alcoholic and non, than I even knew existed. This would be a super fun spot for a girls night out, grown-up birthday party or anytime you want to get together with a group. It's definitely not just for the kiddos!
I feel like Scene 75 is still somewhat of a secret in Columbus as it has only been open a couple of months. It wasn't too crowded at all on MLK day when we went, so grab your kids (or your friends) and get in there soon before everyone finds out how awesome it is!
Have you been to Scene 75, and if so what did you think? I'd love to hear your experience in the comments below or over on Facebook.