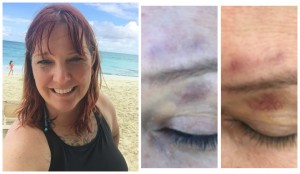 One month ago today, I slipped and fell down hard. I face-planted. I hurt my knees, bit my lip and bashed my head on the ground – it wasn't pretty. In addition to being unbelievably painful and scary in the moment, it was also really, really embarrassing and honestly somewhat traumatic. But until now, you haven't heard a word about it.
I kept it to myself and didn't tell anyone outside of E and Z, who were with me when I fell. And now I feel silly that I didn't talk about it, and also a bit dishonest – so I want to tell.
My fall happened while we were vacationing in the Turks and Caicos – which is, for all intents and purposes, paradise. I think that's part of why I didn't mention it to anyone. I was supposed to be having this picture-perfect family vacation – I was not about to start complaining about falling and hitting my head!
During our entire trip, including the day of my fall, I shared vacation photos and stories daily on Facebook and Instagram and Snapchat. But I never once mentioned my fall, the knot on my head (conveniently covered by bangs) or the darkening bruises on my face (conveniently covered by bangs, a good tan and makeup). Looking back now, I can see the bruising in some of my photos and videos, but no one else ever noticed or asked me about it. Not even my Mom!
I am not particularly prone to falling. I'm not especially graceful, but I've never been overly clumsy either. I'm in control of my body – it generally does what I tell it to do. And that's another reason why the fall was embarrassing. I'm someone who works out and tries to stay fit. When we think of people falling, we think of old or infirm people – and that is NOT something I identify with at all! So I hated my fall and wished it had never happened. I wanted to wish it away, and so I didn't tell about it.
But it did happen, and I feel really inauthentic having omitted it from our vacation recaps on social media. So, without further ado, here's the story.
How I fell
We were walking back up to the room to get ready for dinner on our first day in paradise. The path from the pool was really, really slippery – it had just rained. I was barefoot, holding my flip-flops and bag. E and Z were walking ahead of me holding hands and were not even aware at first that I had fallen. I took a step, my feet slipped out from under me and I jolted down onto my knees – agonizingly so, with my right knee only three weeks out from arthroscopic surgery – and then fell forward right onto my face/head on the wet concrete path. It took a split second but it felt like slow motion to me and like an eternity. It all happened so fast that I couldn't stop myself – there was nothing I could do.
I landed hard and was stunned. A stranger called out and ran toward me to help before E and Z even knew what had happened. They heard the man shout and ask if I was okay, and they turned and ran back to me. The man, E and Z helped me to stand and then get to a nearby bench. The stranger ran off in search of a hotel employee and some ice – I never got a chance to thank him and I wish I had! My lip and knees were bleeding and my forehead immediately ballooned up into an enormous knot. My head was ringing, my body was buzzing and I was shaken to the core: if I were a cartoon character, I would have had little birds circling my head. My head and right knee were in agony – the other knee didn't feel great either.
I remember the man coming back with an employee and a bag of ice for my head. The employee urged us to go to the resort nurse, which we did. She cleaned and patched up my knees and lip, gave me an ice pack for my head and asked me questions related to a potential concussion. She wrapped up ice packs on each of my knees with ace bandages, gave me antibiotic ointment and more bandages, and had us fill out an incident report. She sent us back to our room with a handout about concussion symptoms and said she'd check on us the next day.
E walked me back to the room like I was a little old grandma – going slowly and holding my arm. I looked a hot mess and I was walking very slowly. When we got to the slippery "pathway of death," as we called it for the rest of the trip, we walked even slower. That's why it's unbelievable to share that as E and I walked along arm in arm, we suddenly heard Z cry out behind us and turned around to see our beloved girl face down on that same slippery concrete path! She had slipped and fallen too – and when she raised her face up from the path, her mouth was streaming blood. We were horrified!
We scooped our wailing, hysterical girl up from the ground and checked her teeth – no issues there – but she had a split lip that swelled up quickly and bled a lot. We hobbled back to the resort nurse for the second time in one hour. She was shocked to see us and took care of Z immediately, and that's when E said "we need to see the highest manager at this resort RIGHT NOW." He was livid. This was literally our first day! At that point, he just wanted to whisk us off back home to safety – he was so angry that the paths were so treacherously slippery. Z and I were both shaken beyond belief.
The manager came and between he and the nurse, assured us that this kind of thing had never happened before. He said he would put signs out for people to be careful. He walked us back to our room a different way and assured us the path is not usually that slippery. He calmed E down and said he would check on us and make sure our stay was getting much, much better. Z and I felt better once we were safe and snug in our hotel room.
True to his word, the manager did check on us during our stay and we did see slippery when wet signs up the next time it rained. The manager also asked if he could send us on a complimentary snorkeling cruise, which we accepted. Z's lip was better by the next day thankfully, though my injuries persisted (and still do to this day, a month later.) Both of our falls definitely cast a bit of a dark shadow over an otherwise marvelous family vacation. We were still able to do everything we wanted to do, but my right knee was considerably painful and so was the dark, bruised and swollen knot on my forehead, visible in our vacation photos and videos if only to me.
I am glad it's all behind us now and that we didn't fall again on the trip despite other bouts of rain. We avoided those slippery paths and cringed anytime we saw people walking fast or running on them! We heard from other guests during our stay that they had fallen or slipped during the rainy and post-rain periods, too – but the others didn't go to the nurse or fill out reports, so it's possible management never heard of them. An important lesson learned: if you hurt yourself while on vacation, let the management know so they can do something about it!
We were happy with our vacation choice even with that slippery, treacherous path and our falls. We tried to focus on the positive and not dwell too much on the negative, since it was so minor in the grand scheme of things (and fortunately my tough skull did a great job of protecting my brain so no concussion occurred!) I don't really know why I chose not to share the story as we were posting photos and videos and snippets of our trip, but I feel foolish now for not having mentioned it. I was embarrassed and felt clumsy and foolish, I suppose. But people are not perfect and I'm certainly not – and even a seemingly perfect vacation at a gorgeous island resort has its problems and issues. It was wrong of me to be inauthentic by not sharing the full picture.
I got checked out by my family doc yesterday for another issue, so I had her look at my head and check out the knot that still resides there. She said I must have clocked myself pretty good to have such a persistent bump, but that she thought it would subside within another month. I'm hoping that she's right – the Neanderthal look just isn't for me. Fortunately, I've been distracting myself with styling my bangs over it and indulging in my new Lipsense obsession to take my mind off it. 😛
Have you had a bad fall as an adult? Did it rock your world the way mine seems to have done? I'd love to hear your stories – good, bad and ugly – in the comments below or over on Facebook!