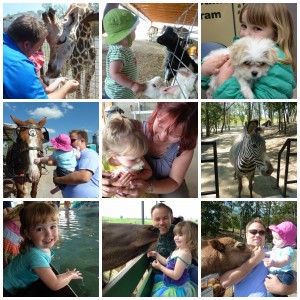 Blast from the past: this post was originally published on February 16, 2014.
We love animals in our family – I mean LOVE them.
I guess it's only natural that, in addition to having a wonderful at-home menagerie we adore, we seek out cool animal encounters in our free time.
This is something E and I did together long before we had Z, and since becoming parents we love these critter experiences even more.
So, inspired by a Houston area blog post I found on this topic, here are our favorite Ohio animal encounters – including a few we haven't experienced yet but plan to this summer.
10. Petland (all over Ohio but our favorites are the one on Bethel Rd. and on 23 in Lewis Center). If you love to cuddle hamsters, puppies, kittens and other animals, this is the place for you. It's a staple for us on rainy, too-cold or too-hot days when we can't be playing outside. There was a time when we were stopping by several times a week, but thankfully since Z got her pet hamster, she's okay with visiting just once or twice a month. The pros here are that you can have many hands-on experiences and the staff are fine with you handling the critters. The cons are that some animals may get a bit over-handled by the end of the day. I try to tell myself it's good socialization for the animals and a good way for kids to learn how to handle critters gently and kindly – although sometimes I do wish parents would keep a closer eye on their kids here to avoid any potential mishaps.
9. Sugar Creek Bird Farm (Sugar Creek, Ohio). If you're in the Dayton area and you love parrots, this place is a must-visit. Once, a long time ago when I had a little green Quaker parrot named Abbey, they saved her life when she had a medical emergency after hours when her vet was closed. I've never forgotten their swift, experienced help during our crisis, and we love to visit when we're in that area. They have more healthy, beautiful parrots than you can imagine all in one place – a loud, beautiful, feathery party! It's kind of like the movie Rio only close to home.
8. Safari Adventures Animal Park (located at the Kalahari Resort in Sandusky, Ohio). This is one we haven't visited yet, but it's on our wishlist for this summer! With both camel and pony rides, several opportunities for photos with animals, and the chance to hand-feed several exotic species, it sounds like the admission cost will be money well spent for any animal lover.
7. Ohio State Fair (Columbus, late July/early August). From farm livestock shows to exotic animals exhibits, there are plenty of opportunities for great animal experiences at the State Fair. Highlights for us include the exotic animal petting zoo tent, pony rides and camel ride. We absolutely adored the Sea Lion Splash show – we really hope they bring that back! Walking through the livestock areas to admire cows, horses, sheep and other animals is also a highlight for us, as is the OVMA birthing and new mothers tent where we've seen newborn and birthing calves and lambs (can be a bit bloody, but oh so cute once they're cleaned up!). This is a must-do for animal lovers.
6. Hershberger's petting farm (located near the village of Charm in Ohio's Amish country) is a fantastic place to visit in the springtime as you can pet, feed and hold lots of baby animals including ducklings, piglets, lambs, foals, calves and kids. The farm animal petting area is completely free and so much fun, with baby animals galore. There are pony rides for small kids, draft horse rides for bigger kids, and you can see an equine celebrity – Big Ben, billed as Holmes County's biggest Belgian horse, weighing in at 3,000 lbs! You can also take horse-drawn buggy rides around the farm for $5 per person. Be sure to visit Amish country on a Saturday or weekday, as almost all establishments are closed on Sundays (and most holidays, too).
5. African Safari Wildlife Park (Port Clinton, Ohio). Although I've wanted to visit this drive-through animal safari for years, my hubby is a car guy and refuses to subject any of our vehicles to possible animal abuse. Still, I remain hopeful that this is the year I'll be able to get him to agree to a visit! Between the main drive-through exhibit, a smaller walk-through safari area with animal rides, pig races and educational animal shows, and a "Jungle Junction" playground for kids, it sounds like the makings of a very fun day. I'll let you know if I'm able to sway the man. I'm sure as long as we follow the drive-through rules, all will be fine!
4.The Wilds (Zanesville, Ohio). Dedicated more to conservation and education than it is to providing an up-close animal encounter, the Wilds is still cool enough to make the #4 spot on this list. Situated on 9,000 cares of reclaimed coal mine land, the Wilds is home to dozens of non-native and hundreds of native species who live naturally, as if out in the wild. The Wilds is the largest wildlife conservation center for endangered species in North America – a pretty impressive pedigree. At times you'll see animals quite close-up, while at other times you'll only see them in the distance. I love that Z is older now and can appreciate the conservation and educational message at the Wilds.
3. Amish country in general. There's a reason I once wrote that "Amish country is for animal lovers." In late May, when the weather's great but the pool's not open yet, it's a perfect time to go for a drive in Ohio's beautiful Amish country where there will be baby horses, cows and other animals on display. This late spring timing is perfect if you want to see lots of adorable baby critters cavorting around in beautiful green fields.
2. The Farm at Walnut Creek (Sugarcreek, Ohio in Amish country). In recent years, we've become big fans of a specific Amish animal encounter – the Farm at Walnut Creek. Walnut Creek even has a herd of beautiful giraffes you can touch and hand-feed. This is a truly breathtaking experience, and one they save for the very end of the horse-drawn tour, so be sure to save some feed in your buckets for the tallest critters you'll ever have the pleasure of feeding! We also love the lemur island at Walnut Creek, where we were delighted to see several baby lemurs leaping and jumping last summer. There are scenic acres and hilly, partially shaded areas for picnicking if you choose to bring lunch along.
1. Columbus Zoo & Aquarium and the other Ohio zoos.
The Buckeye state has an abundance of absolutely spectacular zoos, so of course they have to take the #1 spot on any animal lover's list.
We are so lucky to have the Columbus Zoo & Aquarium just minutes away from our home – especially since the opening of the eagerly anticipated new Heart of Africa exhibit. We can hardly wait! Other notable Ohio zoos include Cincinnati Zoo, Cleveland Metroparks Zoo, Akron Zoo and  Toledo Zoo. I'm hoping we can make it to all of them this summer.
So, that's it – an epic to-do list for any animal lover. Did we miss any of your favorite places to visit and interact with domestic or exotic critters in Ohio? As always, I'd love to hear in the comments below!