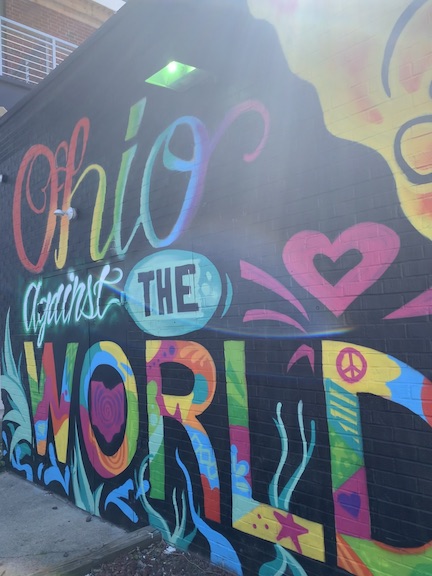 There was a time when I considered myself a New Yorker.
I was born and raised on Long Island, went to university in upstate New York and spent the first six years of my career in Manhattan.
But as of this month, I've lived in Ohio for 25 years and I think it's time I admitted it: I'm an Ohioan now. Ohio is home.
I have spent most of my adult life in Ohio. I moved here from NY when I was 27 for my dream job and I've never looked back.
Ohio felt like home right from the start. I've always joked that Ohio is the midwest East coast because it doesn't feel all that different from where I grew up.
Sure, Dayton and Columbus are a lot smaller than NYC, where I began my career, but Long Island (where I grew up) and upstate NY (where I went to college) are made up of small towns, shopping malls and farm fields, just like Ohio is. Really, the only difference here is the lack of beaches and intense East coast accents.
Ohio has seen me through four moves, six jobs, a divorce and so much more. I met my beloved Indiana-born hubby here in Ohio. Our sweet baby Z was born here. Most of my best friends today are people I met here in Ohio.
Really, the biggest downside to Ohio is no fault of this state at all, and that's the fact that we have no other family living here. We're all on our own – but that's okay. We love visiting the places where our family resides (California, Florida and Indiana).
Ohio is a fantastic place from which to travel and see the world. We are fortunate to have a low cost of living and high quality of life – what more could you ask for? Ohio is a truly terrific place to raise a family.
As much as Cali and Florida appeal to us during our long winters, I truly love Ohio's four seasons so much. We may not have oceans or mountains, but we have natural beauty galore and our weather is always changing and keeping things interesting. Although we Ohioans love to make fun of our state, there is so much more to love here.
Long ago, when I was on the PR team for Ohio Tourism, our state tagline used to be "Ohio: the Heart of it All" and I think that still rings true. From right here in the center of the country, we can easily drive to a thousand different wonderful destinations. We can get reasonably priced flights when we want to travel even farther afield.
But you know what one of my favorite parts of traveling is? Coming home to our own beautiful state of Ohio. It feels like home here because it is home. We talk about moving somewhere warmer sometimes, but Ohio's amenities are hard to beat. It's entirely possible that Ohio might always remain our home.
Do you live in the state you grew up in, or have you found a new state to call your own? I'd love to hear about your favorite state in the comments below or over on Instagram or Facebook.