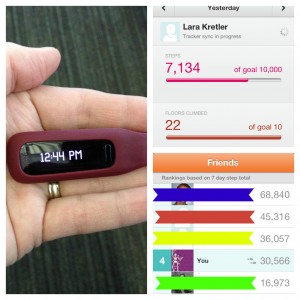 I started 2013 the same way I started 2012 – with a new year's resolution to move more and fit in more exercise. Both Januaries found me with a bulky, old school pedometer strapped to my side, keeping track of steps manually in my datebook and striving (with limited success) to do better from week to week. In 2013, I hoped to keep it going longer than the two months it took me to fizzle out in 2012. It's hard to keep something going when it's not all that fun, even if you know you should.
This year, however, is very different. For our 10 year anniversary in early February, my hubby upgraded me from dorky pedometer to a sleek, tiny and oh so cool Fitbit One. It's only been on me for a week, but so far it's rocking my world and doing wonders for my fitness program! I give it my most enthusiastic two thumbs up – and I'm not the only one loving Fitbit.
The problem.
If you're the working parent of a young child, you know how hard it is to fit exercise – including the recommended minimum 10,000 steps – into your day. Chasing after a toddler or preschooler is great fun, but doesn't add up to much activity despite how exhausting it can be. Bottom line, like most Americans, I wasn't getting enough exercise. Both pedometers and the Fitbit give you the data to realize how little physical activity we get in a normal day. Pre Fitbit, I was only averaging 2,500 to 4,500 steps per day even when I was trying to do better. For context, that's considered a sedentary lifestyle.
I really felt stumped. Sure, I could re-join the gym and put Zoe in the daycare there for an hour each time I work out, but how could I do that in good conscience when she already spends four 9-hour days in daycare? I'm not judging working moms who do it, but I just can't bear to do it personally. (It's the same reason we don't go to church, even though I'd like to. I just don't want Zoe to spend any weekend time in "daycare" other than the occasional beloved sitter).
I knew I had to work harder to work exercise into my normal daily activity, but I was stalled and struggling until I got my Fitbit.
The solution (for me).
There's something about the Fitbit's "gamification" model that really makes exercise fun – and when something is fun, you're a lot more likely to find ways to get it done. Fitbit is like a pedometer gone social. Adding friends on Fitbit means you're all stacked together in a leaderboard and you can see how you're doing vs the "competition." That really motivates me! My husband in particular is kicking my butt and that's making me fit in steps – and trips up and down the stairs – where I never thought possible.
Fitbit tracks not just steps, but other metrics you enter, including water consumption, sleep (you hit start and stop to indicate the quantity, then it measures the quality) and other phyical activity like workouts, house-cleaning, etc. You can even sync it with other apps that track calories so that it will keep track of that for you, as well. I've only begun to scratch the surface of how this will help me. I think Fitbit is a natural for busy moms.
Granted, it's only been a week, but I absolutely love the changes I've made so far and can't wait to set and reach more fitness goals. I want to be the Fitbitter that friends are in awe of and trying to beat! (I also don't want to be the one over-sharing on Fitbit – a good reason to check privacy settings often!) I doubt that I'll ever beat our neighbor – as a daily runner, his stats are staggeringly amazing – but it's still fun to try to improve on my best scores, get steps in new and creative ways, and climb as high up my Fitbit friends leaderboard as I can.
What's motivating you to move and get more steps in 2013? Have you tried the Fitbit or similar tech gadgets, and have they worked for you? I'd love to hear your stories in the comments below.