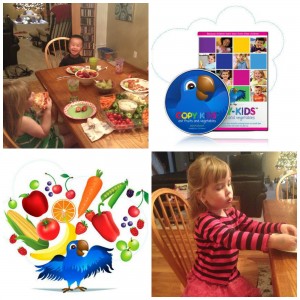 Disclaimer: Thanks to Copy-Kids for sending me a review copy of their DVD and making this blog post possible. My daughter had fun eating broccoli tonight! That's priceless in my opinion – and the opinion is absolutely my own.
I feel like I'm in the presence of a miracle.
Okay, maybe that's a wee bit dramatic, but I really am in absolute awe of the Copy-Kids DVD that encourages kids to eat fruits and vegetables simply by showing them other fun, giggly children doing exactly that.
It sounded too good to be true. I had watched a few clips and reviews on YouTube, and it sounded promising, but I was still a bit skeptical. I emailed the creators offering to review a copy, and they kindly sent me a DVD to watch with Zoe.
Then tonight happened. I purposely picked an evening when we hadn't watched any TV in a couple of days, as I knew she'd be transfixed. We started with the broccoli segment, because if there's one veggie I would LOVE to get her eating, it's broccoli. She's been offered both raw and cooked broccoli dozens of times (including a recent dinner date with friends, as seen in one of these photos).
She plays with plastic broccoli and feeds it to her dolls and toys. She even pretends to eat imaginary broccoli now and then – but she will rarely take an actual bite of real broccoli despite the countless tricks and ruses I've tried. Until this evening watching Copy-Kids, when she asked for a plate of raw broccoli and then proceeded to eat two florets. Crunched down, chewed them up and swallowed them!
My daughter. Eating BROCCOLI by her own choice!!! 
I didn't have the presence of mind to get any photos or videos of this feat, because honestly I hadn't been expecting it so I wasn't prepared. Then, I was afraid to make too big a deal of it by busting out the camera. Once the initial amazement had worn off, I took this quick video of  Zoe talking about the Copy-Kids video.
So, needless to say, I'm a fan. Reading the Copy-Kids literature about peer influence and how much kids love to copy other kids made sense. But it wasn't until I tried it that I realized this would actually work with my own spirited, at times challenging daughter.
After the broccoli segments, she insisted on watching the carrots (and ate a few bites!) and cucumber segments. It was a fun evening and we'll definitely watch it again.  She actually asked to watch several other segments too, but I didn't have the veggies and fruits to go with them… but we'll certainly put it on again once I've stocked up on those goodies. Copy-Kids has a few new fans at our house, that's for sure!
So, if you're looking for a great stocking stuffer this holiday season, consider the Copy-Kids DVD if you'd like to get the little eaters in your house chomping down on fresh veggies. Just be sure to have the veggies and fruits on hand and get ready to be amazed!
UPDATE: The kind folks at Copy-Kids have offered to do a giveaway to readers of my blog! Please comment below and let me know which vegetable you'd love your kids to try. Zoe will pick a random winner (with a tiny bit of help from me) in about a week. Then Copy-Kids will send you a free copy of this DVD!
What do you think – would it work for your kids? Would you be willing to give it a shot? I'd love to hear in the comments below!