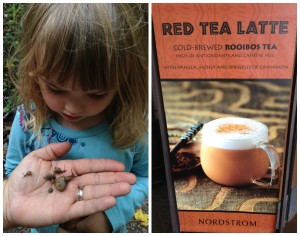 This post is part of a blog series that started as my Friday Favorites and then morphed into "5 thankful things" this November.
There's so much to be thankful for, especially when you take one look at the news and see how bad it can be out there. I try to maintain an "attitude of gratitude" year round and hope to cultivate that lifelong philosophy in Zoe as well. For now, here's last week's 5 thankful things:
Zoe's good health. This is one of those things you almost feel superstitious even acknowledging out loud, but I truly am thankful and grateful for it each and every day. Right from the start, despite my "advanced maternal age," she's been a picture of good health. Seeing stories about little ones who haven't been so fortunate – and having dear friends with medically fragile children – makes me clutch her a little tighter and whisper a prayer of thanks even more often. Pretty soon, I'll be writing about a special campaign for Nationwide Children's Hospital that will help the children who aren't able to go home from the hospital for the holidays. Watch this space and my Facebook page for more on this very soon.
My Fitbit Flex. I've written before about how much I loved my Fitbit One – but alas, it was so tiny and light that I managed to lose it. Since I upgraded to my Fitbit Flex bracelet version, I've been rocking out with increased steps and doing better at keeping fitness top of mind. I am thankful to have such a cool tool on my side in the fight against entropy and weight gain. I also love the accountability of tracking against friends, and the ability to cheer them on (and be cheered on myself!). If you're looking to get more active in the new year, I highly recommend the Fitbit Flex bracelet. It would make a great holiday gift for anyone on your list, too.
Our (short-lived) snails. On one of our wonderful family hikes this fall, we discovered a family of snails and Zoe fell madly in love. We ended up bringing them home with us to put in Zoe's rock garden, but alas this may have been their death knell as it got very cold overnight and I'm afraid they didn't make it. Still, I love that the experience made such a snail lover out of our little ZB – to the point that we ended up getting a few aquatic snails for our fish tank. I'm hopeful we'll see snail families out and about in nature again when spring comes, and this time we won't make the mistake of bringing them home. I'm thankful to have such a nature lover and animal lover in the house – and that she's so incredibly kind-hearted and gentle with living things.
Rooibos red tea latte from Nordstrom's Ebar. I love tea, especially unusual and delicious lattes. This past week, I stumbled upon a treasure that is now my new favorite cold weather beverage (sorry, Starbucks). Ebar's red tea latte is one of the most delicious things I've ever tasted, combining steamed milk with the fragrant vanilla flavor of Rooibos and the added zing of sprinkled cinnamon on top. It's heaven in a cup! As a non coffee-drinker, I love finding new fabulous alternatives – and this one should definitely keep me feeling thankful all winter long. Plus, it's a bit of a walk from my office to Nordstrom, which is also a good thing (see #2 above!).
A Song of Ice and Fire. I've loved to read since I was only a little older than Zoe. Not only do I love to read, I'm a voracious and fast reader – so I live for big, long, awesome books that I can really sink my teeth into and enjoy for a while. Enter George R.R. Martin's A Song of Ice and Fire, one of the most voluminous and action-packed fantasy series ever written (known to the TV crowd as Game of Thrones, the name by which the series has been made into superb viewing by HBO). At between 700 – 1,100 pages apiece and five books strong thus far (with two still to come – be still my heart!), this series is enough to keep even the most insatiable reader happy for weeks. I've read all five, watched all three available seasons of the HBO series, and now I'm beginning to read them all again. Yep, you could say I'm thankful – and I've got it bad – for A Song of Ice and Fire. Give it a try if you like dark, epic fiction.
That's it for this week – what are you thankful for, and have you read any good, long books lately? I'd love to hear in the comments below!