I love tea. You can't be born to British parents and escape the tea habit. So when Crimson Cup and Sugardaddy's asked me if I wanted to check out their new Mother's day gift set, including a Teaze tea infuser, Crimson Cup premium loose-leaf teas, and a pack of Sugardaddy's Brownie Biscotti, you bet I said yes.
The package arrived in my mail and blew me away. Any mom would love this great gift! The Teaze tea infuser is a must if you like loose-leaf teas. I got into loose-leaf tea while I was pregnant and I remain a big fan. Once you have the right equipment, it's easy and fun. I love the ritual of using a tea infuser rather than just taking the easy way out and using ordinary tea bags.
I was hoping to find information about the benefits of loose-leaf teas on Crimson Cup's website, but all I found was info about the amazing selection of artisanal teas they carry. If you're interested though, I did find some insights on tea chain store Teavana's site – basically, loose-leaf tea is purer, easier to blend and mix flavors, and generally higher quality than tea in bags.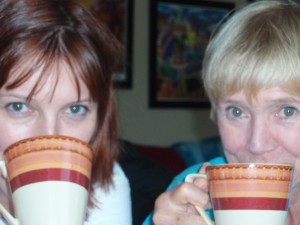 I got to try Crimson Cup's locally made Ohio Peppermint herbal infusion and I loved it. It's caffeine free, made from small-farm Ohio peppermint and air-dried for a complex flavor and greener appearance. It was great hot but I'll bet it would be absolutely amazing iced, too.
And you know what went great with my tea? Sugardaddy's Brownie Biscotti in Dark Berry Brunette flavor. If you like dark, well-done brownies – especially the crispy bits in the corners of the pan – you'll love these Brownie Biscotti. Personally, I found them a bit sophisticated. I prefer Sugardaddy's brownies because I have the palate of a five year old and like my sweets soft and chewy rather than hard and crunchy. But the rich flavor was still unmistakably Sugardaddy's. In a word: yum.
If you're thinking, "gosh I need to start a mom blog so people will send ME cool packages like that in the mail!" then I have to agree with you. But guess what? EVERYONE has the opportunity to win a cool package just like the one I got – in fact, even cooler because yours will have tons more great stuff. All you have to do is visit Crimson Cup and Sugardaddy's pages on Facebook, like the pages, and then leave a post on either (or both) about what makes a mom awesome. This can include any mom – including wives, mothers, sisters, grandmothers, etc.
Two lucky participants will be chosen at random to receive baskets brimming with two Crimson Cup premium loose-leaf teas, a Teaze tea infuser and a five-pack of Sugardaddy's Brownie Biscotti to present to their moms on Mother's Day. The lucky posts will be chosen on May 10, just in time to get the gift basket to your moms.
What are you waiting for? Go like those pages and leave a comment about how awesome the moms in your life are! Trust me, you want to win this package. Any mom would love this tea and treats gift set – I know I enjoyed mine.
And after you've entered to win, please come back here and tell me… and I also want to know what your mom's favorite treat is – what reminds you of her? Also, how will you be celebrating this Mother's Day? Let me know in the comments below. I'd love to know.
Huge thanks to Crimson Cup and Sugardaddy's for inviting me to review their Mother's Day gift set. Talk about two great local tastes that go great together. Hope to see them collaborate on more great goodies soon!