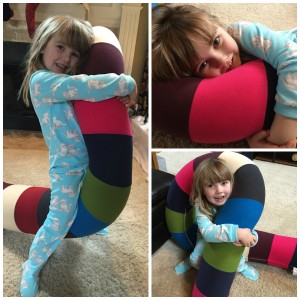 It's time for another installment in my on-again, off-again Friday Favorites series. If you like this post, be sure to check out the others that came before.
I can't believe how long it's been since my last Friday Favorites post. Santa was very good to us this year so here are five favorites we've been enjoying since the big day.
Happy Friday – and Happy New Year!
Stella and Dot's Sutton Necklace. I've never been to a Stella & Dot party but I saw the Sutton necklace online, Pinned it and knew I had to have it. I've never spent $128 on a necklace before so I balked at the idea of buying it for myself, but when hubby asked what I wanted for Christmas, I sent him the link and smiled sweetly. Now that I have it in hand (err, on neck – I'm actually wearing it right now), I can say this is worth the price. You can wear the Sutton in six different ways to change up your look and style. It really is several necklaces in one, is absolutely gorgeous and comes in several color combinations including the original mixed metals, a pure silver version, a gold version, and several with pretty colored stone accent necklaces. You're going to have a hard time deciding. Alas, the Stella & Dot site gives you no guidance whatsoever as to how to wear it differently, but YouTube has a ton of demo and how-to videos. When I first got my Sutton, I loved it on sight but had no clue how to wear it or change it up. Thank heaven for YouTube. Here are the options: wear it all together as a short necklace, wear it all together with the thick silver chain in back as a long necklace, remove the sparkly strand and wear that on its own as a short necklace, wear it long with the thick silver chain in back but without the sparkly strand, wear it as a short necklace but without the sparkly strand, and wear the sparkly strand solo (short) plus the rest of it (long) for a two-necklace, layered look. Trust me, it's amazing however you wear it. Truly the best necklace ever.
Yogibo Caterpillar. If you told me this time last year that I'd end up buying an 8-foot, snakelike full-body pillow for our family for Christmas and it would be the hit of the holidays, I'd have thought you were nuts… but that's what happened. I've blogged about our wonderful Yogibo beanbag chair/beds before, because they are truly amazing products backed by a cool company with stellar customer service. For Christmas, I decided to splurge on their caterpillar pillow as a nice accompaniment to our two existing Yogibo bean bag chair/beds. It came as a gift from Santa to our whole family – but it ended up being my daughter's favorite gift and the one she played with the most that day and since! This thing truly is awesome – you can form it into so many shapes, lie down on it, curl it around you and pretend its a giant snake or elephant trunk or any number of other creative things. It's a blast! No one in our house will watch a movie without the caterpillar, and the nice thing is that it's big enough for multiple people to use it at once.
Dream By the Fire tea from the Republic of Tea. Along with the usual sweet treats, E put fancy, fabulous tins of tea in my stocking this year and I cannot rave enough about this one. I've always loved a nice rooibos tea, but this one comes straight from heaven. They paired a little cinnamon and vanilla with the usual gorgeous rooibos red flavor, gave it a romantic name, and I am smitten – hook, line and sinker. Never underestimate the power of great marketing when it comes to tea (I'm a sucker for great marketing in general). But seriously, this tea will warm, charm and soothe you. It will not make you gain weight or caffeinate you. If you love tea as I do, this is a must-have for your collection. You can find it on Amazon, but unfortunately not with free Prime shipping.
Kidoozie Foam Pogo Jumper. Here's one for the kiddos – of all ages. A gift from our Cali cousins, this pogo jumper toy is super fun for Zoe and parents up to 250 lbs can use it, too. What a fun way to jump around, take turns seeing who can go the longest, and get all ages – including adults – involved in a kid-focused, physical activity. We have loved this ever since it arrived at our house and I'll be giving them as gifts to many birthday boys and girls on our list this year. Highly recommend this one!
Carter's fleece footed PJs. If there's anything cuter than a little one in super-soft, cozy, footie PJs, I haven't seen it. We got Z these PJs because she truly needed something warm to noodle around the house in, but these are more of a gift for us than for her. She loves wearing them, but we love seeing and cuddling her in them even more. She may be a big almost-five year old, but in these PJs she reminds us of the soft, cuddly baby she once was. I think footed fleece PJs will be a must-have for Christmas for as many years as I can find them to fit her. And come to think of it, I may need a set myself next year!
So, there you have it – some of our favorite Christmas finds and gifts this year. What did Santa leave under your tree – got any new favorites or things you'd recommend? As always, I'd love to hear from you in the comments below or on Facebook.