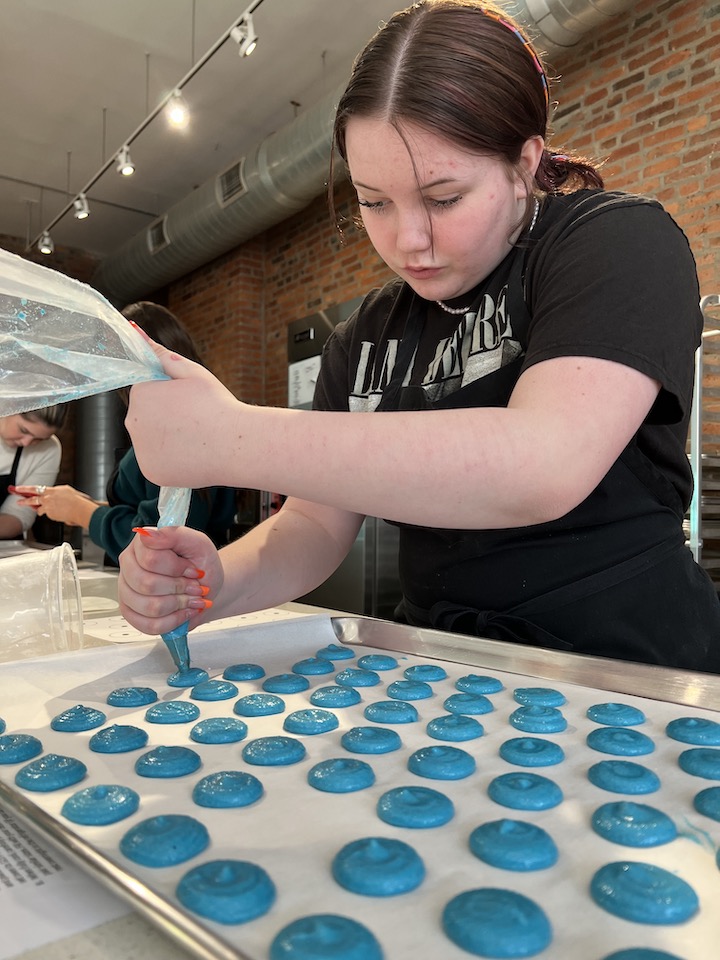 Z and I just spent a fun afternoon at Macaron Bar Columbus learning how to make fabulous French macarons.
If you're a fan of macarons, you know they are the perfect combination of chewy, crunchy and sweet – a French delicacy to die for.
Baking macarons, however, is notoriously challenging and involves multiple steps, many of which can go disastrously wrong for even accomplished bakers.
So why would anyone want to try? Because it's fun and extremely rewarding to learn new things! And because macarons are indescribably delicious.
Most baked goods involve combining ingredients, mixing and baking. Macarons have lots more fancy steps including sifting, blending, folding (a very specific technique!), piping, drying, baking, more piping, and ultimately assembly.
In the three-hour Intro to Macarons class, Z and I learned all of that and more. Our instructor, Becca, is an accomplished pastry chef and macaron maven who made the complex process simple – or at least less intimidating and terrifying. She was entertaining and everyone in the class had a blast!
The Macaron Bar space in the Short North is a beautiful, brightly lit and inspiring place to learn macaron baking. Z took point as our lead baker, which allowed me to serve as sous-chef while also focusing on photographing her, which is one of my all-time favorite pastimes.
This was by far one of the best classes we've ever taken together. It was three hours long but the time went by very quickly. We did get a 30-minute break during our macarons' baking time, so we walked around the Short North and enjoyed the chance to stretch our legs a bit.
Macarons are gluten-free and have an almond flour base so they are not for people with nut allergies. They are, however, super delicious and adorable. We were so happy with how our macarons turned out!
The way the class works is that everyone gets to choose a color for their macaron shells or feet. Then, every pair is assigned a particular flavor of ganache (the filling that fastens the two shells together). We all shared ganache filling so everyone got to make four different kinds of macarons: vanilla, rose, chocolate and birthday cake.
Did you know that only the ganache part of the macaron is flavored? The shells or feet are simply almond flavored. That's why you get the amazing flavor combo of almond + whatever filling was used.
Macaron Bar offers a follow-up class on advanced decorating for those who want to take their macarons to the next level. We had so much fun with this one that we might just take it again!
Watch Macaron Bar's social media and join their mailing list to be alerted when their classes go on sale. I was able to catch a good sale around the holidays and that's when I booked our class. It would have been a great value even at full price, but with a discount it was a no brainer!
Have you ever baked macarons before – and if so, what did you think was the hardest part? I'd love to compare notes with you now that we're all professional pastry chefs!