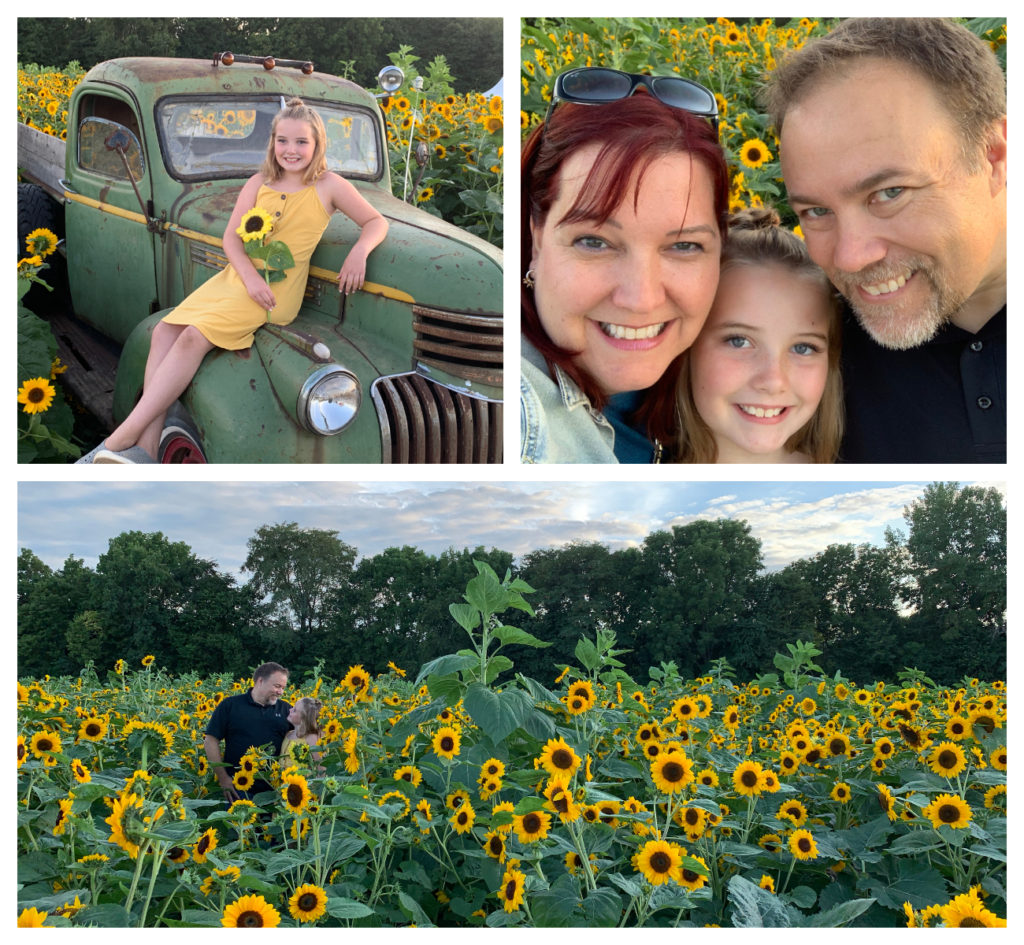 Bucket list item achieved: our family recently got to frolic, take pics and just revel in the beauty of an acres-long sunflower field. It was epic, soul-quenching and literally everything I had dreamed it would be.
Mark your calendars now for mid to late August next year when Lynd's Fruit Farm's glorious S'miles of Sunflowers field at the Patch on 37 will burst back into bloom.
The Lynd's Sunflower festival was $15 in advance or $20 at the door. For that price, you got to immerse yourself in their gorgeous sunflower fields, take a tractor ride all around to take in the sights, and cut yourself three sunflowers of any size to take home. I felt it was a good value for the money – but then again, they could have charged me $100 and I still would have wanted to go!
We did a family photo shoot in the field this year and I love the shots so much – I feel like looking at these sunny sunflower pics will keep us warm all winter long!
I've longed for the full sunflower field experience for years – since way before Instagram even existed. Long ago when I lived in Dayton, I wanted to visit the annual sunflower field in Yellow Springs near Young's Dairy, but somehow I never managed to go when they were in full spectacular bloom. (The Tecumseh Land Trust field is due to hit peak bloom around September 7 this year, if you want to go check them out!)
Then back in the spring of 2013 when Z turned three, we tried to create a sunflower fort for her in our own backyard. E carefully measured and cut the sod in a perfect square, then little Z and I walked the square planting and watering sunflowers in two varieties. We left a small opening sunflower-free to be the little doorway. It would have been absolutely amazing had the bunnies and deer not come along and razed our sunny seedlings to the ground. Nature is a cruel mistress.
I'm so happy we now have a glorious sunflower field not far from Columbus – and you'd better believe I'll be going again next year. What's your favorite flower – and have you ever stood in a field surrounded by them? I'd love to hear your flower power stories in the comments below or over on Facebook.