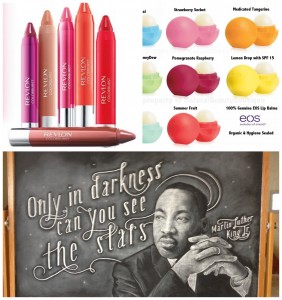 Welcome to my on-again, off-again Friday Favorites series. If you like this post, check out the others that came before!
It's Friday again. Can I get an amen?! Today, I have a collection of fun, healthy stuff to share. All they have in common is the faintest thread of girliness, fitness and health – plus one wild card thrown in for fun. Enjoy!
1. Revlon lip balm pencils. I first picked up one of these at Ulta and fell in love with it – then grabbed a couple of others at a local drug store. They are not cheap, priced around $8.99, but I definitely think they're worth it. This pencil is a really nice, new addition to your lip wardrobe – a bit more color and sheen than regular old chapstick, but less "fancy" and obvious than lipstick. Note that I never even consider gloss as a lip option, because of two things: hair and wind. I don't know about you, but in winter I have to constantly keep applying balm – and this pencil makes that easy and fun. Of my three balm pencils, I adore the "honey" shade – it's almost my exact natural lip color but adds a nice subtle, polished look without being overdone. It's a definite wear everyday shade and product. Check 'em out!
2. Eos lip balms. More lip stuff! Okay, so I'm a sucker for design and good marketing – but these are seriously addictive once you have one. Priced at about $3.99, they are perfect for your purse and easy to find if you have a big black hole of a satchel like I do. I'm constantly scrabbling in there for something – and these little smooth spheres are easier to locate than a chapstick, which feels like a lipstick, pen and whatever else is rattling around in the dark depths of my purse. Don't blame me if you fall hopelessly in love with these little guys and find yourself wanting to collect the whole set. I have one in my coat pocket right now. So far my favorite flavor is Summer Fruit.
3. My Fitness Pal. Basically, this is the most incredible weight management tool I've ever found and I can't believe it's free. You enter the foods you eat, scanning barcodes where applicable, and it is all entered, tallied and analyzed for you. You can set various goals (stay healthy, lose weight, etc.) and also enter in your fitness – or, if you wear a Fitbit as I do, it will sync with that and bring in your steps and activity automatically. It's like magic. My Fitness Pal turns what can be a tedious chore into something fun. I can't remember when I've enjoyed reducing my calories and striving for healthy nutrition more than I am right now – and that's saying something, because I've been dreading and putting off starting this weight loss program for a long, long time!
4. The BOSU balance trainer. This is so many things at once. First and foremost, the BOSU is a hardcore piece of fitness equipment used by many personal trainers (that's how I first came across them). It's also a hilariously fun bouncy toy for preschoolers, a great stretching aid and a comfortable place to sit. All told, the BOSU is the best piece of fitness equipment I have ever purchased. It came with a DVD and tons of ideas for workouts and exercises, from cardio to strength training, stretching to yoga. But absolutely everything you do on the BOSU involves balance training, which is super important and often overlooked (critical especially as we age). It was just over $100 on Amazon and worth every penny (costs more if you splurge on the pink one, but it looks so cute I almost wish I had!). Just standing on it is a good workout – add almost any movement (or try just closing your eyes!) and it really becomes challenging. I can't wait to be able to rock out at the DVD that came with it. I'll be working hard on this all year.
5. #Dangerdust. No, this isn't a rock band – even better. It's a guerilla art duo made up of two female students at CCAD who create incredible, inspirational, legendary and temporary works of art in chalk in the third-floor common space of the CCAD Crane Design building. These two are about to blow up – HuffPo covered them this week and you can expect to see more of them. I love that they are girls, I love that they are incredible artists, and I love that they choose to work anonymously and under cover of night. Plus, they know their way around social media (like whoa) and their name is just awesome. More #dangerdust, please!
So, those are my five favorite things this week. What are your current crushes, obsessions and favorite things? I'd love to hear in the comments below.