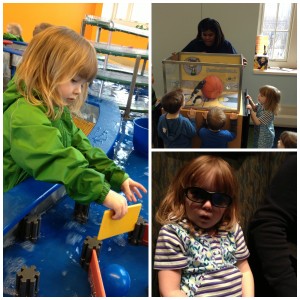 You already know how awesome COSI is, right? There's a reason Parents magazine called it the #1 children's science center in the country.
The normal, everyday exhibits and activities at COSI are so great, we often don't even make it to the big featured visiting attractions. Even when we're supposed to.
Recently, we were invited to tour and review Mindbender Mansion and Amazing Mazes, a "wonderfully puzzling and utterly addictive experience" that combines "two exhibitions full of brainteasers and interactive challenges guaranteed to test the brainpower and problem solving skills of even the most experienced puzzlers."
Sounds incredible, doesn't it? I wish I could tell you about it… but we hadn't been to COSI in a while so Zoe simply had to do all her old favorites first. We explored and played in little kidspace, watched our dear friends the Rats Who Play Basketball (including Zoe's favorite rat named – you guessed it – Zoe!), and even ended up at the water tables for some good clean (wet) fun.
All of that took up a little over an hour, and then we thought we'd catch the morning showing of Flight of the Butterflies on the big Extreme screen. It was our three year old's first experience with 3D glasses and at first she was a fan, but she soon wanted to take them off which ultimately made viewing difficult. We only made it through about half of the film, but it was absolutely magical. I highly recommend this movie – it will make a Monarch lover out of you and have you planting milkweed and wildflowers in your back yard to attract and support these amazing creatures.
I wish I could tell you more about Mindbender Mansion and Amazing Mazes – people were raving about it and I've read great things online – but guess what? You have a chance to go, for FREE, and then you can tell me all about it. The great folks at COSI have given me a family pack of free COSI admission tickets plus free Extreme Screen movie passes. All you have to do is visit the COSI website and leave me a comment below sharing what you think your family would like best at COSI. That's it!
So, what do you think – would your family like a visit to COSI this spring/early summer? Leave me a note below and let me know. I look forward to hearing from you!
Disclaimer: blogging is wonderful. COSI gave me free tickets to give away, plus a cool swag bag of mindbendery stuff and Flight of the Butterflies goodies, including milkweed seeds that are totally getting planted in our backyard this spring!