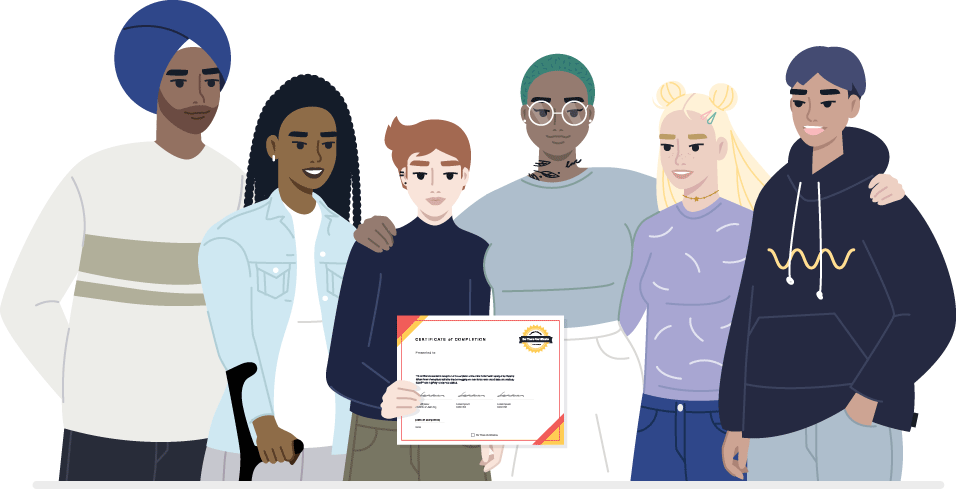 How much do you know about effectively being there for others who are hurting?
Recently, I took a free online course called "Be There" about how to support friends and loved ones who may be struggling with their mental health.
Some of the course material was familiar and covered things I already do in my daily life, but much of it was new to me and very useful.
The course actually helped me to see some of my "toxic positivity" traits so that I can do better for those I love.
This free course is offered by Jack.org, a Canadian non-profit training young leaders to revolutionize mental health, in partnership with Lady Gaga's Born This Way Foundation, which is dedicated to supporting young people through kindness and de-stigmatizing mental health.
The Be There course is broken into five golden rules, which I think provide a fantastic framework and can help absolutely anyone to be more effective in supporting the mental health of friends, family members, partners – even yourself.
I definitely think everyone should take the time (less than two hours) to go through this free online course and earn your own "Be There" certificate. In the meantime here's a quick summary of the five golden rules of being there for a friend or family who is hurting.
1. Say What You See – The first step, if you think a friend, family member or loved one is struggling with their mental health, is to talk with them. Let them know you've noticed some changes in them and that you care. Don't judge or make assumptions – just stick to the facts by describing what you're seeing. Even if they're not ready to talk yet, they will know you're a safe person who cares about them.
2. Show You Care – You can do more than tell them you care; you can show them by being a good listener, being compassionate and offering help. Ask them what they need and how you can support them – and if they don't know, offer some suggestions. You don't have to have all the answers. Just be a good friend and offer practical, everyday support.
3. Hear Them Out – Being a good listener means giving them space to speak. Prioritize listening and asking questions over sharing your own experiences. Put down your phone, make eye contact and validate what they're sharing with you. Remember that this conversation is about your friend – not you.
4. Know Your Role – As in all relationships, you should set boundaries for yourself based on your role, your capacity and your own personal safety and well-being needs. You never have to give someone all of your time, sacrifice your own mental or physical health, or try to meet someone's every need. Your role is to listen, validate – and help guide them to professional resources that can provide the assistance they need.
5. Connect To Help – Referring your friend to resources for professional help can be done anytime, but the earlier, the better. There are so many resources including community, cultural or religious organizations, medical doctors, therapists, online therapy sites or apps, free anonymous help lines and more. Therapy and medications are the most common treatments for mental illness, but there are many options.
The last section of the course is called "Be There For Yourself" and it's about self-care, which as you know is one of my favorite things. I particularly love this quote: "Self-care is not a treat and it is not self-indulgent. It is an important part of staying healthy that everyone needs to make time for." Amen!
If you take the Be There course, I believe it will help you to become an even better friend, family member and romantic partner. I highly recommend watching all of the optional videos and doing the extra reading, too. All of the extra content provided great insights and added value.
And after doing all that good work, you'll get a certificate you can print and frame – and it's signed by Lady Gaga's mom. How cool is that?!