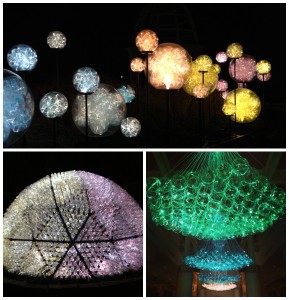 If you're looking for a romantic, unique date night this winter, I give my highest recommendation to the Bruce Munro: Light experience at Franklin Park Conservatory through February 8, 2014. These glowing images were taken there, but please know that photos and even video cannot do this installation justice. It truly has to be experienced in person for all its enchanting, magical splendor.
"You need a medium to find yourself and to explain things to other people, and light happens to be mine." ~ Bruce Munro
Walking through the conservatory in the dark is a novel experience in itself, as the place is usually bursting with natural light. The darkness plays a critical role in seeing Bruce Munro's work, however. We had visited the conservatory earlier in the week with Zoe during the day, and his pieces simply don't make sense seen in broad daylight. After dark, the ten beautifully-lit installations of Light come alive with movement, shimmering, changing colors and an unforgettable ethereal quality that will stay with you long after you leave.
The interplay of sounds with the light art is another aspect that makes this exhibit breathtaking – especially in the piece that flashes like lightning and thunders like a night storm in a humid, tropical jungle. It truly transports you! Overall, Light makes for a truly magical evening, especially if you start with a fantastic dinner as we did on our recent, long-awaited and much-appreciated parents night out.
And even though I'm recommending this as a date night activity, Light would also be a terrific experience for kids, as long as they can be convinced not to touch the artwork (which is very tempting, especially in the "Field of Light" piece where one is literally surrounded by what seem like magic, color-changing fairy balls). I plan to take Zoe back one evening in January so she can see it for herself. I imagine the outdoor parts of the installation (six pieces are indoor, four are outdoor) would be even more breathtaking during a light snowfall.
Experience Light at Franklin Park Conservatory on select evenings, 5 – 11 pm, now through February 8. Tickets are $15 for adults, $12 for seniors 60+ and students 18+ with ID, $6 for kids 3–17 and free for children 2 and under. That said, members pay a reduced rate of $7.50 for adults, $6 for seniors 60+ and students 18+ with ID, and $3 for kids 3–17. If you've never considered membership at the conservatory before, here are some reasons why you should. Believe me, this place is even worth a drive from Cleveland.
If you've been too, what did you think of Bruce Munro: Light? If you haven't been yet, what are some of your other favorite things to do during date nights? I'm always looking for ideas!