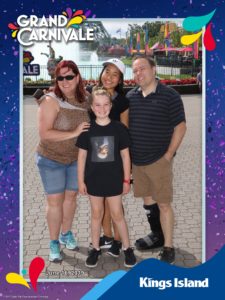 Here in Ohio, we're blessed with not one but two popular, all-American amusement parks: Kings Island and Cedar Point. It's been years since I've visited Kings Island, so that's the one we chose to help close out our dear Napa's last week in the USA.
We took a risk and headed down to Kings Island on a day that threatened rain. The forecast said scattered thunder showers. The skies were dark and gloomy leaving Columbus, but I had four rain ponchos with us and figured we'd have fun no matter the weather.
Wouldn't you know it – the skies brightened as we drove south, the rain moved on and there was hardly anyone at the amusement park with us all day!
We never had to wait longer than ten minutes for a ride, all day. When does THAT ever happen at KI – and on Father's Day, no less?
Here are our highlights – and a few low points to keep it real – so that you can plan a fun Kings Island trip for your own fam this summer!
Highlights
Low points
Hubby went to the park wearing a walking boot due to an annoying heel spur he's currently dealing with. He knew walking would be a lot less painful with the boot on – but what we didn't realize is that he'd be banned from riding many of the most fun attractions. Had we known, we certainly would have left the boot at home. Finally, late in the day, we met an employee who took the time to tell us that if he got a "green sheet" he'd be able to either wear the boot on most rides or take it off and ride shoeless. If only all park employees were educated in this matter, he'd have been able to ride with us all day instead of staying parked on a bench solo on Father's Day!
I already mentioned that it was a great day for Kings Island from a crowds and lines perspective. Unfortunately, when the gate is that low, parks often send a percentage of employees home in order to keep profits up. This meant that we were plagued all day with annoying ride closures. It was disappointing to not be able to ride the Beast and several other big, popular rides! I wish that Kings Island could have managed its staffing a bit better so the big rides could have remained open.
All in all, though, the good far outweighed the bad. Our rain gamble paid off and we ended up with an absolutely perfect day, weather-wise – not too cool and not too hot. Sure, there were a few hiccups, but overall it was a wonderful summer adventure.
When did you last enjoy a day at the amusement park with kiddos – and have you been to Kings Island yet this summer? I'd love to hear your stories in the comments below or over on Facebook.