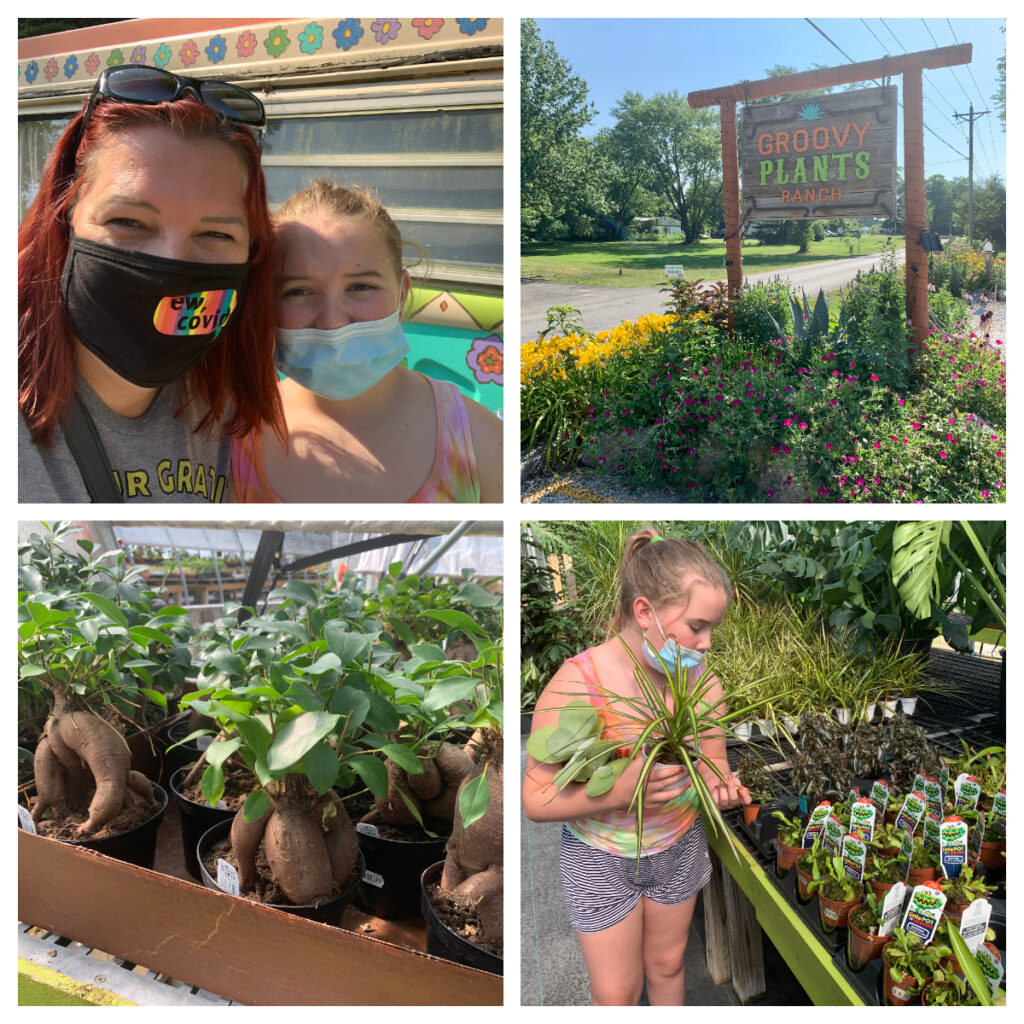 If you're looking for a beautiful outdoor spot to while away an hour and pick up a couple of gorgeous plants in the process, then the Groovy Plants Ranch is for you.

Z and I headed up to Marengo, Ohio today for our first ever visit to the Groovy Plants Ranch. It's a little more than 20 minutes from Lewis Center and so worth the drive!

We are both pretty big fans of plants, especially succulents, and GPR really delivers with more variety of succs and cacti than I've seen anywhere else. We saw many types we've never seen before, and they all looked fantastically healthy.

I went there looking for something really specific – one of the gorgeous little stunners mentioned in this article on up and coming trendy plants. While GPR did not have a variegated string of pearls ready, they said that they have started some and should be releasing them later this summer.
In the meantime, I scored a gorgeous all-green string of pearls, and already found the perfect "head" planter pot for it!
Z went with a very cute plant called a sun ray, which should grow really well in her room and will give her something to water more often (she currently only has succs and cacti, and hates that she can only water them monthly)!
There's so much to see at Groovy Plants and it's hard to think of a better way to spend a sunny morning during these crazy Corona times. Here were some of our favorite sights:
The cool vintage VW bus at the back of the property, loaded with flowers and charming, Instagrammable style
The check-out desk was decorated in living succulents planted in any crack and crevice. I just loved all the design details here!
The many varieties of succulents and cacti to drool over, in all sizes and at all price points
The very naughty pants-less plants in the corner of one of the greenhouses. Are they Hogwarts mandrakes? They sure looked like them!
A big section of carnivorous plants such as Venus fly traps and hanging pitcher plants
A very sweet Australian shepherd who loved belly rubs and followed Z around for a while for more scritches
A gorgeous little guy called a rattlesnake plant that Z and I both wanted to take home! Maybe next time.
If you like visiting nurseries, you'll love Groovy Plants Ranch. And even if you typically are not a big nursery fan, you may still like this one because of its unique plants, gorgeous designs and overall funky and cool vibe. They describe themselves as "an immersive plant experience, filled with botanical oddities from around the world" and it's true!
Have you been to Groovy Plants Ranch, and are there other hidden gems like this around Ohio that I should know about? As always, please hit me up in the comments below or over on Facebook.