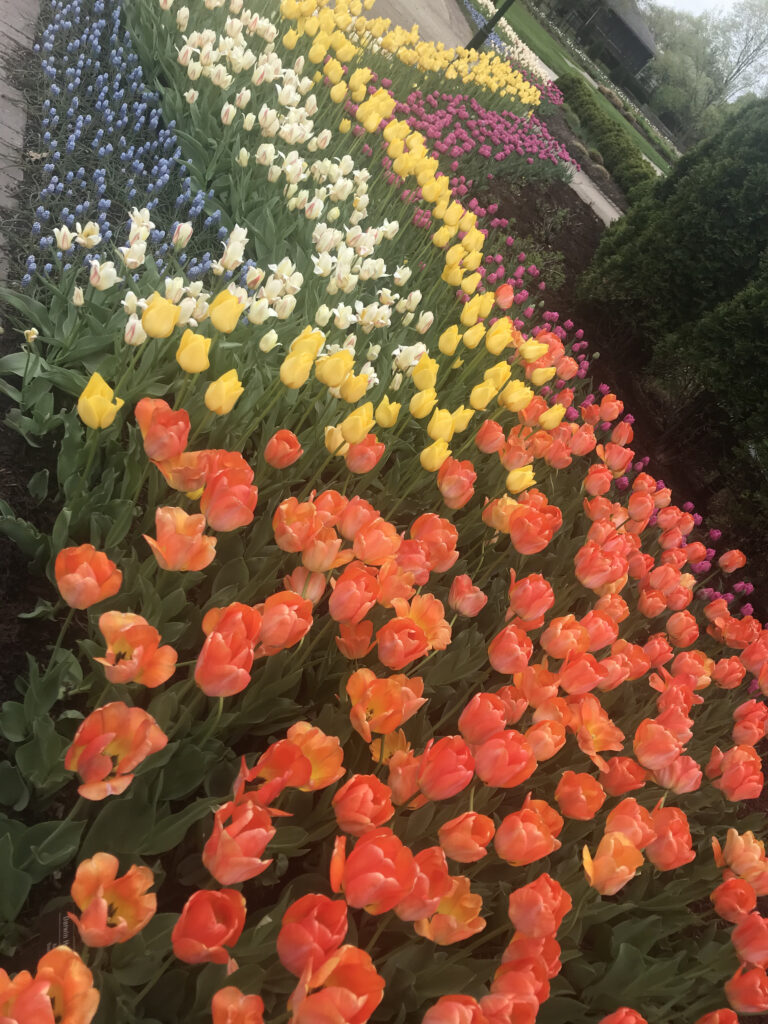 There's always something magical about spring in Ohio, but this year it feels even better than usual. Birds are singing, the grass is green and the flowering trees are showing off. I'm loving it.
Maybe it's all that snow we got in February, or the fact that this pandemic has gone on far too long and the vaccine is finally within our reach.
Whatever the case, I'm in the mood to go out and frolic in some gorgeous spring blooms – and I've got just the places to do it if that sounds good to you, too.
Here are my favorite places to enjoy beautiful spring flowers in Columbus. Take some time to smell the hyacinth and tulips this month – you deserve it!
Franklin Park Conservatory (FPC) (downtown Columbus)
FPC is the gold standard of spring flower displays in central Ohio. Each fall, they plant hundreds of thousands of tulip, daffodil and hyacinth bulbs so that when spring comes, there's a veritable explosion of colors, shapes and scents. If you haven't visited FPC in springtime, you are in for a real treat this month.
You don't even have to splurge on admission – you can just explore the grounds outside. Most of the gardens at FPC are free to the public and one of the best kept secrets in Columbus, just perfect for a stroll anytime the weather is nice.
There's more to see for members and paying guests at FPC. Go on inside to see even more gorgeous blooms, butterflies, Chihuly art glass displays and more. This is one of our favorite places year-round, but you simply can't beat it in the spring. The Children's Garden outside, available only to members and paying guests, is also a must-do for kids of all ages – including grownups.
Inniswood Metro Gardens (Westerville)
I've never met a metro park or nature preserve I didn't like, but Inniswood has a special place in my heart. Here you'll find countless spring blooms alongside walking paths, streams, man-made waterfalls, bridges, woodlands and so much more.
Families love Inniswood for its beloved children's gardens and trails, including a wonderful rope bridge, tree house, story maze, water play area, walled secret garden and tree tunnel. Photographers love Inniswood for its exquisitely maintained flower gardens which make the perfect backdrop for any family portrait.
Don't let spring pass you by without a visit to Inniswood this year.
Groovy Plants Ranch (Marengo)
Just a short drive north from Lewis Center is a unique, family-owned greenhouse and plant nursery that is becoming quite a desirable destination. Groovy Plants Ranch is fun, beautifully laid out and carries a wide selection of flowers, plants and succulents for home and garden – including many rare varieties you won't see anywhere else.
Add in friendly dogs named after flowers themselves and a groovy, flower-bedecked VW van that is perfect for photo opps and you've got yourself a terrific reason for a drive out into the country. By all means, visit your local plant nurseries too – but Groovy Plants Ranch is well worth the trip this spring if you're a fellow plant lover.
Have I missed any of your favorite spots to see spring flowers in central Ohio? Be sure to let me know if there are other flowering hot spots we should visit and write about!
A version of this story also appeared in the May 2021 issue of Lewis Center Living magazine.