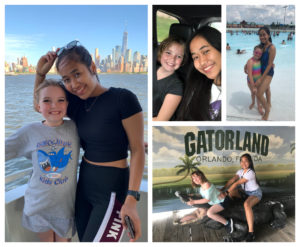 When we signed up to host an international exchange student through YFU, we were ready for the adventure of bringing a young cultural ambassador from Thailand into our home and community. We promised to follow the #1 rule of YFU: treat 'em like your own. We knew Napa would not be a guest in our home, but a member of our family. We were ready to embrace her!
And that's exactly how it all went. Napa has never been a guest – from day one, she has been one of us. Our little family of three grew to four the moment we met her, and we have spent a warm and loving year together. Our hearts are full. We had so many fun adventures, exciting trips and good times. We will always share so many inside jokes and family quirks and funny memories.
But you know what's coming, right? Oh yes. You know what's coming, and so do I. As much as we love her, Napa is not ours to keep.
Zoe will always have a beloved sister, and we'll always have our treasured Thai daughter in our hearts, but the fact is that in two weeks, Napa is going home to be with her family in Thailand. I won't be able to grab her and steal away to Condado for tacos and queso, or to the mall for shopping and bubble tea. E won't have a lunch buddy to join him at the Asian buffet. Z won't have her beloved Thai sissy right down the hall from her own room to sing, do makeup and make videos together.
We'll miss going to watch Napa cheer at football and basketball games. We'll miss going to watch her run hurdles at her track meets. We'll miss big moments like Napa's choir concerts or seeing her get all dolled up for homecoming and prom, as well as little everyday moments like family trips to Starbucks or just hanging out on the couch with the dogs. I know we'll still text, chat online and Facetime with Napa often – but she'll be 8,500 miles away in a completely opposite timezone. Her morning will be our night, and vice versa.
Napa has been such a blessing in our lives – the Thai daughter and sister we never knew we needed. In so many ways, she completes our family. She's been gracious, sweet and thoughtful since day one. She works unbelievably hard to be the best at everything she does – a true inspiration to me personally, and to all of us. She motivates all of us to be more respectful, peaceful, brave and open to new things. Absolutely everyone who has met Napa, from friends and neighbors to our extended families, has fallen in love with her – and with good reason.
So how do we say goodbye? How do we prepare our hearts for the inevitable breaking and aching that we are already starting to feel, even as we try to make the most of every moment and stay as happy as we can?
I wish I knew. The loving and welcoming and having fun and being together part came easy to all of us. I fear the leaving and saying goodbye and missing each other part won't be quite as effortless. But I don't regret hosting Napa for a minute – we all had a wonderful year and are changed forever. In the immortal words of Elphaba from Wicked:
Queue the tears. Queue every heart-breaking goodbye song that ever was. And if you pray, pray for the hearts of our little family as we get over this great loss of our great girl. I'm most worried about our sweet Z, who told us that the day we welcomed her sissy Napa at Columbus Airport last August was the very best day of her life.
But I see a trip to Thailand in our very near future, and that makes me happy! And we also hope to welcome Napa and her parents for a visit back to the US sometime soon for more fun adventures – hopefully to include the West coast this time. We haven't just gained a new sister and daughter; we've gained an entirely new family on the other side of the world!
For right now, here are a few things we're doing to help these two beloved sisters with their parting:
Special sisters-only activities for the two of them together in these last two weeks – including setting up our tents in the backyard for a sisters-only campout!
Writing notes and creating art for each other that will be sealed in envelopes to be opened when they are missing each other most.
Setting up a schedule for their Insta chats/FaceTime calls that will begin once Napa is acclimatized back on her own time and has finished her immediate welcome home celebrations with her family!
If you have other ideas to help with a big goodbye – or with keeping in touch with a loved one so far away – we are all ears. And in the meantime, despite how much it hurts to let them go, do consider hosting a YFU student in your home! The joy and learning and fun far outweigh the downside of having to let them go at the end of the year.