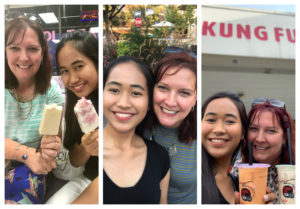 I miss having a teenager.
Don't get me wrong, I adore our little 9-going-on-19 pre-tween more than life itself. But it was really fun having a high schooler in the house, too.
She wasn't actually our teenager; we were only borrowing her. But Napa was with us for 11 months – just shy of a year – so it truly felt like she was. That's what made saying goodbye so hard.
Now that we're through the worst part of our parting, life has gotten back to normal around here with our little family of three. Naturally, we have hard moments of missing our beloved Napa, and flashbacks of happy times last year thanks to photos I shared on Facebook last year (Facebook Memories is both a blessing and a curse!). And of course we get wonderful glimpses of her current fab life as a high school senior back home in Thailand.
Still, I miss Napa's company and the fun of having a teen to do fun "big girl" things with – things I can't necessarily do with Z yet. Or things Z doesn't even want to do with me! So here's my list of fun things Napa and I used to do together that you might find useful if you have a teen of your own.
Condado. This was our place – Napa's and mine. We went there all the time for mom and daughter dates. We even won a year's supply of tacos together! This is a place that is super fun for teens because it's hip, loud and the food's delicious. I still go sometimes with my work friends, but Condado will always remind me of happy times with Napa. We even hosted her 17th birthday party here! Chips, queso and tacos add up to a perfect bonding evening.
Easton Fashion Night. This annual event is coming up next week and I want to go, but it won't be the same. We had such an amazing time there last year – Napa even got to walk the catwalk like one of the models. I thought about taking Z, but I'm afraid she's too young to really enjoy it. Definitely take your teen though – it's a perfect mom and teen date night!
Super cool cultural experiences. Napa took me to the Wat Paknam Thai Buddhist temple in Dayton, Ohio twice during her time with us. It is such a special and unique place – I really loved visiting, meeting the monks and getting a flavor for the Thai Buddhist experience. There is also a very cool Lao Buddhist temple in Columbus, but we never made it there for a visit. It would be a great place to check out with your teen!
Shopping at the mall. This is something I can do with Z too, but it was especially fun with a teenager. I particularly loved shopping for Homecoming dresses and shoes with Napa – we had a great time finding the perfect ones. While Z was doing homework or watching TV with E after dinner, Napa and I would often scoot off to the mall together for an hour or two of "big girl bonding time" – so fun.
Bubble tea. I loved bubble tea before Napa came, but now it's even better. We had so many fun bubble tea outings but our favorite has got to be Kung Fu Tea (either Dublin or Kenny Rd locations). So delicious! Napa even got her little sister into bubble tea; Z would never try it when I offered, but for her sister she gave it a try. And now loves it, of course!
Cooking fab Thai meals at home. Napa's lasting legacy to our family is that I now make a delicious massaman or panang curry for us once a week, usually on Sundays. Napa taught me how to prepare it and I have so many fond memories of the two of us chopping veggies and meats side by side, and stirring everything together in the pot until the taste was just right. We made an epic feast for my folks at Christmas, and we made a similar fabulous spread for E's fam, too. Cooking can be fun with a kiddo Z's age too, but it was especially great with a teen like Napa who could teach me a thing or two.
Jeni's ice cream. This might be hard to believe, but I have a tough time getting E and Z to go to Jeni's with me. They both prefer more pedestrian ice cream flavors like those found at DQ, closer to home. But I'm a diehard Jeni's fan and to my delight, so was Napa! I really miss being able to grab her and head up to Powell for a delicious sweet treat. Every time I have Jeni's now, I raise my bowl in her honor.
It's funny – I didn't realize that so many of our fun experiences together centered around food, but I guess that explains why I put on some pounds during Napa's year with us. It was all worth it though – no regrets!
If you have a fabulous teen in your life, I hope you'll enjoy some of these same experiences together. In the immortal words of Shakira, "Try everything!" It's the only way to find new things and experiences that we love.
What are some of your favorite ways to bond, connect or simply spend time having fun with your teen? I'd love to hear your stories in the comments below or over on Facebook.