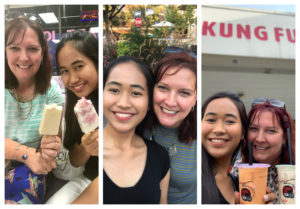 I miss having a teenager.
Don't get me wrong, I adore our little 9-going-on-19 pre-tween more than life itself. But it was really fun having a high schooler in the house, too.
She wasn't actually our teenager; we were only borrowing her. But Napa was with us for 11 months – just shy of a year – so it truly felt like she was. That's what made saying goodbye so hard.
Now that we're through the worst part of our parting, life has gotten back to normal around here with our little family of three. Naturally, we have hard moments of missing our beloved Napa, and flashbacks of happy times last year thanks to photos I shared on Facebook last year (Facebook Memories is both a blessing and a curse!). And of course we get wonderful glimpses of her current fab life as a high school senior back home in Thailand.
Still, I miss Napa's company and the fun of having a teen to do fun "big girl" things with – things I can't necessarily do with Z yet. Or things Z doesn't even want to do with me! So here's my list of fun things Napa and I used to do together that you might find useful if you have a teen of your own.
It's funny – I didn't realize that so many of our fun experiences together centered around food, but I guess that explains why I put on some pounds during Napa's year with us. It was all worth it though – no regrets! And if you have a fabulous teen in your life, I hope you'll enjoy some of these same experiences together. In the immortal words of Shakira, "Try everything!" It's the only way to find new things and experiences that we love.
What are some of your favorite ways to bond, connect or simply spend time having fun with your teen? I'd love to hear your stories in the comments below or over on Facebook.