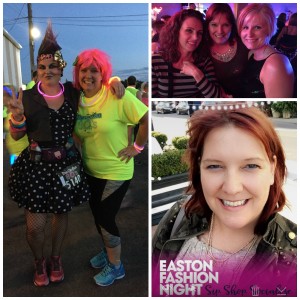 GNO. Girls Night Out. Rarely have three little letters or words come to mean so much to me. Between work, being a mom and wife, and just the never-ending juggle of everyday life, sometimes you need to let your hair down with your friends. GNO for me means fun, laughter, a little more makeup than usual and being carefree and silly for a night. We all need more of that in our lives!
GNOs are not as frequent for me as I'd like; I think ideal would be once a month or at least every other month.
I have been fortunate to share some fantastic nights out with friends this year. Here's my compilation of the best of the best so you can plan an awesome evening with your girls, too.
I've been running all spring and summer so my training partner and I committed to running an actual 5K race earlier this month – and boy, did we pick a fun one. Now you may be thinking, I'm not a runner – scratch this one. But not so fast! Many people walk the Glo Run – and the dance party immediately following the finish line is epic. Plus, this year the theme was '80s so you can imagine the fun that was had with costumes. Yes, costumes – people went all out!
We had an absolute blast getting ready for the event, during the run/walk itself and afterward at the post-run Glo rave (whoever the DJ was is incredible!). The course is filled with fun glowing tunnels, inflatables and black light stations which make selfies even more fun than usual. Then picture countless exhilarated, sweaty peeps adorned with glowsticks dancing to a DJ in a huge barn – it was unforgettable. I'm marking my calendar already for next year's event. This is one NOT to miss – and bring a big group of your best girlfriends along to make it even more fun!
If you're looking for a more typical girls night out at a bar or club, then head straight to Polaris and the rockin' country style of Tequila Cowboy. This spacious entertainment complex includes the main country club, a karaoke bar and a pizza joint. The original TC is in Nashville, and they did a great job bringing a dose of Nashville flavor right here to North Columbus.
If you're thinking "forget it, I don't like country" – again, hear me out. At 11 pm the live country music changes over to a DJ who plays a lively, fun mix of dance, country and party music (think ACDC's "You Shook Me" and more). And just like the music, the crowd is diverse with a nice mix of people of all ages, styles and ethnicities. I love this place all year round but for some reason we usually end up going in the dead of winter. A night out here with your friends will keep you warm for a long time to come!
I experienced my first #EastonFN this year and I absolutely loved it. Grab your girls and head down to Easton Town Center in mid September for Easton Fashion Night: a taste of New York Fashion Week right here in Columbus. Start with appetizers at Smith & Wollensky or another of Easton's fine dining establishments. Then amble over to the Strand (the outdoor section of Easton between Nordstrom and the central fountain) where the main event takes place. Just follow the music!
For Fashion Night, Easton rolls out the pink carpet with free professional portraits, street entertainers, complimentary snacks and sweets at many shops, models showcasing the latest fall styles, plus sales and deals at almost every shop. Add in gorgeous fall weather like we had last night, and it makes for a simply perfect girls night out.
So, how about you – how often do you get your GNO on? Where are your favorite places to go for GNO? And do you have any unforgettable girls night stories you'd care to share? I'd love to hear in the comments below or over on Facebook!