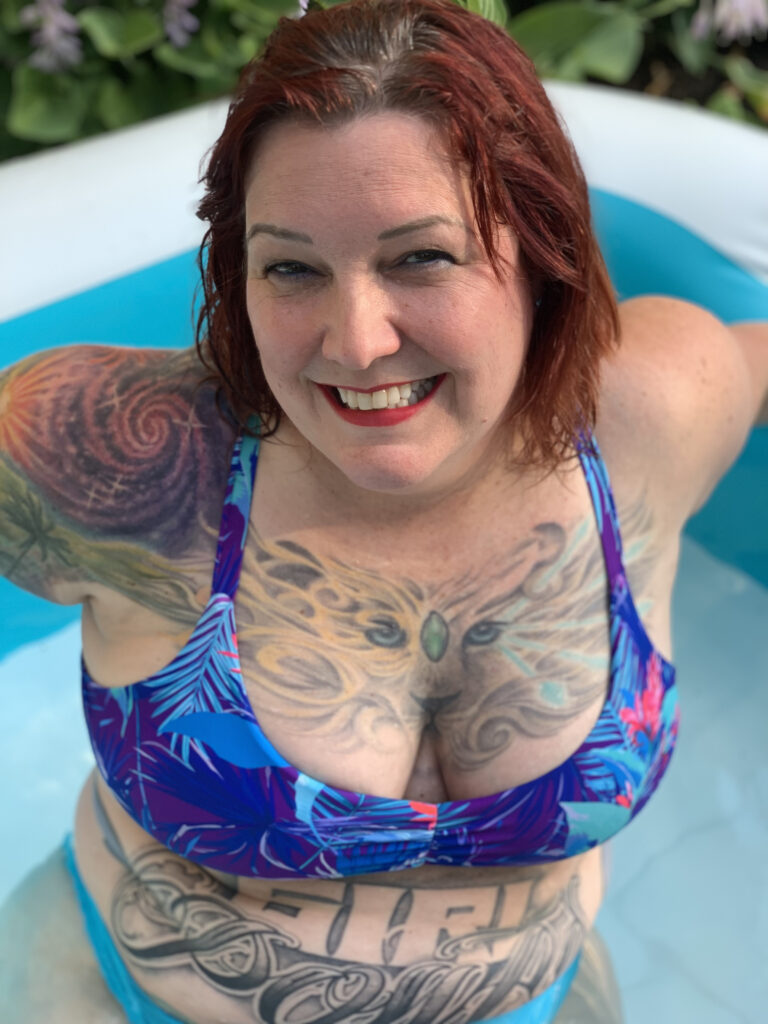 I'm a huge fan of the recent revolution in women's swimwear. Have you noticed?
Back in the day, you could only get bikinis in smaller sizes. Women with bigger bodies were expected to wear one-pieces or stay covered up. But no longer!
Today, you can get fabulous, stylish and flattering bikinis in every size. There are marvelous plus-size models and body positivity activists posting bikini shots all over Instagram. Heck, I've even done it myself at the fine old age of 51!
You see, I truly believe that every woman should have a bikini she loves – and the confidence to wear it. No matter your age, shape or size, you can find a bikini that will flatter your curves and allow you to get a little sun on your tum. And really, is there any better feeling than that?
Even my pup Dani knows the joy of going out on a sunny day and rolling over to let the sun's rays warm her bare little belly. It's a feeling of pure delight.
When I was an impressionable tween in middle school, my best friend and I got to spend time at a family friend's pool. The pool's owner was a lady named Linda who didn't have any kids of her own. She was one of the coolest grownups I'd ever met.
Linda spent all her days off lounging by her pool and she had a glorious tan to show for it. She told us we could use her pool anytime. She even showed us where she kept the extra house key hidden so we could let ourselves in if she was at work.
Linda was in a bigger body and she looked amazing. Her skin absolutely glowed and she wore a bikini anytime she darn well pleased. The three things I remember most about Linda were that she was kind and generous; she had a great job and loved her time off; and she rocked a bikini despite having more curves than anyone I'd ever seen in a bikini before.
Linda was ahead of her time. I'm so glad that today, we can all be Linda if we want to! Here are my favorite bikinis that I've found online. I wear all of them and love them all for different reasons.
Those are my four favorite bikini brands. I've also heard great things about Shein Curve, Cupshe and Summersalt swimsuits for curvier bods, but I haven't tried them yet.
It's worth noting that I don't often wear a bikini out in public during the daytime because I prefer to keep my significant tattoo investment protected from the sun. That said, I love to wear a bikini in the sun for short stints for photo shoots or anytime we're night swimming! I'll typically rock a bikini under a long-sleeve rashguard for longer sessions in the sun.
If you're still skeptical about being in a bigger body and rocking a two-piece swimsuit, be sure you're following the incomparable Lizzo on Instagram. She is constantly posting string bikini pics and she looks amazing because her confidence is larger than life! Literally, all it takes to pull off a bikini this hot girl summer is confidence – that's it.
What do you think – will you give a two-piece swimsuit a shot this year? I'd love to hear your best bikini stories in the comments below or over on Facebook!