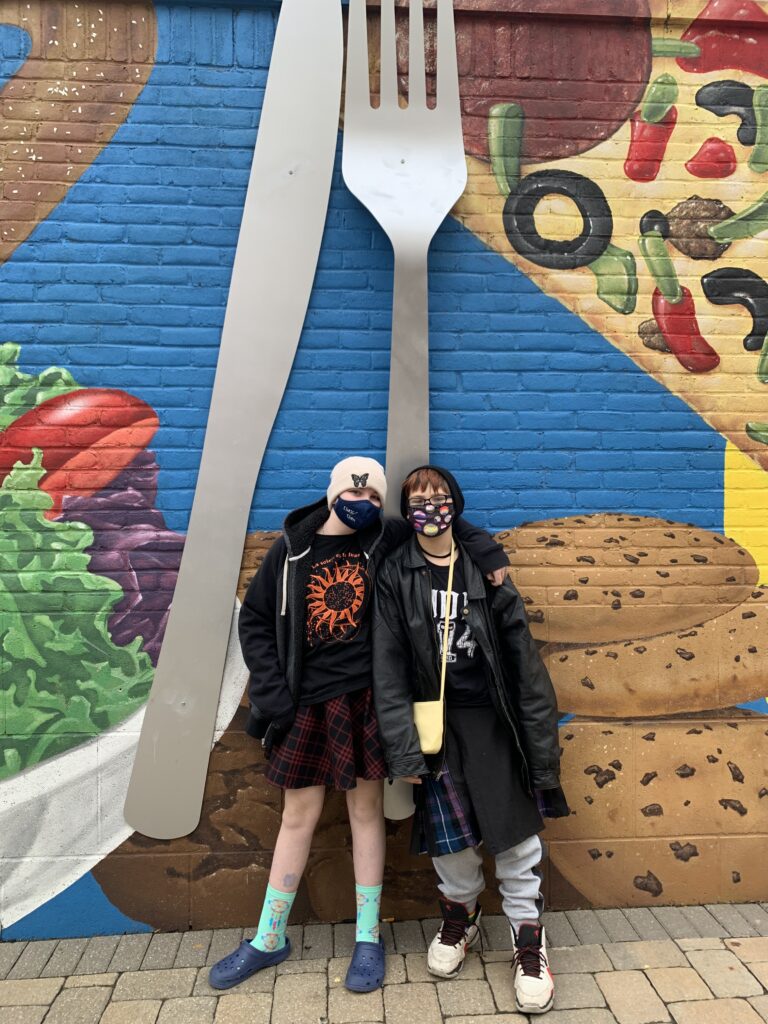 We've been on a wild ride with gender and identity this year in our household.
I'm blogging about it, as always, with Xage's full support. Our kiddo is a bright light who lives out and proud in their full truth and authenticity.
Xage loves to be kind, show empathy and help other gender diverse, LGBTQIA kiddos any way they can. By sharing our stories on this blog, we hope to shine a light on topics that need a little sunshine and openness. We want to help light a path for others.
Our gender identity journey
Back in January, Xage came out as nonbinary and proudly joined the LGBTQIA+ family. At the time, the term nonbinary felt most comfortable for them, as did they/them pronouns.
Over the course of this year, we've read a lot, learned a lot and participated in several gender diverse support groups.
Xage's identity has evolved a bit and they now identify as trans and agender, using he/they pronouns.
Some members of our family have said it's easier for them to stick with a singular pronoun, so those individuals actually prefer using he/him pronouns for Xage.
As for me, they/them pronouns have become second nature so I continue to primarily use those. Over time, I'll start adding in he/him pronouns too, but for now, Xage is okay with me leaning more heavily on they/them. They definitely prefer to be referred to as "my child" vs "my son."
From Xage's view, it's all good except for she/her – Xage does not identify or relate with those former pronouns, so those are off the table.
Just as the concept of nonbinary was new to me at first and I had to really dig in to understand and appreciate it, so too have I done some head-scratching over this new-to-me idea of being agender. We follow Xage's lead on this because it's their identity, so they get to choose the words that best describe it.
When I asked Xage why they like the term agender, they shared that nonbinary has come to be almost like a third gender. Xage doesn't want to be identified by a gender at all – that's why they prefer the term agender or genderless. They see themselves as not being between male and female, or being a third gender like nonbinary. Rather, they see themselves as having no gender at all.
Are you seeing what I'm seeing? Gender is a literal playground for these kiddos. They smashed the societal (completely made up) constructs of male and female – and now they get to create a whole new world for themselves. It's truly beautiful if you can get past your fear of the unknown.
I follow several nonbinary and trans influencers to help continually re-educate myself about gender and identity, since the heteronormative, cis-gender things most of us have been taught since birth are clearly not accurate. My favorite author, activist and bright light in this realm is Jeffrey Marsh.
Jeffrey shares amazing content on Instagram as @thejeffreymarsh. Recently, they shared the following gem, which inspired this blog post:
It's time to stop saying your kid is "struggling" with their gender. Your kid is a rainbow fluid delightful gift that society doesn't understand. Don't frame society's inability to "get it" as your child's character deficiency.

LGBTQ kids do often struggle. They struggle with:

Society's BS

Feeling misunderstood

Being judged

Not knowing they aren't the only one

None of these are "struggling with their gender identity." Place the blame correctly, please.
This resonated with me so much! Xage has not been struggling with their gender identity this year – they've been absolutely freaking blossoming into their gender identity.
From the moment Xage came out until now, they have been in a continual state of exploring, adventuring, flourishing and embracing themself.
I could not be more joyful about celebrating my unique, creative, spectacular and gorgeous kiddo and all of their gender uniqueness!
If you are the parent of a gender diverse kiddo, follow the beautiful and talented Jeffrey Marsh on whichever social platform is your favorite. I am sure that their gentle, wise teachings will be a balm to your soul as they are to mine.
And if you need other resources, be sure to read my past posts about raising gender diverse, LGBTQIA+ kiddos.