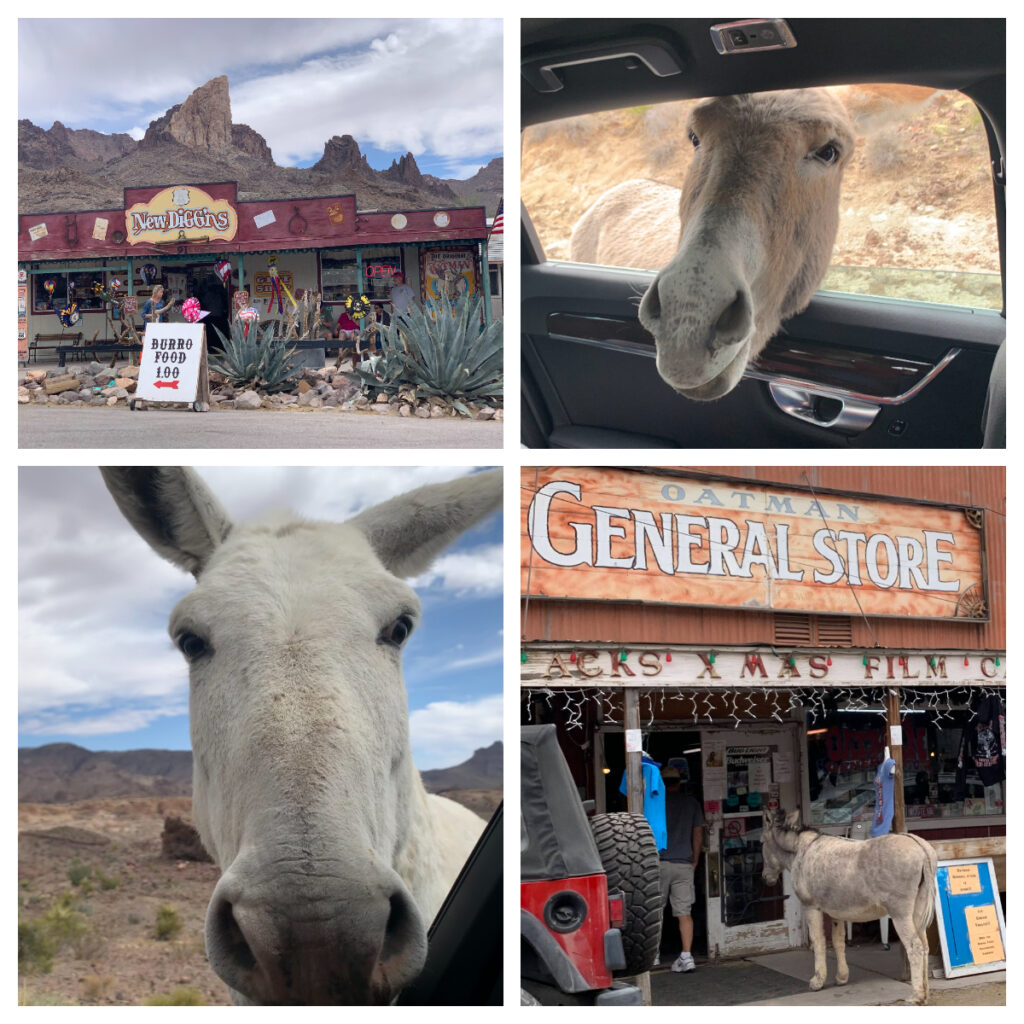 If you love critter encounters, you must add burro-friendly Oatman, Arizona to your family's travel bucket list.
During our spring break road trip around America's great Wild West, we made a fabulous detour from the main highway and explored Arizona's picturesque backcountry.
This included spending time on the Mother Road – old, historic Route 66 – with memorable stops at Cool Springs Station and the former gold mining town of Oatman, AZ.
Would you believe these offbeat, off-route visits were among the top highlights of our trip?
Our whole family loved Arizona. Between the red rocks, scenic canyons and amazing wildlife, we were hooked. But it wasn't until we hopped off the highway and cruised along Route 66 that we felt we were seeing the real, wild heart of Arizona.
So how wild was it? At Cool Springs Station, a picturesque and colorful roadside attraction between Kingman, AZ and Oatman, we stopped just after the proprietor had caught and cut the head off a rattlesnake. When they told us about it, they mentioned that we could still see the headless snake moving if we wanted to. Of course, knowing our family, we wanted to!
There, with scenic Arizona views just behind it as an oddly beautiful backdrop, was the headless rattler. It did indeed move, rattle, wiggle and lunge just as if it were still alive. What a curious oddity that we will never forget – and all because we stopped to visit the gift shop and pick up a few rocks. (See photos and read more in this post.)
We continued on the Route 66 scenic byway in search of the famous Oatman, AZ burros – wild descendants of the domestic burros brought to town by prospectors a century ago.
Not long after leaving Cool Springs Station, Xage and I spotted a couple of adorable wild donkeys. "Daddy, pull over!" screeched Xage. Once the car stopped moving, we were immediately approached by a couple of friendly and docile burros who gently stuck their heads inside our vehicle to see if we had anything good to eat.
All we had were gluten-free pretzels – but would you believe the burros loved them? We gave them each a few and then continued on toward the little town of Oatman. We passed a few more burros along the way – including the little family pictured at top. The drive into Oatman was curvy, winding and steep with amazing desert views everywhere you looked.
We arrived in Oatman to find more people than burros, so we didn't end up spending much time there. We stopped and looked around, but it's a very small town and was pretty touristy and crowded.
It was one of those scenarios where the drive to get to Oatman turned out to be our favorite part. We found we enjoyed the scenic desert views and friendly burros along the road better than our actual visit in town. Oatman is definitely still worth a visit anytime you're in that part of Arizona – and don't forget to stop at Cool Springs Station on the way.
If you're a Cars movie fan, you'll love knowing that Route 66, Oatman and Cool Springs had a role in the Pixar hit. I can believe it, now that we've seen those fun places for ourselves.
Have you ever visited a funky, offbeat little town and found it ended up being one of the highlights of your trip? I'd love to hear your travel tales in the comments below or over on Facebook.