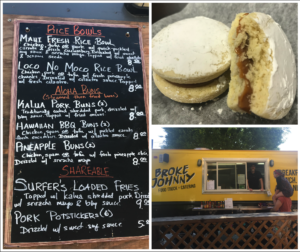 I've always been a fan of food trucks because in my experience, the folks who run them are all really good at what they do. Now that I work downtown, I get to partake in more food truck yumminess than ever before. So here, as part of my eclectic and ephemeral Friday Favorites series, are some of my favorite meals from Columbus food trucks.
Aloha Aina, formerly known as Aloha Streatery, serves up delicious Hawaiian/Polynesian inspired rice bowls and other Asian-influenced treats. I am a huge fan of the Maui Fresh bowl with tofu and the pork potstickers with sweet soy sauce are also to die for. My favorite treats, though, are their sweet, delicate alfajores (South American shortbread cookies sandwiched with dulce de leche). Anytime they have these little suckers available, BUY SOME! You will thank me.
Broke Johnny, where it's always breakfast anytime day or night, is known for terrific chicken and waffles. If you like spicy food, be sure to go for the Red Mole Chicken Waffle, which is literally one of the most delicious and fiery meals I've ever eaten. We make it an annual tradition to seek out the Broke Johnny truck every Mother's day. There's nothing like sitting out in the May sunshine devouring your favorite food truck breakfast!
Holy Crepes wins points for its clever name – and then countless more for its insanely delicious nutella, strawberry and banana crepes. Friends, I had crepes made for me in the streets of Montmartre, Paris, France that were not one whit better than the ones you can get in good ol' Columbus. That's how yummy these are! If you see the Holy Crepes truck in your travels, just follow it until they stop and then treat yo'self.
Ajumama bills itself as "Korean street food – fast and sassy" and I am HERE FOR IT. I can't even tell you what I had here, but I know that I loved it. Also they're now peddling a dessert called Hodduk that is described as "sweet and chewy griddle cakes stuffed with brown sugar, walnuts and cinnamon that melts into syrup when cooked." I haven't tried this yet, but you'd better believe I will. It sounds like it needs to be treated like a controlled substance!
ClusterTruck is not actually a food truck, but rather a downtown Columbus delivery service that brings the best of several food trucks right to your home or office. They have a diverse menu, insanely fast delivery and great quality. I loved the BBQ pulled pork sandwich I got one day and the pad Thai I got on another. For sheer convenience's sake, this place is amazing – it's like having a dozen food trucks pull right up to your building. Two thumbs up!
If you need a good guide to Columbus food trucks and where to find them, try Streetfood Finder. If you're as big a fan of food trucks as I am, you may want to check out the Columbus Food Truck Festival which takes place in August each year. Also, every Thursday at Columbus Commons from May to October is the Food Truck Food Court, which is a great way to check out a bunch of mobile food vendors on a sunny day downtown. Who knows, maybe you'll see me there!
What's your favorite food truck and what's your favorite meal you've eaten from a truck? I'd love to hear in the comments below or over on Facebook.