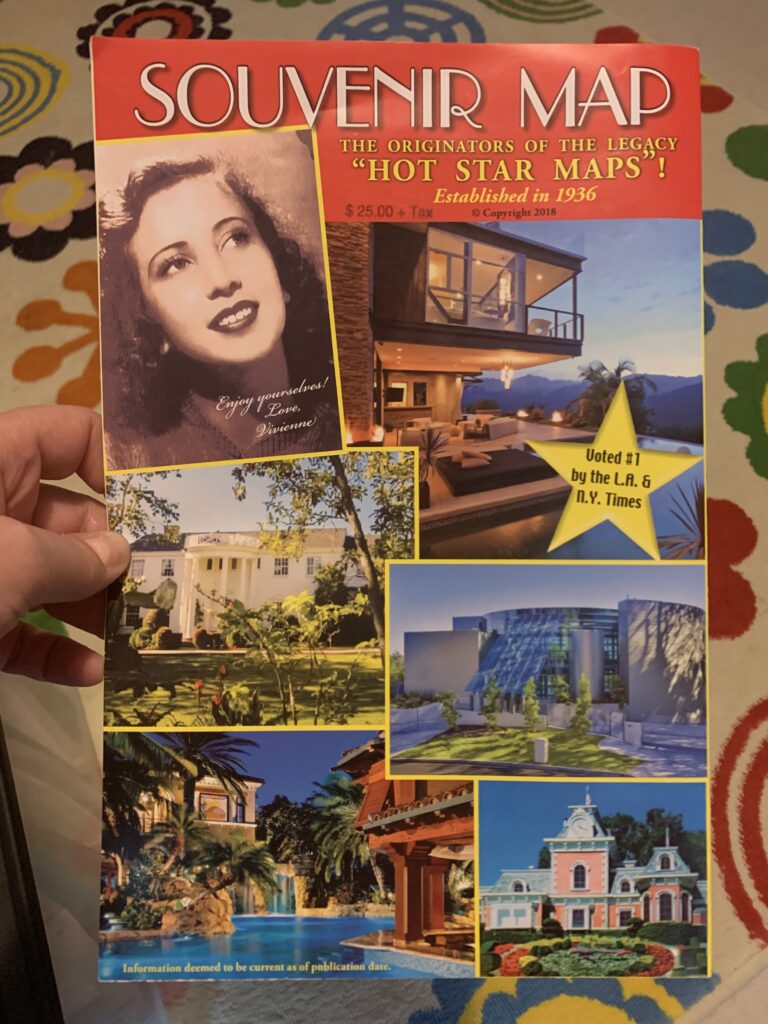 Have you ever driven around LA's hottest neighborhoods to ogle celebrity homes? It's really fun.
My parents moved to LA when I was in my 20s. I clearly remember that first time flying out to visit them. I was starstruck by the palm trees, the Pacific Ocean – and, of course, being in the celebrity epicenter of the world.
We did all the typical touristy things on that trip. We visited Beverly Hills, Rodeo Drive and the Hollywood sign. We even walked along Hollywood Boulevard to see the stars and celebrity handprints in the sidewalk.
But my absolute favorite memory of that trip was driving up into the hills and down into the canyons to ogle celebrity homes and hopefully catch a glimpse of Madonna and her bodyguards going for a jog.
Back in the 90s, you could find maps to the stars' homes just about anywhere on Hollywood Blvd. We easily picked up a cheap map, then drove around to all our favorite celebrities' addresses. It was fun seeing such unbelievable mansions and palaces and imagining what their famous residents were doing at that moment.
Fast forward to 2021, though, and you can no longer find a map to the stars' homes anywhere on Hollywood Blvd. Believe me, we tried! We asked in all the shops, and everyone just shrugged. It was pretty clear to me that there's been a huge push by some pretty powerful people to get rid of the maps and stop encouraging tourists to drive past the stars' homes. And honestly, you can't really blame them for wanting privacy.
You can still take a bus tour past the stars' homes, but we didn't want to do that – we had our own car and wanted to do our own thing. We googled to see if we could find the addresses that away, but the same powers-that-be must have scrubbed Google, too. We could find some old school stars' addresses (like Burt Reynolds and Carol Burnett), but no one current that Xage would care about.
I did find one article about LA's hottest celebrity neighborhoods so we started cruising up Sunset Blvd. into the hills to check them out. We knew we'd probably see some stars' homes, but we just wouldn't know who they were. Not quite as fun.
Get your hot star map here!
But that's when we saw it – a simple, hand-lettered sign along the side of the road that said "Maps to Stars Homes – next right!" We were in a really nice neighborhood at the time. We were a trifle skeptical, but we made the next right onto Carrolwood and chuckled nervously that we might be heading into some kind of trap.
Instead, we found a lovely tree-lined neighborhood and there, at the side of the road, was a nice lady with heavy makeup sitting in a lounge chair with a cooler and a stack of "hot star maps." She was surrounded by squirrels and it was pretty apparent she passed the time by feeding them, as they seemed very tame.
When we pulled over, the woman hustled over to our car and, with well-manicured nails, began to point out celebrity highlights on the colorful, glossy map. It cost more than I remembered paying in the '90s ($5 back then vs. $20 now) but it's a really nice map with tons of details and literally thousands of celebrity addresses.
It turns out these star maps have quite a colorful past – and this woman, whom I now suspect was Linda Welton herself, is right at the heart of it all.
"Pick a celebrity!" I crowed to Xage, brandishing my new map like the holy grail. We then pinpointed the location of every single one of our faves' homes (Ariana Grande, Justin Bieber, Jay-Z and Beyonce, and so many more).
We had a lot of fun that day. I was, and still am, tickled to have a grand and glorious, and decidedly hard to find, map to the celebrities' homes. Sometimes when things are hard to find, they become even more special.
If you have a trip to LA planned and you want to borrow my stars' homes map, just let me know. Otherwise, you can head to the corner of Sunset Blvd. and Carrolwood St. in Holmby Hills to visit Linda and get one of your own!
Have you ever visited Los Angeles and done all the fun touristy things? If so, I'd love to hear which spot you enjoyed most. We head to Cali about once a year, so let me know if there's a place you'd like us to visit and write about next.