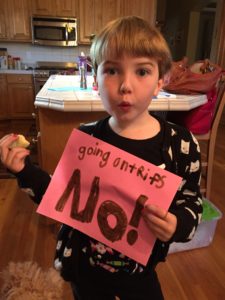 Have you ever had to deal with a seriously carsick kid?
I did a few summers ago on one memorable morning that resulted in a missed weekend with family, an abruptly aborted road-trip and an urgent need to have our car professionally detailed.
Before I tell you this tale, I must caution you, dear readers – this is a puke story. If you can't handle that, turn back now before it's too late.
I won't go into gratuitous detail, but I do have to, err, paint the picture. Kind of like my beloved daughter did in our new car. Six times (but who's counting).
First, let's set the stage. This happened during the summer of 2015. It was a beautiful Saturday morning and Zoe and I were beyond thrilled to be heading out on a road-trip to see her Cali cousins.
We had a good breakfast, went to the bathroom one last time and hit the road. I was driving E's car, which was our smallest and newest so got the best gas mileage. Zoe was enthroned on her brand new, super comfortable, big girl booster seat and armed with coloring books, markers, the iPad and plenty of other good car trip supplies. We had some good tunes playing on the radio and we were psyched!
We were headed up to Buffalo, NY for a girls' weekend of fun with Z's cousins, a visit to Niagara Falls and other summer shenanigans.
We did this once before and had a blast, so we couldn't wait to get there – and I happen to enjoy the scenic, 6-hour drive up to Buffalo so I was in a great mood.
Zoe, however, started complaining that her stomach hurt about 45 minutes into the trip. I figured she had to use the restroom so I stopped at a Bob Evans (nice clean bathrooms FTW). She seemed fine and said it felt better, so we kept driving. She was alternating between coloring in her book and watching a movie on the iPad.
Within another 30 or 40 minutes, she was complaining again and really unhappy. I should pause to note that carsickness was not even in our vocabulary as a family at this point. We've always done road trips and never had an issue.
I know other families who struggle with carsick kids and whose kids take meds before ever setting foot in a car for a drive over one hour – but that was never us. We drove to NYC a few years ago with Zoe and had no issues. We drove to Virginia Beach the year before and same thing. And, we often drive about two hours west to visit family and close friends – never a problem.
So I had absolutely NO reason to suspect carsickness. Zoe has never been carsick! But something was definitely wrong with my little sweetheart.
She kept complaining of a bad stomach ache. When I stopped for the second time, about an hour and a half from home, she was listless and a little pale. She seemed tired or sleepy – we went into a Chick-fil-A and she lay next to me in the booth with her head on my lap.
After a little while, she sat up and drank some chocolate milk but didn't want to eat anything. At this point, I called my sister-in-law in Buffalo and asked her opinion. We didn't want to cancel the trip, but I was pretty sure ZB was coming down with something. She just wasn't herself!
As we sat there, Zoe started to act a little bit more like herself and ate a little bread. My SIL thought for sure it was carsickness, and that we should get some Benedryl and keep driving, so that's what we did.
I pulled into a nearby pharmacy, grabbed some children's liquid Benedryl, gave Z a capful and got back on the highway. She seemed okay. I was still unsure – and honestly, my mom instinct was telling me to just take her home – but I didn't want to ruin our weekend with the Cali cousins. 
I'm sure you can figure out what happened next. I got back on the highway and had gone no more than a mile when I heard her cough and then the alarming sound of gallons of liquid vomit rushing at a high rate of speed. I turned to look, saw what was happening – a literal avomination, if you will, and immediately headed for the nearest exit.
Poor Z has not been ill much in her life and literally did not know what was going on – in the few seconds between rounds two and three, she managed to splutter "Mommy, what's happening?!" before it hit her again.
I felt SO BAD for her. Poor kiddo was absolutely miserable. As I drove, I tried to reassure her by explaining that her tummy was getting rid of whatever was bothering it, and that she would soon feel better, but nonetheless she was crying, continuing to retch and the car was a veritable ocean of yuck.
I pulled over in a residential neighborhood near a stretch of grass in some shade. I got her out of the car, stripped her down to her undies and wrapped her in a clean towel from our bag in the trunk. I lay her down on the grass in the shade and she rested.
I then attempted to clean VOLUMES of liquid puke out of our car and the car seat using only what I had – a few napkins in the glove box, one half-full packet of wet wipes and another clean towel from the trunk. It was rough, and very slow going.
I called hubby and asked him to call an exorcist as we'd be coming straight home. I also had to call my sister in law back and explain that, sadly, we would not be able to continue up to Buffalo to see them.
At some point, a postal worker in a mail truck saw me with my hazards on, glanced at Z lying in the shade, and stopped to call out his window and ask if I needed help. Bless him – what an angel!
I explained what happened and he said he has young kids, too, and gave me an entire roll of paper towels and a roll of plastic garbage bags! That made my life a lot easier. I got things cleaned up as best I could, checked on Z and gave her some water.
Then, we headed home to Columbus (she slept – poor kiddo was wiped out!) and once I got there, I called around until I found a car detailing place that could take the car right away. We disassembled her car seat and threw the cover in the wash on sanitary cycle until it looked as good as new.
Z hasn't gotten carsick like that since then, but we also took about a year or more off from road-trips out of fear of a repeat. Thankfully, it seemed to be a one-time thing. Maybe she had a tummy bug? Maybe it was just carsickness? But I definitely learned to listen to my mom instincts and we are also much better about giving her fresh air breaks when she needs them on car trips. 
Do you have any road warrior stories from road-trips with kiddos? Do your kids suffer from carsickness, and have you found any good remedies? I'd love to hear your stories in the comments below or over on Facebook.