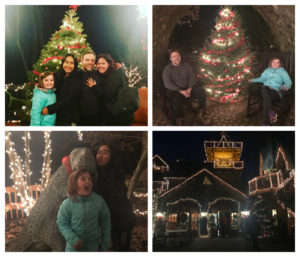 Late last November, we spent a memorable afternoon hiking in Mohican state park and then our hungry bellies demanded we find a bite somewhere close before heading home.
I turned Yelp for advice and that trusty companion did not let me down. "There's an actual castle right around here where we can eat dinner!" I cried in delight. And that's how our Kingdom of Lights adventure began.
It was still pretty early and therefore light out when we cruised up the driveway of Landoll's Mohican Castle, oohing and ahhhing over the pretty wooden sign and then really getting excited when we got our first view of the castle itself, high on a hill.
We were early enough that we did not have to pay to park – typically, those visiting Landoll's for Christmas at the Castle: A Kingdom of Lights have to pay $8 on Friday and Saturday nights (free all other nights). We headed straight to the Copper Mug Bar & Grill restaurant which is adorable and looked especially pretty all decked out for the holidays. The place is just gorgeous with lots of tasteful red and sparkly touches.
Warm bread with butter and their house-made blueberry jam was a huge hit for our table. Darling daughter had the noodles alfredo and loved it – plus kids under 10 eat free with an adult entree, which was a pleasant surprise. I had the chicken saltimbocca which was quite salty but very good. Hubby had the Angus delmonaco steak and devoured it so it must have been great. Our older daughter had the blackened salmon and she too was pleased.
The desserts looked incredible, but by that time darkness had fallen outside and the magical Kingdom of Lights was twinkling through the window and calling to us. At any time of the year, Copper Mug is in a lovely setting and serves a terrific meal – but exploring the castle and grounds lit only by tiny white lights was truly the perfect ending to a wonderful day.
Landoll's Mohican castle looks like something out of a fairytale – and all lit up with over 100,000 lights at night, it's especially dreamy. We were pretty tired from our hike that afternoon, but we couldn't resist walking up to the castle and taking pictures in and all around it. What a gorgeous spot – I vowed then and there to spend a date night overnight there with my beloved hubby sometime in the not too distant future!
Have you ever explored a castle all lit with thousands of twinkling Christmas lights? We highly recommend this outing during the holiday season! If you've visited Landoll's Mohican castle and eaten at the Copper Mug, did you find it magical, too? We'd love to hear your story in the comments below or over on Facebook.