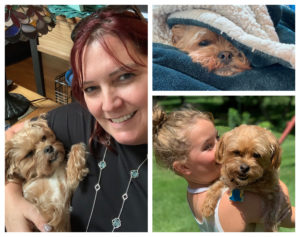 On Sunday, I terrifyingly lost – and six hours later miraculously found – our beloved little rescue pup, Dani.
Our story has a happy ending and I am beyond grateful. What a nightmare of a day it was! I'm so thankful, relieved and happy that our treasured troublemaker and snuggle buddy is home safe.
But I would like to apologize to every person I've ever secretly judged when I saw their lost dog posters and social posts. This can definitely happen to even the most devoted and loving dog parent. It only took a minute!
I let the dogs out in our backyard Sunday morning and took my eyes off them for as long as it took me to pick up two houseplants and water them. Then my attention was back on the dogs – but they were nowhere in sight.
I called for them and Autumn, our Goldendoodle, came running back right away – but there was no sign of our little Dani. It was extremely unusual, because she always stays close! The time was about 10 am. We wouldn't see her again for six horrible, stressful hours.
Z, our nieces and I immediately canvassed the nearby back yards calling loudly for Dani. We split up and I began calling out in our front yard, thinking she could have looped around the house. That's when a strange car pulled up and a man leaned out asking "are you looking for a small brown dog?"
My heart leapt, thinking he may have her – but actually it was far worse. He lives on the street behind us and had seen her running and tried to grab her – but that only spooked her into running farther and faster away. Over and over, we heard the same tale from well-meaning neighbors. At least four people told us, "I tried to get her but she got scared and ran away from me!"
It turns out, all those strangers grabbing at Dani is exactly what made her run so far and so fast. She became overwhelmed with fear and panic, spiraling down into what I can only imagine was a pure terror state. That is the only possible explanation for her running MILES away from home and repeatedly darting into the busiest road in Lewis Center, nearly losing her life multiple times.
In a million years, I NEVER would have dreamed our little scaredy cat, homebody Dani would run far away, leave our familiar neighborhood, cross South Old State where cars fly by at 55 mph, flee from every Good Samaritan who tried to get her and end up exhausted, dehydrated, weak and so tangled in an overgrown field that she couldn't get out!
As soon as that neighbor told us where he had seen her, we set out by car for that area. I drove slowly up and down the streets of our neighborhood, calling out my driver's window while Z called out of her back passenger side window. We squeaked Dani's toys. We rustled a bag of her favorite treats. We got the attention of every dog in the neighborhood – but we didn't see or hear Dani.
E went out in his car to search, too. Z and I went home to drink some water and go back out on bikes. We rode around our neighborhood for hours, calling for Dani and begging her to come home. I posted on Facebook on my own timeline, on our neighborhood page and on the Pet FBI page. Z was fighting back tears and got frustrated with me "wasting time on Facebook" but I told her that could be the very thing to save Dani – and I was right!
Letting our friends and neighbors know about our missing baby was the best thing I ever did. Immediately, others were out looking for her, too – more sharp eyes and more ground covered. I will be forever grateful to all the friends and neighbors who helped us get the word out and helped us look for and find our girl!
As the hours ticked by into a very hot afternoon, E and I began to feel our hope sinking. We feared we'd be recovering Dani's crushed body from beside South Old State, rather than finding our sweet pup alive. We had to keep searching and stay positive for Z's sake, because she was nearly hysterical with fear and worry. But we were starting to lose faith.
Pet FBI recommended putting up flyers immediately, so I busied myself with that task. As I put up flyers all throughout our neighborhood, I was near tears every time I thought about how tired, hot and scared our poor girl must be. Dani is a sweet, pampered companion pup with zero survival skills. She is an indoor baby and used to being coddled and cherished. I couldn't stand thinking about her all alone, running and terrified – or even worse.
That's when we got word of another sighting – but the scariest one yet. People reported seeing Dani attempting to cross South Old State just south of our neighborhood – and nearly getting hit by cars multiple times. We immediately realized we were miles from where she was, and all our calling and searching in our neighborhood had been in vain.
We hightailed it down to the area she had last been seen. E and Z commenced walking around and calling, even knocking on a few doors to ask if people had seen her. I was parked along South Old State, hyper aware of the cars whizzing by me as I put up lost dog posters, when I got a call from dear friends who had JUST seen Dani running across the road a little bit south of me!
I raced down to where they were – literally half a block from where I had just been. Dani was so close! They said she had run into a field. I called E and Z to come over to where we were. We spread out and began surrounding the field, calling to her over and over. Instead of calling her name, I forced myself to calm my voice and just talk to Dani. I realized she must be so terrified. I tried to coo soothingly and say things she usually responds to – like "where's mama?" and "who wants a treat?"
E and Z were far on the back side of the field. Our friends were far on either side of the field. I was at the front of the field, near S. Old State, cooing and sweetly calling her as I peered into the tall, deep grass, when I saw a flash from inside the field out of the corner of my eye. Was it a fox? I held still and called her softly, and there it was again, a flash of reddish fur. It could be Dani – but if it was, why wasn't she barking? Why wasn't she coming towards me?
I listened intently, called her as warmly and lovingly as I could, and focused my gaze on the exact spot I had seen the fur. That's when I saw our sweet, clever, beloved girl jump as high as she could in the air to desperately peer at me above the grass before falling to earth again. I immediately plunged into the deep, tangled and viciously sharp grasses and weeds, fighting my way to her and calling as comfortingly as I could. When I got to her, I could see she was trapped in a thick tangle of grasses and thorns – she couldn't go anywhere but up.
She was lying on her side in the grass, exhausted and panting. All she could do was look up at me with wide eyes. I reached down, picked her up and held her close. I was crying with happiness and pain as I held her and fought my way out of that razor-sharp grass. My feet, legs and arms were bleeding, Dani was covered with burrs and too exhausted to do more than pant and raise her head – but she was alive. She was alive!
I called to E and Z across the field and literally held Dani up so they could see her. They called my phone immediately and I sobbed that she was okay. I carried her back to my car and gave her water – she gulped as if she hadn't had a drink in her entire six hours of running in the hot sun. Her little paws were cut and bloody, her fur was full of burrs and thorns and she was shaking and gasping.
Our friends Lisa and Christian came running over – they must have seen me carrying her. They asked if I needed a ride home, but I wiped my tears and said I was okay. I thanked them over and over for being our heroes and for helping us find Dani! I am still overwhelmed with gratitude to them and all the other angels in our community of friends who went out searching for Dani.
Selfishly, I'm so glad that I'm the one who found Dani – mainly because I felt so much guilt for being the one who lost her in the first place! But also because while we were looking, Zoe had made me promise that I would find her. Even while I was saying the words, I knew that I might not be able to keep it… but I had to reassure my poor sweet daughter. I have never prayed and hoped harder than I did that morning, and I am so very thankful I was able to keep my promise and bring Dani home to Zoe!
Since the dramatic rescue of our pathetic little runaway, she has been bathed by Zoe, combed to remove all the burrs and pampered even more than she usually is. She is still limping and her paws will take time to heal… but she is enjoying lots of naps with her family as close as possible. I know that she'll be back to her usual sassy self in a few days and I am forever grateful for our second chance.
We often say that Dani is more cat than dog – and if that's true, I think she definitely used up several of her nine lives during this weekend's misadventures! Have you ever lost a dog before, and did your story have a happy ending, too? I'd love to hear your stories in the comments below or over on Facebook.