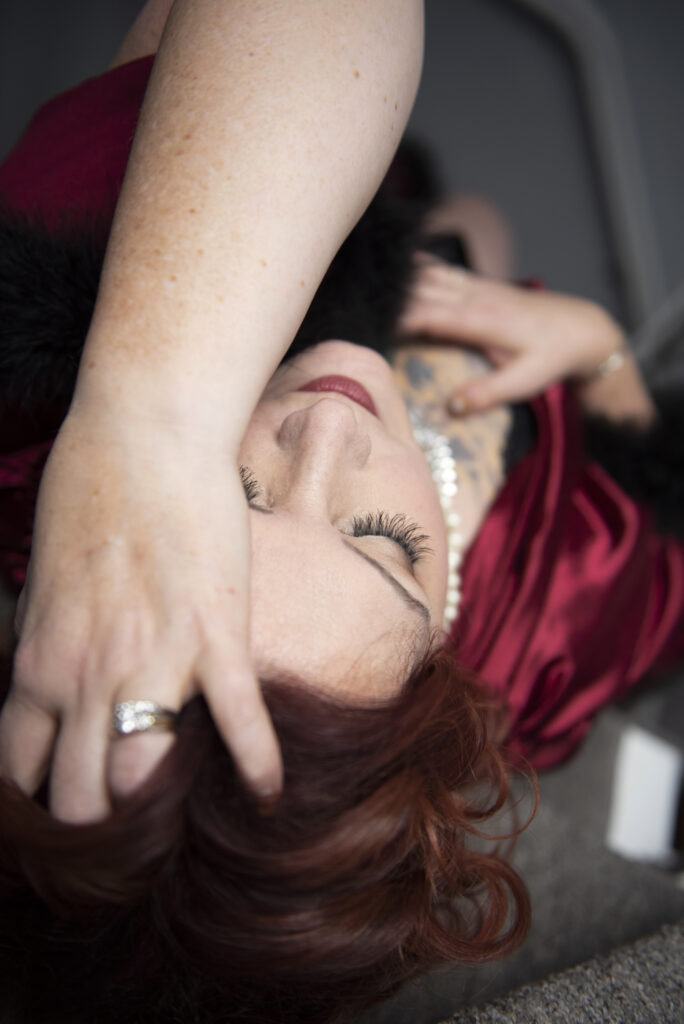 I had my first ever professional boudoir session last month and I'm still floating on air over both the experience and the resulting photos.
When I booked the shoot, I didn't think of it as self-care – but I now see that it totally was. I needed that boost!
My photos are like the coolest bonus of all. Just experiencing my shoot day itself raised my confidence and self-esteem, re-introduced me to my inner goddess and helped me to see my physical self in the best possible light.
The fact that I also get these incredible, once-in-a-lifetime photos to look through any time I feel dull, down or blue? It's literally the gift that keeps on giving.
If you're considering a boudoir photoshoot yourself, look no further than the all-female team of pros at All Things Boudoir. They shoot in cities around the country and their website is full of great tips and photo ideas to help you get started dreaming up your perfect shoot.
And if you're up for a few more tips and tricks, here's what I learned from my shoot and what I'll be sure to do before my next one!
Create a boudoir mood board on Pinterest. Here you can gather and save ideas and inspiration to help shape your shoot. If there are poses you love, makeup or hair looks you'd like to emulate or lingerie and other outfits that you want to wear, save them to your boudoir mood board. It's such a fun way to daydream about and prepare for your shoot! Plus, you can share the board with your photographer to help her know exactly what you're looking for.
Start stretching your bod now. During a boudoir shoot, you will be asked to pose, stretch and arch your back in ways that you probably don't in normal everyday life. And, you'll be holding some of those poses or repeating them often over the course of your 90 minute shoot. You may find yourself very sore the next day unless you warm up and stretch beforehand, and get into a good yoga or stretching practice in the weeks prior.
Practice facial expressions in a mirror. We're all used to smiling for photos, but in a boudoir shoot often you're called on to make a more pensive, coy, playful or sexy face. If you're at all like me, this will not come naturally! There are several shots from my session that I didn't end up liking solely because of the silly look on my face – even though everything else in the shot is perfect. Practice in a mirror until you have three or four go-to facial expressions you feel comfortable with.
Make your shoot about unique, wonderful you. I used several outfits and props that I knew my husband would like, but I also made sure to showcase some of my own quirks and idiosyncrasies, too. For example, I did a few poses with Harry Potter themed props and accessories. Trust me when I say this day is all about you – do whatever is going to make YOU feel your absolute best. You want to feel as comfortable and happy as you can during the shoot so that your photos will sparkle and shine.
Keep outfits simple and well organized. I did well with this one. I planned about three different outfits, plus brought along a few other pieces just in case I changed my mind about anything. We also did some implied nude shots at the end when we had the time. I did not take much of my shoot time for outfit changes – just whipped stuff on and off between rooms but didn't change lipstick and only changed shoes/ jewelry once. Packing everything in plastic bags by outfit ahead of time makes it easy to find what you need and quickly change. Simplify as much as you can to maximize your shoot time!
Don't overdo your hair and makeup. For my first ever shoot, I went over-the-top with uber-glam professional makeup and hair. While I do love my photos and how I looked that day, it's not truly me. In hindsight, I would have loved to rock a relaxed "sexy bed head" look just as much or even more. The boudoir photos I love most are when subjects look comfortable and gorgeous but not overly stylized. My shots towards the end, when my hair was starting to relax and all that makeup was starting to wear off a little bit, are my favorites. When I do this again, I'll likely do my own makeup, have less formal hair and just take a much more natural approach rather than ultra glam.
Remember it's not about perfection. I tried too hard to look perfect for my shoot, and that's why my photos don't feel fully authentic to me. Don't try to lose weight, hide your flaws or imperfections, or be someone you're not. A boudoir shoot is about celebrating the beauty of exactly who you are in this moment. Our flaws, scars and weight might be glaringly obvious to us, but they are also part of what makes us uniquely us. And, the photographer knows exactly how to position us to look our absolute best. Trust your photographer and be at peace with your body for just one day!
Get ready to love your bod like you never have before. I'm 50 years old, chubby with a badass c-section scar, menopausal mom-gut and amazing tattoos. I know my bod pretty well – all its flaws and imperfections. I didn't think I would learn anything new about my body in this photo shoot – but I did! I learned that my booty is not aging at all and has never looked better than in these pics. Seriously, I feel like I fell in love with my own tush for the first time ever. The rest of me looks okay too, but my booty was poppin' that day! Who knew I could fall in love with my own butt at the age of 50? Miracles will never cease.
There you have it – my list of lessons I learned and things I did to make my first-ever boudoir photoshoot unforgettable.
If you're feeling that you'd like to do a boudoir shoot but you don't have the confidence, my advice to you is to just go for it! There's nothing more confidence-building than a day of pampering and paparazzi-ing, and the ATB pros really know how to help you look and feel your best. The resulting photos don't lie – and neither do the glowing reviews of women like me who have worked with All Things Boudoir for our own boudoir shoots.
If you have any questions or stories about your own boudoir photo shoot, let me know in the comments below or over on Facebook. Or, use my link to snag your shot at a free photo shoot when you become an ATB Self Love Ambassador like me!