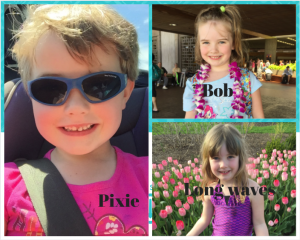 Zoe's been wanting to get her hair cut short for a while now. She's had glorious long hair all her life – well, for as long she's had hair. She went through a pretty adorable chubby, bald phase first.
But her bald days are far behind us and she's had pretty stellar princess hair ever since. Sure, the tangles in the morning (and even evenings too, sometimes) were annoying. And we had many a mother/daughter battle over various hair accessories and styles. But for the most part, her hair was part of her and I was used to it. I loved those tresses.
This spring, when she first started asking for a hair cut, I figured we'd get a trim like always. But one day in early May, when we'd had some sunny and warm weather, she started asking for a REAL hair cut – she wanted it short, short, short! My darling hubby made her a hair cut appointment at the local kids place, but the timing wasn't great. I couldn't be there due to a work event – and selfishly, I wanted to be there if she was getting a big chop!
I was also bummed because we were about to leave for our long-awaited family trip to Maui and I had a professional portrait session planned for our whole fam – and I wanted her to have gorgeous, picture-perfect locks for the photo shoot. Still, I couldn't deny her wishes when she pulled the "it's my body" card.
You know the one – "Mommy, it's my body, and I make the rules for my body, right? And my hair is part of my body. So I get to decide and I want short hair!" So I caved, anxiously, and nearly cried as I gave the direction to hubby to pass along to the stylist: a cute, stylish chin-length bob. I was so anxious that she'd regret it – but I needn't have worried. Zoe loved it! She had asked for it even shorter, but that was all Mommy could handle at that time. She looked absolutely adorable and rocked that bob. Our Maui trip was fabulous, the photo shoot on the beach was perfection, and I was happy because she was happy.
But when we got home, and her bangs started needing a trim again, Zoe resumed asking for a REALLY short hair cut this time. And since she had done so well with her bob, I figured what's a few more inches… its only hair, right? So in mid June of my baby's fifth year, I bit the bullet and got her a real-deal pixie cut. I nearly cried again when the stylist was working her magic. But do you know what? Zoe LOVES her short hair and she looks so adorable! She completely rocks her pixie 'do!
I was afraid she'd regret it, both times, but she never has. With the pixie, I was worried people might "think she's a boy" – but no one ever has to my knowledge – and Zoe even chuckled thinking that this might happen. She got a kick out of it! And even when a few of her friends at school asked "why do you have short hair like a boy?" Zoe has brushed it off and said confidently, "Because I like my hair like this!" I needn't have worried. Her hair looks awesome this way just like it looked wonderful long. She is a rock star and she knows it. Her confidence shines from within and she is not dependent upon her looks – or her locks.
To any moms out there who might be worried about their daughters cutting off their long hair, I say go for it. Hair grows back. Having a daughter with the confidence to buck the mainstream and go against the traditional beauty norms of "little girls with long pretty hair" is AWESOME. I wish I had the self esteem and confidence to go that short with my own hair!
With short hair, maintenance and styling is a breeze. She always looks incredible – even right out of bed with adorable pixie bed-head. And this hair style seems to have brought out an even sassier, more mature and sophisticated side of her. She is all ready for kindergarten and it shows.
I hope and wish for ZB the confidence to always feel this good about herself and her choices! She's my hero. May we all be so fabulous, fierce and fearless as this little five year old fashionista.
How about you – do you and your daughter see eye to eye on hair styles? If not, how do you handle it? As always, I'd love to hear your stories in the comments below or over on Facebook.