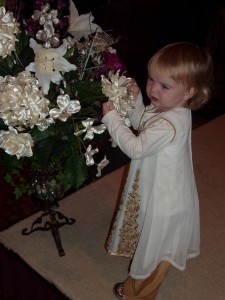 Is it okay to take a two-year-old to a baby shower? To a wedding? To visit a friend in the hospital?
These are questions to which my beloved husband and I had differing opinions, so we took it to Facebook this week for a little friendly crowdsourcing. He posed the question first on his FB page, and I followed suit by posting it on my own. The answers were pretty interesting.
For the most part, women were more likely to check with hostesses before bringing a child to a shower or wedding. Some wouldn't even check, and would just assume it's NOT okay to bring a child to a wedding unless they were specificially mentioned on the invitation envelope.
Likewise, most women would NOT bring a toddler to a hospital for a visit unless it was for extremely special circumstances – like to say goodbye to a grandparent one last time, or for the birth of a sibling.
Granted, we had fewer male respondents to our amateur polls, but for the most part the guys were all for bringing toddlers to any of the above – weddings, shower or hospital visit. The general gist from the guys is that kids are fun and should always be welcome at such events. This made me really curious about the gender discrepancy. I wondered why this is the case?
So, I sat down in my thinking chair and now have a theory, and I'm going to put it out there even though it's definitely based on generalizations and some may cry foul.
Basically, I think that for a lot of guys, having a toddler along at any of those life situations would be fun and not much more work, whereas for a lot of moms, having their toddler there would mean their focus would have to stay firmly on the toddler and not on the bride, new mom or hospitalized friend or family member.
Even though we women are great at multi-tasking, and generally like doing the "work" involved in parenting, when it comes to being a mom with a toddler in a public/social/semi-fancy setting, it really does take all our energy and focus.
We're often the ones most invested in keeping our toddlers from becoming terrors at a party or gathering; we're the ones who do the heavy lifting when it comes to comforting a fussy, tired or upset toddler; and quite frankly we're the ones less able to have a good time if the toddler is there.
We certainly are less likely to be able to focus on the bride or new mom, which is something we women like to do at weddings and showers. We are far more likely to have to find a discreet place to whip out a boob and nurse said toddler (made exceedingly more difficult by wearing our fancy duds which may or may not be breastfeeding friendly).
So, there it is – I don't think guys have a problem with toddlers being at events because I don't think guys are as likely to deal with the repercussions of a toddler outing gone wrong.
YES, of course there are exceptions to this. My beloved husband dealt with a thermonuclear diaper explosion at the last wedding we attended together, and he also spent a huge amount of time entertaining our daughter out on the dance floor. As I've noted many times, he's super daddy. But I still stand by my hypothesis, for the most part.
What do you think? Should toddlers be able to attend any and all social functions, and is there a reason for a faint trend toward more men answering yes to that question and more women answering with a bit more reluctance?
I'd love to hear your thoughts in the comments below.