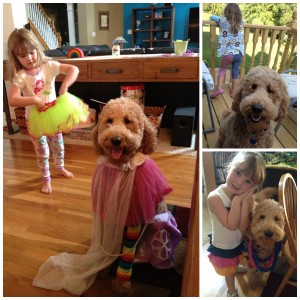 Day two of five days of gratitude…
1. Awesome sitters. Even though our families live out of state and we don't get to rely on the kindness of free babysitters (aka grandparents!), we have a terrific team of Zoe-sitters. Anytime E and I want or need a date night, we can almost always line someone fabulous up quickly – and best of all, Z loves her sitters and really enjoys spending time with them. We've come a long way from the little girl who never wanted her mommy and daddy out of her sight. I am truly grateful for that!
2. Autumn. As everyone who knows her can attest, we have the most incredible dog. After we lost our beloved Jack, I was set on not getting a puppy or dog again for a long, long time. I'm so glad E convinced me otherwise and that we found Kingdom Hearts Kennel. Autumn is good, gentle, goofy and everything one could ever want or need or love in one gorgeous Goldendoodley package. I'm so grateful for her wonderful companionship and guardianship with Zoe, her quiet, solid company on our nightly walks and her deep, take-no-prisoners bark whenever we hear things go bump in the night.
3. Zoe's imagination. ZB tells the most amazing stories every day, usually involving things she's dreamed up regarding baby animals, mermaids, super powers, bad guys, great white sharks, crocodiles and/or some combination thereof. I love going in to her school to story-check and finding out what really happened – typically a far more dull and boring rendition than Z's fabulous version. I hope she keeps telling those stories and starts putting them down on paper soon. She'll go far!
More gratitude to come. In the meantime, what are you grateful for today? As always, I'd love to hear from you in the comments below.