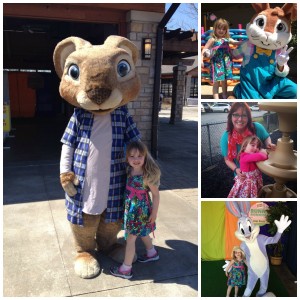 I'm going on record as saying that Easter 2014 was our best Easter ever. Warm sunny weather, a relaxed weekend, lots of time outdoors and some bunny-themed fun made for some super memories. But before I share the Zoe story that truly made this the best Easter weekend ever, I first have to take you back to last Easter and the sad tale of an egg hunt gone wrong.
Revisiting 2013's tragic egg hunt
You see, last year I had the bright idea to take her to the GIGANTIC community Easter egg hunt that happens in Westerville. It's a massive event with all that you'd expect – parking problems, huge crowds and a hint of chaos despite it being a fairly well organized and executed event.
We had been to the Westerville Spring Eggstravaganza the year prior, when Zoe was two, and had a pretty good time at her first-ever egg hunt. So, I figured we'd go again at age three for more of the same. However, I neglected to note that when she was two, we were able to help her scoop up eggs into her basket. Now she was three and on her own. What's more, her age group, 3-4, included kids who looked massive and coordinated.
E and I explained what would happen – a whistle would blow and she'd be able to run into the field and scoop up eggs. She seemed like she had a good understanding while we were waiting… but all three of us underestimated the competition. These kids had game, they were big and fast, and there were a lot of them. They left her in the dust.
Poor Zoe tried to scramble like the rest of them, but it was a bloodbath. It was over in mere seconds. She was left dazed, crying and with just two eggs in her basket. She was devastated – and kids all around us crowed, grinning, with baskets FULL of eggs as Zoe sobbed. E got frustrated with her and felt she was being ungrateful and that "we have the only kid crying at an Easter egg hunt" – but I totally understood why she was so upset. In fact, I felt responsible for setting up the experience poorly – for framing it as "going to fill up her basket!" instead of setting it up as a fun experience that MIGHT result in an egg or two to take home.
2014: we got it right
This year, Z and I got up and rushed around to get ready for a smaller egg hunt organized by the King Avenue Methodist church downtown. On our way, I explained that it was a new egg hunt for us and we don't know how many eggs there will be, so MAYBE we'll get an egg to take home… but maybe not. And we talked about how that would be okay either way. I also reminded Zoe how sad she felt last year when she didn't get many – and I asked, "what if you get a whole bunch of eggs this year. Would it be fun to give some away if we see a child crying because she didn't get any? Because it would have been so nice if someone did that for you last year." And I could tell she was thinking about it, but we didn't say any more about it.
We got to the festivities and Z enjoyed playing on the playground, making a few Easter crafts and snacking on a few Easter candies before the big kids were sent out to adorn the playground with eggs. One of the wonderful event organizers told me they put 1,300 eggs down for the zero to four age group, and there was a nice turnout but by no means a huge crowd. The odds were looking good that Z would be able to fill her basket! She was SO excited while we were waiting for the signal.
Sure enough, when they yelled "Go!" she was off like a shot, scampering around and filling her basket with a big smile on her face. She ran back to me a few times to show me her eggs, and then each time skipped off to scoop up a few more. I asked her "do you think you have enough?" during one of her quick visits back, and soon she agreed and started to look inside her eggs instead of gathering more. She had one BIG egg she particularly treasured – a dinosaur egg that dwarfed the others in her basket. She looked inside and it was candy she really liked – a true prize!
Just then, she noticed a little girl in a pretty Easter dress clutching a bucket and crying her eyes out. Zoe walked right up to her and asked "are you okay?" Her mom explained that they had gotten there too late and the hunt was over – she didn't get any eggs. I can barely even share what happened next without tearing up. My sweet Zoebelle, without even a moment's hesitation, upended her basket into that little girl's bucket and gave her half the Easter eggs she had collected. Then, Zoe reached into her basket and pulled out the treasured giant egg and put that in the little girl's bucket too, saying "Here, this is a special egg, there was only one and I found it! You can have it."
The little girl stopped crying and started smiling in amazement at her newfound Easter loot. I was barely holding it together. I was so in awe of my little sweetheart's compassion and kindness and generosity. The little girl's mom was absolutely dumbfounded and seemed close to tears too, and she kept thanking Zoe and praising her for being so sweet. The little girl thanked Zoe too, and I bent down and gave my girl the biggest hug ever. I whispered to her that she is my hero for doing such a kind thing, and Zoe looked at me almost shyly and said "Mommy, I love that little girl. She is so happy now. That feels so good!"
Then and there, I asked if she would like to go out for lunch and ice cream, to thank her for being so kind. She got very excited, and during the drive to lunch we talked about how the best part of the egg hunt is finding the eggs. Actually having them afterward isn't that cool – the stuff inside is just okay. And then Zoe said "no Mommy, the best part was giving eggs to that little girl who didn't have any. That was my favorite part!"
The rest of our weekend was great, too – we went to the Columbus Zoo's Eggs, Paws and Claws bunny bash and had a blast meeting bunnies and seeing animals in the spring sunshine, and had a great play date with Zoe's neighbor BFF – but everything pales in comparison to that beautiful moment of seeing Zoe act in such a spontaneous, kind and generous way. I know I'll never forget it.
How about you – have you experienced one of those "OMG my kid is truly amazing!" moments? Did it make you as happy as my little "Easter miracle" made me?! As always, I want to hear all about it in the comments below.