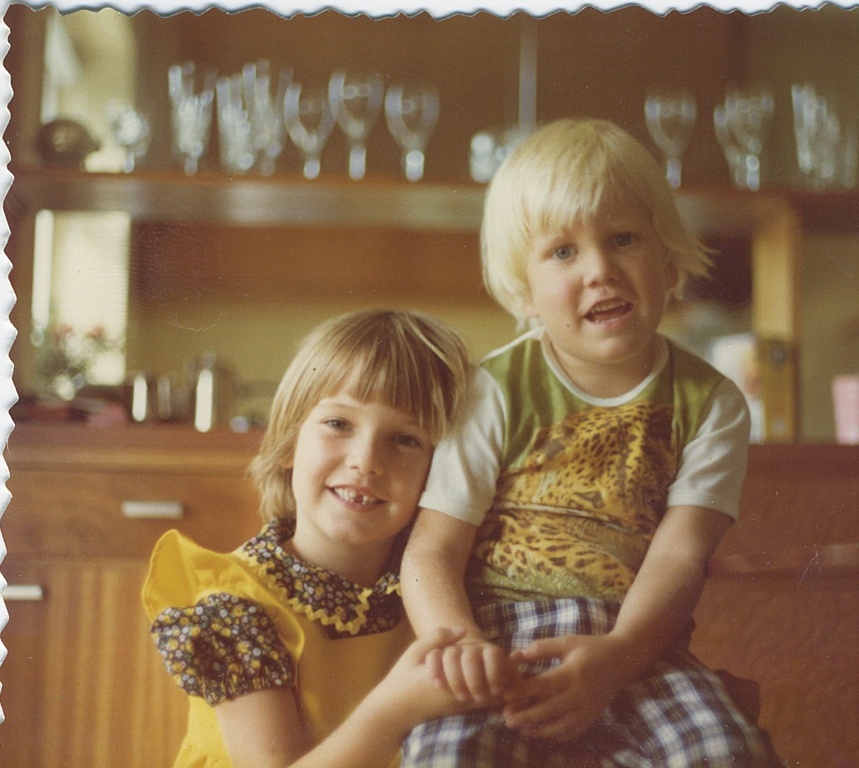 My brother and I were not terribly good to each other growing up.
Ours was not an ideal sibling bond early on.
Honestly, we did not become truly friendly and appreciative of each other until our 20s.
It all started when I was two and a half, enjoying the hell out of only child life. My mom went into hospital and didn't come home for what felt like forever. When she finally did come home, she brought a baby brother instead of the sister I had specifically requested.
I was not pleased. I made it known that if they wouldn't get rid of this awful annoyance, then I would take matters into my own chubby hands. Family lore says that I made several attempts on his life.
Then again, it wasn't all bad. Our childhood memories prove there were a few shared good times. We enjoyed banding together once in a while in the face of a common enemy.
There was that one time I stuck up for my little bro when he was being bullied on the school bus. I actually ended up getting into a physical fight with the bully. We were dragged down to the principal's office with my hand still wound tightly in the bully's hair!
It was definitely one of those relationships where I could call my brother names, pick on him and play dirty tricks all day long – but if anyone else tried to do any of that to him, I would make them regret it.
I remember us fighting like cats and dogs during the grade school, middle school and even high school years. Maybe all the stress of our parents' fights carried over to us? Maybe we were each struggling to have some semblance of power or control in a family environment where we didn't have much of either?
But I also remember us teaming up at the bus stop to play tricks on a neighbor. And I remember us riding our bikes into town together to get candy from our favorite shop – then dividing up candy together and even sharing a little bit with each other when one of us ran out first.
Truly, I didn't get a full appreciation for my brother as a human being until we were both in college and living separate lives. We started out mostly hating each other early on, then ultimately grew apart and didn't really get each other or have much of a relationship at all for several years.
But then, Graham ended up going to a state school about four hours away from my own university, and I had good friends at his school. Anytime I drove up for a weekend to see my friends, I'd always drop in to say hi to my bro.
I remember how good it felt the first time I did that. He seemed genuinely happy to see me! I think that was the start of our relationship turning around.
When I visited Graham in college, I think he realized "wow, my sister really does care about me." And when he responded to my visit with genuine delight, that's when I realized he might actually care about me in return.
That was the start of a far better relationship – one no longer marred by jealousy, rivalry or other sibling annoyances. We started to truly appreciate and value each other. And little by little, I realized that even with distance separating us, my brother would always have my back.
We've shared so many cool travel experiences – both as kids and since becoming adults. We've been on so many vacations together with our parents all over the world. We've bonded over plenty of shared sailing – and dysfunctional parenting – drama!
When our parents moved to LA, I was living here in Ohio and Graham was still in NY. When he decided to follow them and move to Cali, I was really tempted to follow suit – but Ohio already felt like home.
It's hard being so far away from my fam, though we always love visiting them and also hosting them when they come to Ohio.
When my bro became a dad, I was completely blown away and gained a whole new level of admiration for him. Seeing him as the ultimate girl dad to my two blonde, blue-eyed California nieces is just too much!
When we had Xage, I got to see my bro become an uncle, too – and I absolutely adore seeing those two interact and bond. Graham is the coolest uncle ever and has continued to shine in this role as Xage transitioned through major changes this year.
Graham is definitely one of the coolest people I know, period. If he and Michele lived closer, I just know we would hang out with them all the time. My bro has probably the best sense of humor on the planet and can tell stories like no one else I know. He makes E and I laugh without even trying. He is just hilarious ALL the time – we never stop laughing when we are together.
This year, we passed up the chance to spend Christmas on a Mexico cruise with my fam, and I know it was the right call for our little family but I will really, really miss seeing them all. Thankfully, we have another big family trip planned with them for this summer.
As our parents inevitably get older, and we are faced with the sad reality that they won't always be here with us, I am so very grateful to have a close relationship with my amazing brother. Together, we'll always be able to keep the old family horror stories, jokes, memories, traditions, fun and legacy alive.
Graham, I'm sorry I was such an awful, bossy older sister for our first 20 or so years together. Hopefully I've made up for it since. You mean the world to me and I will never stop being so freaking thankful that you're my little bro! And yes, you'll always be my baby brother even though you turn 50 in the coming year.