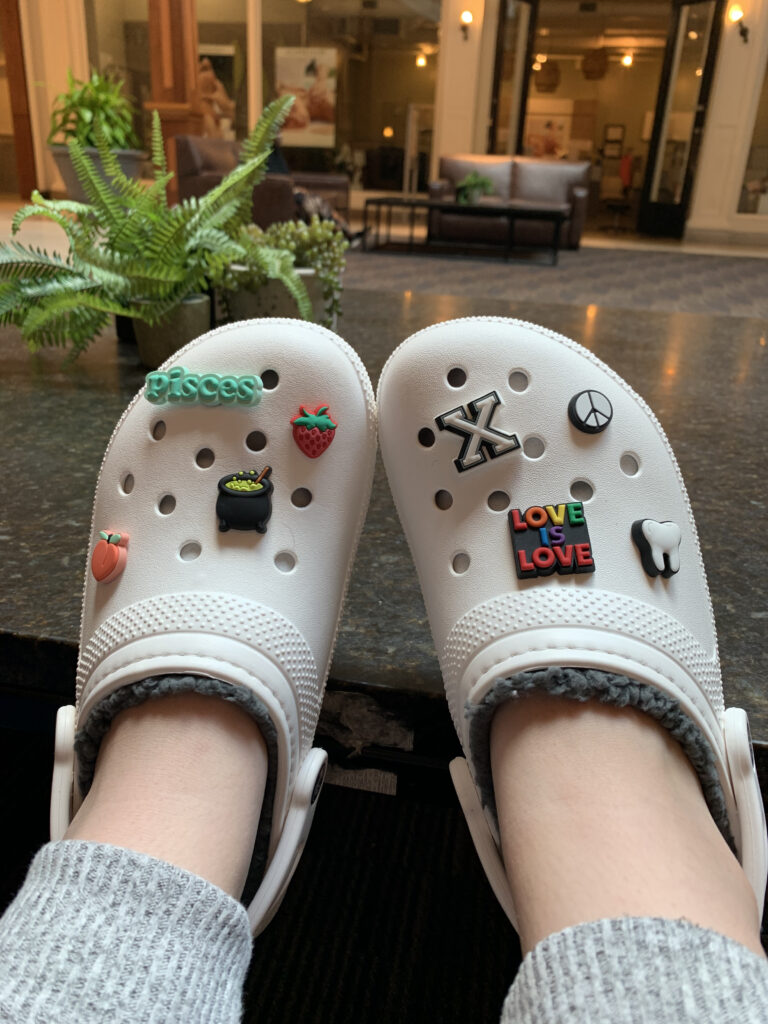 I'm not one to follow fads just for the sake of it.
I value comfort above fashion, but I do love great style. Shoes, in particular, have GOT to be comfortable.
So I find myself wondering… do I need a pair of traditional, clog-style Crocs? Some people rave about how comfortable they are.
Crocs fall into the "so ugly they're almost cute" category, kind of like Uggs. But hey, I wear Uggs for the comfort and adore them – so maybe I should try Crocs, too?
Recently, I found the pair of Crocs I would want if I was going to make the commitment. They are purple and green, galaxy-esque and I just love the look of them. They're so me, in fact, that they inspired this blog post.
I think I want this pair of Crocs – but I'm just not 100% sure.
When in doubt, I like to crowd-source. I took an informal survey on my Facebook page and many friends chimed in with helpful comments. The only trouble is, most of the comments cancelled each other out.
Some said they are comfortable, some said uncomfortable. Some said they are ugly, others said sensible. One said Crocs are ironic and I definitely get that. I think that might be where my interest in them lies.
Many of my favorite influencers and celebs love Crocs. Bretman Rock wears them all the time, and even Ariana Grande and Nicki Minaj have been spotted in them. These are very cute and sexy people, so it's odd to see them in such decidedly un-sexy and un-cute shoes.
That said, Crocs do have some cuter varieties. A friend shared a link to these adorable wedge sandals and raved about how comfortable they are. I have a pair of these flats in a different print and use them for creeking or going to the beach. It's nice to be able to wear them into the water if there are rocks or sharp shells.
When faced with a tough decision, I often make a list of pros and cons. Without further ado, here's my pros/cons list for getting Crocs:
| | |
| --- | --- |
| Pros | Cons |
| Cute, easy, slip-on shoes | Ugly, slippery on wet surfaces according to some reports |
| Crocs are for fashion rebels like me | Crocs don't add anything to my style and may subtract |
| They are comfortable | Other shoes are as comfortable and maybe not as ugly |
| These colors are totally my jam | But will they match or go with anything?! |
| Fur-lined will be cozy in winter | But they'll be too hot to wear for a while |
| I can be Crocs buddies with Xagey | Xage may not groove on matching with me |
| | |
So, now you can see why I'm undecided. There are many good reasons both for and against buying a pair of Crocs!
I'm still torn and I'm trying not to buy anything unless it truly sparks joy, so for now I'll remain Crocs-less.
If you have any other good reasons that should be on my pros and cons list, let me know!
Do you have a pair of Crocs, and if so, do you love or hate them? I'd love to hear in the comments below or over on Facebook.