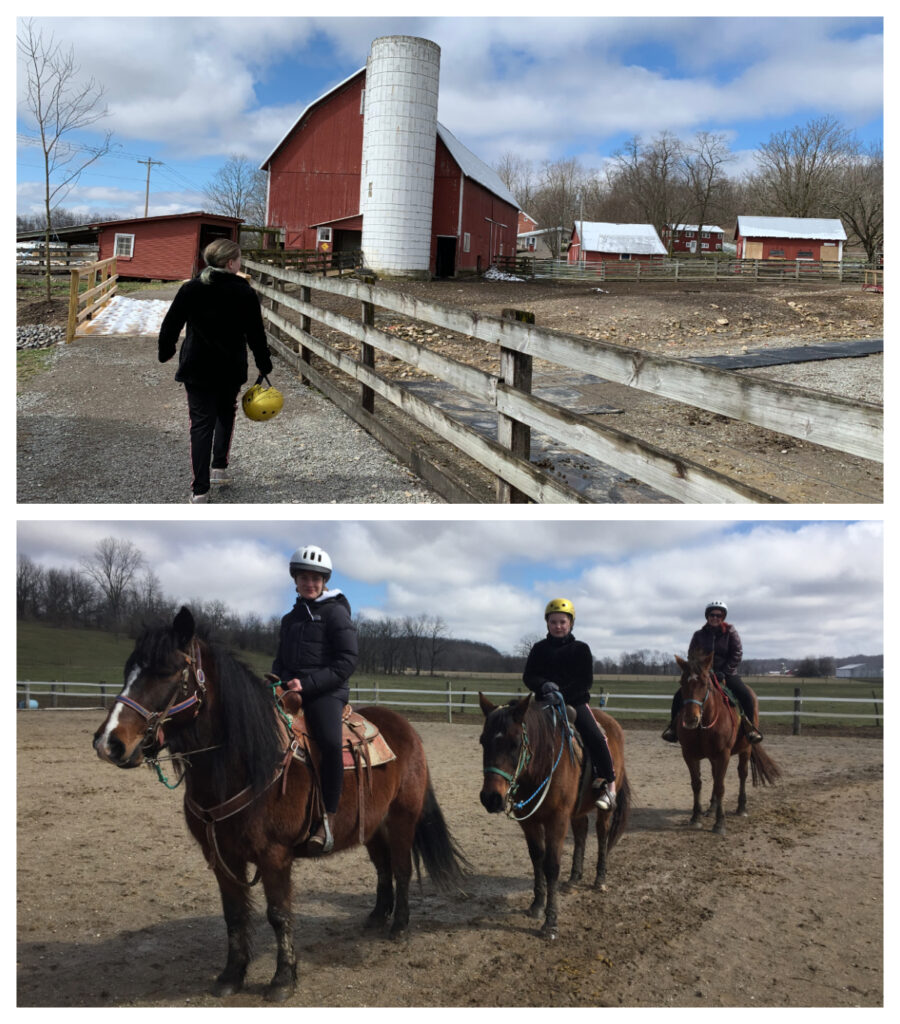 As soon as going out and enjoying recreational activities become possible again, I have a really cool experience to recommend for your horse-loving family: trail riding at Marmon Valley Farm in Zanesfield, Ohio.
I have wanted to take Zoe trail riding literally since she was a toddler. I spent a good part of my childhood riding horses and I still adore trail riding. I've dragged poor E on multiple trail rides in various destinations over the years.
Sketchy jungle and beach trail ride in Puerto Vallarta, Mexico? Check. Fabulous trail ride in Gatlinburg, TN accompanied by a little potbelly pig who thought he was a horse? Check. Fun family trail ride with our nephews and nieces at the Spotted Horse Ranch in Hocking Hills? Check.
But believe it or not, we had never done a local, central Ohio trail ride as a family. It was high time!
When Zoe asked to go trail riding for her birthday, I was thrilled. We picked Marmon Valley Farm based on wonderful recommendations from friends with kiddos.
Marmon Valley allows kids ages 6 and over to go on trail rides. Their experienced staff knows their horses extremely well and are true pros at picking the right horse for each rider's comfort and experience level. Plus, free helmet rentals are included in the reasonable $32 per person price (for an hour trail ride). We felt safe and secure right from the start!
When you first arrive at the farm, located a little under an hour from Columbus, you are awestruck by how beautiful the property is. We had seen the bright red barns and herds of horses from the highway many times while traveling from Columbus to Fort Wayne, IN, where Zoe's cousins live. Finally, we would get to visit the farm and ride a few of those beautiful horses!
We pulled up on a bright, cold day in March and parked, then walked to the main entrance barn which was clearly marked. I had booked online ahead of time (recommended, but not required during the normal riding season of spring through fall). We checked in, got a map of the property and were told what time to report to the horse barn area.
There were tons of animals to see and pet as we explored the grounds – we loved it! We met mini horses, llamas, goats and bunnies. Walking to the horse paddock, we also saw shy deer and a preening peacock in pens. There is also a wonderful kids play area that Z spent some time enjoying after our ride.
We lined up for our trail ride with a few other people. We had already filled out a form stating our experience level, but were asked again here to be absolutely sure they knew our comfort level and ability with horses. I really liked this – there was no chance of an inexperienced rider being put with a crazy horse. And the staff knew each horse inside and out!
Zoe was paired with a small, chubby, adorable horse named Caspian. Our intercultural exchange student, Verena, was put on a slightly taller horse named Malachi. And I was put on an enormous, tall horse named Tictoc whom I absolutely adored – she was so responsive and put her ears back to listen to me anytime I spoke to her by name. She didn't give me any trouble, nor did any of the other horses on our ride.
We watched as our horses were saddled and bridled, then we mounted up and got comfortable with our stirrups and reins. The staff are very knowledgeable about both Western and English style riding, and were happy to give a quick how-to for those of us who haven't ridden in a while or are totally new to riding.
Verena and I both used to ride so we felt pretty comfortable. Zoe, on the other hand, has only taken a few lessons and that was several years ago. I was a bit anxious seeing her high up on the back of a horse, even a short one – but she did great and absolutely loved the experience!
Our trail ride was led by an experienced guide who gave us tips throughout and was extremely helpful. An assistant guide also came along with us. The terrain was extremely muddy – I was glad it was the horses trudging through it and not us – but once we made it to the top of the hill, the view over the valley was stunning. I can't wait to go back and do it again later this year once things open up again!
We did the hour trail ride. My experience has been that 30 minutes is a little too short and leaves you wanting more, while a full hour is enough to leave you feeling a bit sore – so you have to choose which you and your family will prefer! We went with sore and didn't regret a thing.
Marmon Valley has a cute gift shop where you can purchase all manner of horsey items, including fun collectible cards for each of their mounts so you can remember who you rode each time. We had a terrific afternoon at the farm and will definitely be back. Zoe said it was the best birthday she can remember!
Have you been trail riding with your kiddos, and did you have a great experience too? I'd love to hear your stories in the comments below or over on Facebook.