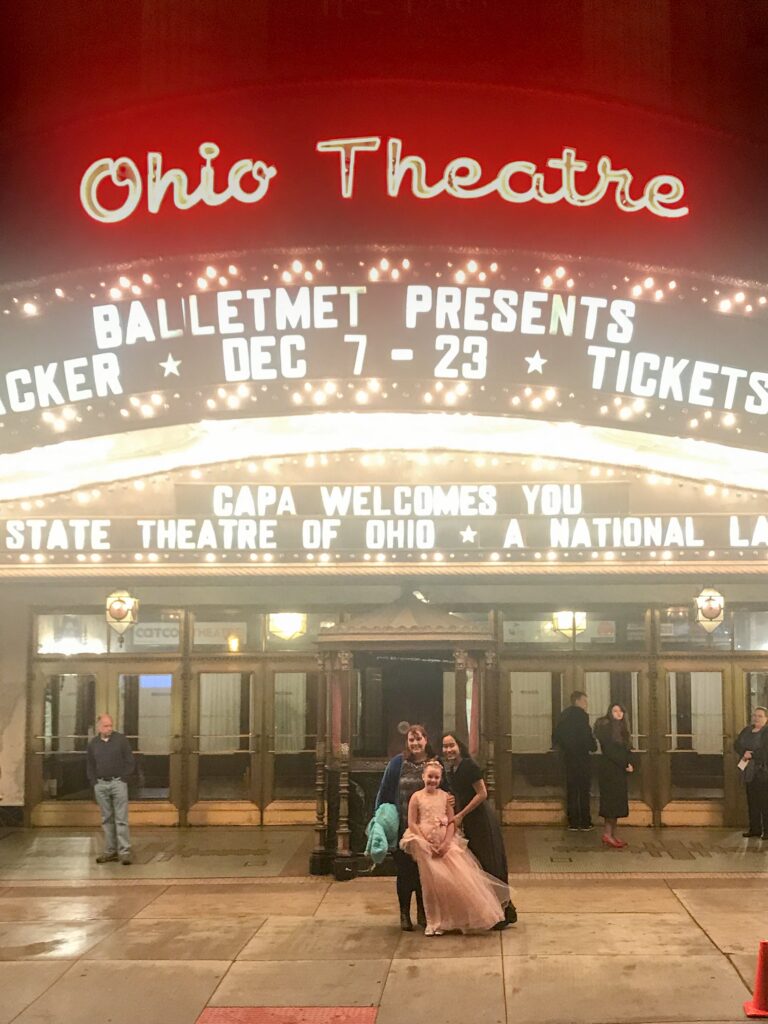 Last year, I fell hopelessly in love with BalletMet's production of the timeless Christmas classic, Tchaikovsky's Nutcracker. And it's a good thing my family loved it too, because I'm adding it to our must-do list of annual holiday traditions in Columbus!
Our history with BalletMet began long ago when Z was just a peanut. I used to take her to their marvelous annual children's program, Dancing with the Nutcracker, where she got to dance with cast members after watching select performances from the ballet. It's a wonderful, interactive way to get kids interested in the Nutcracker early.
I have wanted to take Z to the full Nutcracker ballet performance for several years now, but part of me was afraid she wouldn't like it or might find it boring. However, I needn't have worried.
Last year, we had the unique experience of accompanying our Thai daughter, Napa, as she and fellow members of the Olentangy women's choirs performed both during and after the Nutcracker at the Ohio Theatre. That's when I became enamoured with the Nutcracker – and since 30,000 people went to see BalletMet's Nutcracker in 2018, clearly I am not the only one.
I loved the entire Nutcracker performance – the dancing, the music, the costumes, the talent, the humor and the sheer spectacle of 122 characters of all ages on stage. But most of all, I adored the Sugar Plum Fairy's pas de deux toward the end of the second act – between the music itself and the beauty of the dance, it literally moved me to tears.
The Ohio Theatre is a beautiful, ornate and historic Columbus landmark. BalletMet is a world-class ballet company. The Nutcracker is a festive, magical holiday story that deserves to be part of your family's holiday traditions in Columbus, too.
Have you experienced the BalletMet performance of the Nutcracker, and were you as enchanted by it as I was? I'd love to hear your stories in the comments below or over on Facebook.
AND… I have a super special giveaway for one lucky family! I have a family four-pack of tickets for the performance on Friday, December 13, which is opening night for the Nutcracker. Simply leave me a comment below and let me know why you'd love to go. Z will pick a winner at random on Saturday, November 30 and we will let you know right away so you can start planning your fancy Nutcracker outfits!