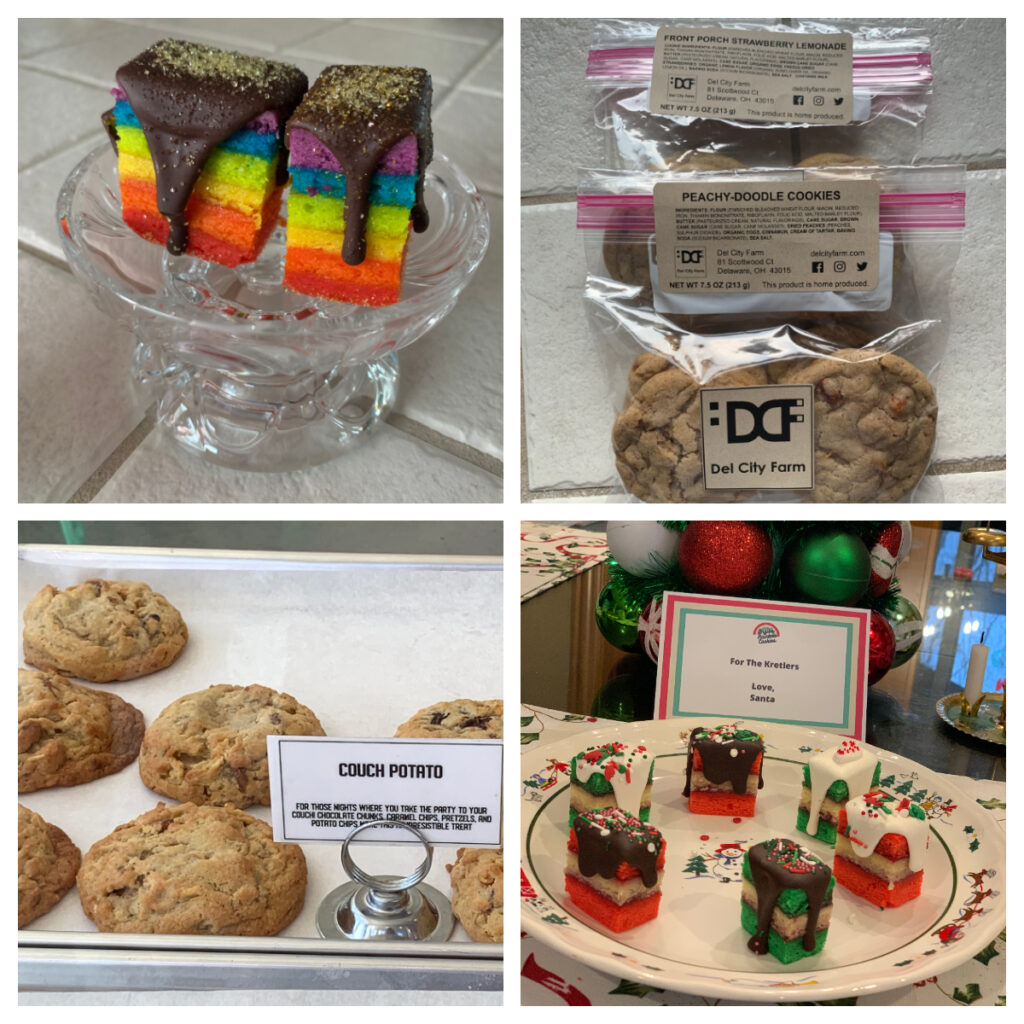 Sometimes you just crave a really good cookie, am I right?
Back in 2018, I came out with my first round-up of the best cookies in central Ohio. I updated it one year later.
Now, a couple of years have gone by and the cookie game in this town has seriously leveled up.
As a result, I've got a whole new list of favorites to rock your world. Are you ready for some killer cookies?!
Whether your cookie preferences are traditional or exotic, we've got something for everyone on the list this year. Enjoy!
Top 5 cookies in Columbus
5. Sugar cookies from Plenty O'Cookies. Ever purchase cookies from a fabulous drag queen baker? We fell in love with Alex's drag persona Plenty O'Smiles first, and then soon after became smitten with his gorgeously decorated sugar cookies. These are a classic, delicious sugar cookie and icing recipe – one of my all-time favorite cookie types ever. These are made even more fabulous by the baking and decorating talents of the oh-so-creative baker. Order from the website or watch for fun Plenty O'Cookies pop-up booths around town, most recently at Polaris Fashion Place. We ordered Alex's exquisite Thanksgiving place setting cookies the last time we went to a big family Thanksgiving. They were a huge hit!
4. Sugar cookies and sugar cookie decorating kits from Marna Cakes. We've already established that I love iced sugar cookies, but these are even more special thanks to Marna's secret recipe. I believe she adds meringue powder to both her cookie batter and the icing, but don't quote me on that. I just know that Marna's sugar cookies have a super sweet "tang" that is utterly unique and addictive. You can buy her lovely iced sugar cookies by the dozen, or watch for her special sugar cookie and icing kits which you then decorate yourself at home. It's one of our favorite seasonal activities – there's nothing quite so relaxing and fun as decorating cookies you know you're going to take to your face as soon as they're dry!
3. S'wich Social's Couch Potato cookie. If you haven't visited downtown's ice cream sandwich boutique, S'wich Social, you are in for a treat. I visited for a special Yelp Elite event this spring and fell madly in love. Not only is S'wich an adorable place, but also their ice cream and cookies are to die for. Their Couch Potato cookie won my heart with its salty-sweet ways, featuring chocolate chunks, caramel chips, and pretzels. I paired it with S'wich's awesome Kitty Kitty Bang Bang ice cream (cookies and cream with a raspberry swirl) for a killer ice cream sandwich that took me two days to finish. But finish it I did; I'm no quitter!
2. Del City Farm's Peachy-Doodles and Front Porch Strawberry Lemonade cookies are tied for second place! I couldn't decide between these two, so they are sharing the #2 spot. I've loved Del City Farm's artisanal, home-baked cookies for a few years now, and these two newer flavors are simply the best. Peachy-Doodles taste like a snickerdoodle or cinnamon bun packed with juicy, chewy peach pieces, while the Strawberrry Lemonade cookies bring natural lemon and strawberry flavors to a party in your mouth. Order these from the website for shipping anywhere or free delivery within Delaware city limits. I highly recommend topping either cookie with some Jeni's Gooey Butter Cake ice cream for a perfectly delicious summer dessert. You can even serve this sweet treat to your friends if you want to make them cry with happiness.
1. Angie's Rainbow cookies. These fancy and fabulous Italian rainbow cookies are as beautiful as they are intricately flavored. I love the signature version with almond cake, raspberry jam and chocolate. We've also enjoyed their seasonal nutella varieties and the super double rainbow, which is truly a gorgeous sight and features apricot jam instead of raspberry. You can't go wrong with any of these beauties, which of course must be served fancy tea party style to truly do them justice. We've made Angie's rainbow cookies a holiday tradition at our house, enjoying the festive treats both at Christmas and Easter. They're almost too pretty to eat, but we manage somehow!
Have you tried all of our favorites here, and do you have others we should try for our next best cookie installment? Let us know in the comments below or over on Facebook!