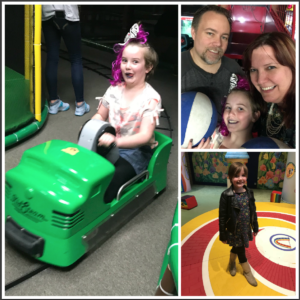 Indoor play spaces are critical for keeping kids active and sane in the winter – and sometimes, these Ohio winters seem to drag on interminably.
Good news: not only does central Ohio have a great selection of indoor play places, but there are always new ones popping up to check out and explore. This winter, we've discovered two that we absolutely love: one was the temporary Wizard of Oz exhibit at Easton Town Center and the other is a new permanent play space/entertainment venue in Sunbury, Ohio called Fun in the Jungle.
I feel like 8 is an odd transition age – many of the play spots she has loved for years are no longer an option for her, like the play areas at the Polaris Mall and Chick-fil-A, for example. She's literally over the height limit as of this year! So I'm always a little trepidatious when I take her to a new play area: will it be too babyish for her? Will she be too tall or just not enjoy the place?
I'm happy to say that Easton's Oz exhibit/play space and Fun in the Jungle both got two thumbs up from our 8 year old.
It did my heart good to see her run and play and climb and giggle like the kid she is!
She had a blast and said they were two of the most fun places she's been to – with the possible exception of the insanely huge, amazing and incomparable Scene 75 in Dayton – but that's a blog post for another day.
While Easton's Oz exhibit unfortunately ended this weekend, Fun in the Jungle is open seven days a week and has enough fun for the whole family to enjoy. The facility houses two separate climbing/play structures (one for toddlers, the other for bigger kids) plus a fun hand-cranked, self-locomoting mini train, a mini bowling alley, air hockey, a pool table, a basketball game and skee ball along with several arcade video games and Wii set up. All of this made for a very fun evening for our family and we practically had to drag Z out at the end of the evening.
While most play places cater to the 6 and under crowd, I do think there's enough at Fun in the Jungle for even the 7-11 set, especially if they bring a friend along. Next time we hit Fun in the Jungle, we'll be sure to bring a pal for Zoe to play with. E and I lost steam mid-evening and wanted to sit and watch from the comfortable benches and couches lining the walls!
Fun in the Jungle is reasonably priced at $17 for an all-access combo pass on weekend, $8 for the same level of play during the week. If your kiddo plays for two or more hours, it works out to a pretty good deal – and there are lower value tickets available as well if your child isn't into bowling or arcades. Really my only gripe about the place is that it's somewhat hard to find – tucked away near the Sunbury VFW down several small streets/alleys within a residential neighborhood. It's in the old Sunbury rollerskating joint, if any of you remember that.
What's your favorite play place in Columbus for toddlers, young kiddos or the hard-to-please age 8 and up crowd? I'm all ears – we're always looking for new fun spots to explore! And it does seem like we'll be stuck with a few more weekends of cold, winter weather before we get our long-awaited spring.