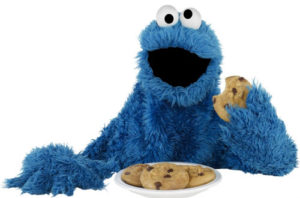 Sometimes, you just crave a really good cookie. Am I right? I know Cookie Monster has my back. C is for cookie, after all.
By the way, does Cookie Monster still eat veggies only these days? Poor guy. Does anyone else remember back in the devil-may-care old days when he actually munched nothing but chocolate chip cookies? Ahh, memories.
Anyway, I've got my mind on cookies and cookies on my mind today, because I'm going to count down for you my top 5 favorite cookies in Columbus! Are you ready… it's Friday. Treat yo' self!
5. Potbelly's oatmeal chocolate chip cookie has long been a favorite of mine. I know what you're thinking – Potbelly is not local. And while that's true, this freshly-baked cookie is so good, and so ubiquitous around Columbus, that it still has a place on my list. Feel free to disagree. But if you try this cookie, you will love it – unless you're this guy (who is hilarious by the way – I definitely recommend his cookie review vlogs, even though I disagree with him on the Potbelly review). Just know that it's an oatmeal cookie with chocolate chips, not a chocolate chip cookie.
4. Northstar's peanut cookie is straight up insane. If you like peanuts, you'll love it – but if you don't (or if you're allergic), then stay away. It is a peanut-embedded gigantacookie and absolutely delicious. There's not much more to say about it, other than you might want to share it with someone. It's not just a cookie, it's an experience.
3. Sweet Carrot's roasted carrot & coconut oatmeal. This is my second oatmeal related cookie on this list – it's no secret that I love them. This one is glazed with a lovely, sugary and coconutty icing. I just love it – and it almost feels healthy, as cookies go, because you know there are carrots in it!
2. Acre's sweet corn cookie is legendary and for good reason. It's soft, it's crunchy, it's sweet, it's salty… IT'S EVERYTHING. It's absolutely my favorite traditional cookie in Columbus. I thought they had invented it, but then I googled and it turns out people have been making and eating sweet corn cookies for years. Who knew? I'm totally getting the ingredients and trying my hand at making these bad boys myself, because they are that good.
1. Macarons from Pistacia Vera. I realize that traditionalists may want to argue about this, because macarons may not even be a cookie at all – but for the purposes of this list, I'm calling them cookies. I strongly feel they are more cookie than pastry. Fight me in the comments if you disagree! Bottom line though, I've eaten fresh macarons in Paris within sight of the Eiffel Tower and they were no better than our very own local Columbus macarons from 'Vera. They are THAT good! The variety of flavors, the delectable aesthetic and the incredible mouth-feel all make this the #1 cookie on my list.
So, there you have it – my favorite cookies in Columbus on this fine, fabulous Friday. There are MANY others – in fact, as preparation for writing this blog post, I crowdsourced among my Facebook friends and here are their responses. And in case you're wondering, I wrote this entire post before discovering Nick's version from back in 2015. Looks like I'm not the only one who enjoys a cookie now and then!
Do you have any favorite cookies – or other sweet treats – in Columbus? I'd love to hear in the comments below or over on Facebook.
And if you liked this post, you may want to check out the others in my Friday Favorites series.