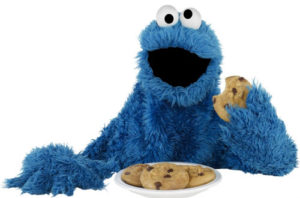 We originally published this list of favorite Columbus cookies in 2018, but it has since been updated in August 2019 with even more cookie goodness!
Sometimes, you just crave a really good cookie. Am I right? I know Cookie Monster has my back. C is for cookie, after all.
By the way, does Cookie Monster still eat veggies only these days? Poor guy. Does anyone else remember back in the devil-may-care good old days when he actually munched nothing but chocolate chip cookies? Ahh, memories.
Anyway, I've got my mind on cookies and cookies on my mind today, because I'm going to count down for you my top 5 favorite cookies in Columbus! Are you ready… it's Friday. Treat yo' self!
5. Potbelly's oatmeal chocolate chip cookie has long been a favorite of mine. I know what you're thinking – Potbelly is not local. And while that's true, this freshly-baked cookie is so consistently excellent, and so ubiquitous around Columbus, that it still has a place on my list. Feel free to disagree. But if you try this cookie, you will love it – unless you're this guy (who is hilarious by the way – I definitely recommend his cookie review vlogs, even though I disagree with him on the Potbelly review). Just know that it's an oatmeal cookie with chocolate chips, not a chocolate chip cookie.
4. Northstar's peanut cookie is straight up insane. If you like peanuts, you'll love it – but if you don't (or if you're allergic), then stay away. It is a peanut-embedded gigantacookie and absolutely delicious. There's not much more to say about it, other than you might want to share it with someone. Or a few someones! It's not just a cookie, it's an experience.
3. Sweet Carrot's roasted carrot & coconut oatmeal. This is my second oatmeal related cookie on this list – it's no secret that I love them. This one is glazed with a lovely, sugary and coconutty glaze or icing. I just love it – and it almost feels healthy, as cookies go, because you know there are carrots in it!
2. Acre's sweet corn cookie is legendary and for good reason. It's soft, it's crunchy, it's sweet, it's salty… IT'S EVERYTHING. I thought Acre had invented the corn cookie, but then I googled and it turns out people have been making and eating sweet corn cookies for years. Who knew? I'm totally getting the ingredients and trying my hand at making these bad boys myself, because they are that good. Also, RIP to Acre, which sadly closed in summer 2019 – but thankfully not until after I had scored several bags of their addictive corn cookie mix.
Former # 1. I never felt good about ending with macarons when I originally wrote this blog post back in 2018. As much as I love them, macarons are not cookies, period – they're an entirely different species. I still adore macarons from Pistacia Vera, and from other places around Columbus, but they are getting bumped off my cookie list. You can read about my love of tiny macs, aka macarons, elsewhere on this blog.
New #1. Lemon Pepper Cashew cookies from Del City Farm. It's not too often that a brand new cookie comes along and bowls you over with its deliciousness, but Del City Farm's lemon pepper cashew cookies did just that. Homemade with organic lemon oil, salted cashews, real butter and ground black pepper, these perfect lemon cookies pack a bit of heat and a little crunch resulting in absolute deliciousness on the palate. Congrats to Del City Farm on their amazing first-place cookies (they make many other delicious varieties, too)! Del City Farm products are available by special order or at the adorable and charming Mainstreet Delaware farmers market on Saturday mornings 9 to noon, May through October.
So, there you have it – my favorite cookies in Columbus on this fine, fabulous Friday. There are MANY others – in fact, as preparation for writing this blog post, I crowdsourced among my Facebook friends and here are their responses. And in case you're wondering, I wrote this entire post before discovering Nick's version from back in 2015. Looks like I'm not the only one who enjoys a cookie now and then!
Do you have any favorite cookies – or other sweet treats – in Columbus? I'd love to hear in the comments below or over on Facebook.
And if you liked this post, you may want to check out the others in my Friday Favorites series.