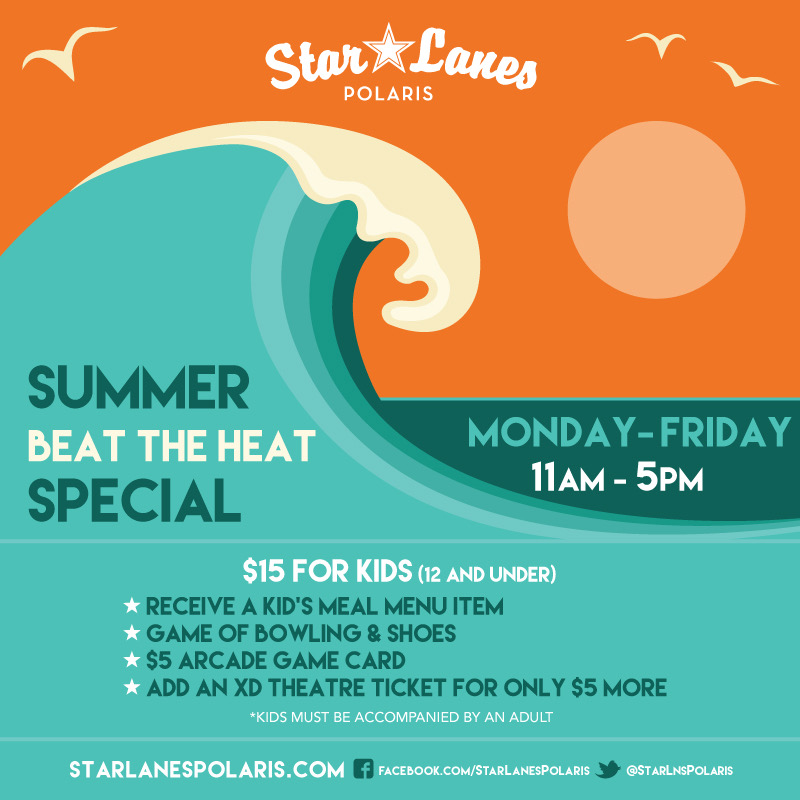 In this post-Covid world, we have to think about safety in the same breath as summer fun. It's just part of our new reality – like never leaving the house without a mask.

With pools and summer camps closed, parents are struggling to find safe, fun things for kiddos to do.
I'm happy to share that this week, we found a great family fun activity for hot summer days at the very cool Star Lanes.
Ever since Star Lanes opened back in 2013, we've been big fans of the coolest bowling establishment in Ohio. It feels more like a family-friendly night club than a bowling alley, and the food is good to boot. Plus, there's a small arcade and the ever-popular XD Dark Ride – so what's not to love?

Since re-opening after the Coronavirus shutdown, Star Lanes has implemented some welcome safety measures to help keep guests healthy and comfortable. I was so impressed by the air quality during our visit; turns out Star Lanes has installed hospital-grade air filtration so although you're indoors, you literally feel like you're outside breathing clean, cool air.
In addition, there are antibacterial wipes and hand sanitizer literally all around the place, plus staff is wearing masks and encouraging social distancing. We wore our masks in, and kept them on while interacting with staff to check in and get our shoes, but then we took them off to eat and bowl.
Z and her friend had a blast bowling, then we had lunch right there at our own private table in our bowling suite. I love how Star Lanes really was already set up for social distancing, thanks to the design and separate bowling suites for each lane.
For lunch, the girls opted for pizza, but there are plenty of other kid-friendly options. We played a little in the arcade and then all three of us hopped on the XD Dark Ride for some good old heart-pounding, adrenaline-pumping, clown and zombie shooting fun.
We may have screamed our heads off. If you don't scream on a roller coaster or XD Dark Ride, are you even having fun?!
All in all, the Star Lanes summer "beat the heat" special is a great deal for families. For $15, each 12 and under kiddo gets a kid's menu item, bowling and shoe rental, plus $5 for the arcade. You can add the XD Dark Ride for $5 more – and trust me, you (and your kids!) will want to do this.
Oh, and I should add that kids must be accompanied by an adult for this deal – but no worries, you'll want to stay and play too – it's such a fun place and the music rocks!
What other safe, comfortable and FUN activities have you found for your kids so far this summer? Star Lanes rates up there as one of our favorites for sure – I know we'll be back there again soon.

Disclaimer: we were generously provided free bowling, lunch, shoe rentals, XD Dark Rides and $5 each for the arcade. We'll be going back soon on our own dollar – and our reviews are not influenced by comped experiences or sponsorships!